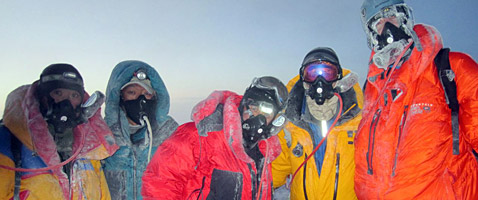 Cho Oyu Climb with International Mountain Guides
Cho Oyu Visas and Permit Issues
Since 1995 IMG has conducted 31 autumn season 8000 meter peak expeditions on Cho Oyu, Shishapangma, and Manaslu. Cho Oyu has been closed since 2020, but now we have been told by the Chinese Mountaineering Association that they expect that permits will again be issued for the 2023 autumn season. We are now accepting applications for an Autumn 2023 Cho Oyu expedition. However, if this changes and the permits do not become available for 2023 then we will refund your money or you can apply it to a different IMG program.
Thanks for your interest in our Cho Oyu Expedition! Cho Oyu is the 6th highest mountain in the world (8,201m) and is a classic Himalayan climb. IMG was one of the very first 8000m Himalayan operators to run Everest, Cho Oyu, and Shishapangma expeditions in Tibet. Since 1995 we have seen 262 climbers reach the summit of Cho Oyu with our IMG teams on the 28 expeditions (26 successful) that we have conducted via the original 1954 route. We're proud to have the best climbing record on the mountain. Our programs are recognized worldwide as well organized with first-rate logistics and experienced leaders. The IMG Team is here to help you with your plan to climb Cho Oyu!
We have a limited number of spaces for trekkers on this team, please contact us for more information if you wish to accompany the expedition. Strong, experienced trekkers may opt to hike all the way to Camp 1 which is OVER 20,000 feet (as a day trip, but not spend the night there). Then head to Rongbuk (Everest BC) for classic views of the North Face, in the footsteps of Mallory! If you are looking for a challenging trek, this is it!
Please contact us if you have further questions or would like to discuss different options.
We look forward to hearing from you!
Personal Sherpa and Extra Oxygen Option
In addition to the all the benefits and Sherpa support that goes with our Classic Cho Oyu program, we will also assign exclusively to you one of our very best Sherpas, who has summitted Cho Oyu and Everest, been through the Khumbu Sherpa climbing school, and who speaks English. As a small two-person team, you will be able to take advantage of the "best of both worlds" with all the horsepower of the main IMG team at their disposal, but also having the additional flexibility of your own dedicated climbing partner. Your personal Sherpa will also be available to help carry your personal gear to the higher camps. In addition, we will provide extra oxygen so you can start using oxygen above the ice cliff during your summit rotation.
Note on Dates
Dates are listed starting with the arrival day to Kathmandu to the arrival day back to Kathmandu at the end of the trip. The ending dates for the Cho Oyu CLIMB are flexible, depending on weather and conditions. It would be normal for climbers to add at least 7 extra contingency days to these itineraries. Normally climbers will change their departure flights from Kathmandu when they know exactly when the expedition is going to end. We encourage you to come into the climb with patience and flexibility. We will be working hard to set ourselves up for a successful summit attempt and sometimes, that takes a little more time to get the weather.
Spring vs. Autumn
Spring has less snow and avalanche danger, but has more ice and is more technical. The autumn can be good, but if you get a big snow dump (more likely in the autumn than spring,) you could be out of luck.
Spring starts out cold and windy, and gets better. Autumn starts out warm and wet, hopefully has a good stretch, then gets cold and windy later in the season. We try to climb in the spring during mid-May, when the weather starts to improve, and in the autumn during late September/early October before it gets too cold, and there are big snow storms.
Generally speaking, Everest is good in the Spring, less reliable in the Autumn. Cho Oyu is good both Spring and Autumn. There are probably more expeditions on Cho Oyu in the Autumn, since many companies are on Everest in the Spring.
International Mountain Guides (IMG)
IMG is the oldest and most respected high-altitude climbing service in the world and its Himalayan mountaineering programs are organized and directed by Eric Simonson. Their teams include a group of professionals and Sherpas who are the best in the business. Since 1990, we have conducted over 60 Himalayan 8000 meter expeditions and over 800 IMG team members have summited the world's classic 8,000-meter peaks, including Everest, Lhotse, Cho Oyu and Shishapangma.
Ang Jangbu and the IMG Sherpa Team
A veteran of dozens of expeditions and an Everest summiter, Ang Jangbu has worked on every IMG Himalayan program since 1991 and is a very popular leader. Ang Jangbu Sherpa and his staff put together one of the very best Sherpa teams for IMG. We are proud to have a group of Sherpas working for us who are among the best paid, best led, best equipped, and best trained in the business. This includes Phunuru Sherpa, who has now climbed Cho Oyu more times than any other person (18 summits!)
IMG's Philosophy
Our goal is to safely help as many team members as possible reach their goal, and we invest in the people and equipment that will make this happen. We value our reputation as the premiere international climbing company, and we only put programs in place that measure up to our own high standards. If you would like to join a world-class team on Cho Oyu, we encourage you to contact us to discuss your goals and qualifications and secure an exciting role for yourself on our expedition! Contact IMG: everest@mountainguides.com
References
Joining a high-altitude trek or expedition is a serious decision. You should be completely confident in the organization and leadership before you make that decision. Many of you have climbed with us before, and because your experience with us was good, you're considering another climb with us. For those of you who haven't climbed with us before, we strongly encourage you to interview us thoroughly and also talk to our past clients. When you're ready to make the decision, we'll be happy to provide you with a complete list of references. Please also browse comments online from our trekkers and climbers.