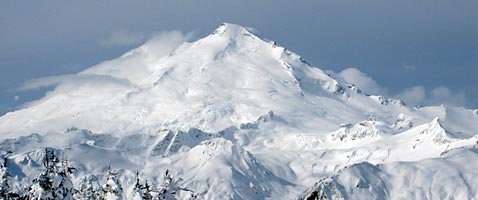 Mt. Baker 3-Day Summit Climbs with International Mountain Guides
Mt. Baker is the fourth highest peak in the Northwest at 10,781 feet (3286m). It is home to the second largest glacier system in the lower 48 States, second only to Mt. Rainier. Mt. Baker now holds the world record for annual snow fall, 95 total feet in 1998!
Easton Glacier 3-Day Ascent
The easiest way up the mountain
The best route for first time climbers
One full day to train and prepare
A great preparatory climb for Mt. Rainier and beyond
Coleman-Deming Glacier 3-Day Ascent
A little steeper and a bit more objective hazard than the Easton Glacier
A beautiful approach through pristine forest up to the base of the glacier
Suitable for first time climbers, but good fitness and aptitude is required
North Ridge 3-Day Ascent
The Classic technical route on North Ridge
Best first time steep north ridge route
Previous experience required including ice climbing up to WI 2-3
Stunningly beautiful vistas throughout the climb
Descent via the Coleman-Deming route
More Info on IMG's Mt. Baker Climbs
IMG operates under special use permit with the Mt. Baker-Snoqualmie National Forest.
This institution is an equal opportunity provider.