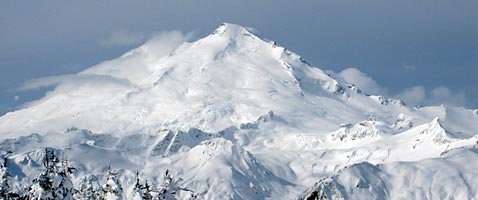 Mt. Baker Summit Climbs with International Mountain Guides
Mt. Baker-Snoqualmie National Forest
Mt. Baker is the fourth highest peak in the Northwest at 10,781 feet (3286m) and is home to the second largest glacier system in the lower 48 States, second only to Mt. Rainier. Mt. Baker is the perfect mountain for aspiring climbers as it provides many different ascent options, from novice to advanced.
On all routes climbing routes on Mt. Baker, start with a beautiful hike into the alpine zone above tree-line, eventually reaching camp at or above 5500 feet. The rolling glacier terrain on both sides of the mountain above camp is perfect for training in glacier travel skills. For those seeking a more technical climbing experience, the north side of the mountain offers excellent terrain for ice climbing practice, and steeper more advanced routes for the intermediate to expert.
While all of our Baker Climbs are suitable for novice climbers with little or no previous climbing experience, this program does require adequate fitness and endurance training in order to be successful.
Safety is our number one priority. We make no guarantees with respect to the program objectives. Many circumstances, including weather and abilities of yourself or other climbers may inhibit you from reaching the summit. Our goal is to give each of our customers the best experience we possibly can, regardless of the weather, route conditions, or time of year.
Easton Glacier 3-Day Ascent
The easiest way up the mountain
The best route for first time climbers
One full day to train and prepare
A great preparatory climb for Mt. Rainier and beyond
Women's Easton Glacier 3-Day Ascent
Created by IMG's female guides as an option for entire groups made up of female identifying individuals
Ascent of the Easton Glacier
A great preparatory climb for Mt. Rainier and beyond
Coleman-Deming Glacier 3-Day Ascent
A little steeper and a bit more objective hazard than the Easton Glacier
A beautiful approach through pristine forest up to the base of the glacier
Suitable for first time climbers, but good fitness and aptitude is required
North Ridge 3-Day Ascent
The Classic technical route on North Ridge
Previous experience required including ice climbing up to WI 2-3
Stunningly beautiful vistas throughout the climb
Descent via the Coleman-Deming route
More Info on IMG's Mt. Baker Climbs
IMG operates under special use permit with the Mt. Baker-Snoqualmie National Forest.
This institution is an equal opportunity provider.