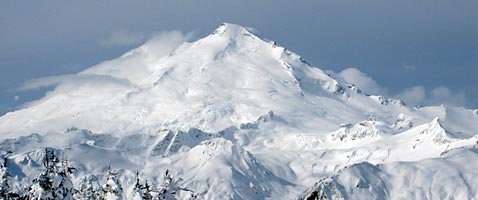 Mt. Baker Summit Climbs with International Mountain Guides
Mt. Baker-Snoqualmie National Forest
Mt. Baker is an iconic stratovolcano towering at over 10,000ft. Mt. Baker is the northern most of the volcanoes in the cascades and is home to ten named glaciers. This climb is an excellent option for anyone looking to take their first step into mountaineering and learn skills along the way. It is also a great option for more experienced climbers looking to experience the less travelled Mt. Baker.
Easton Glacier 3-Day Climb
The Easton Glacier Route on Mt. Baker begins at the Schreiber's Meadow Trailhead. From here, climbers ascend through dense PNW evergreen forests, through wildflowers and wild blueberry bushes, and up a stunning glacial moraine. From camp at the toe of the Easton Glacier, the route wanders up the glacier, past Sherman Peak and the summit crater, up the steep Roman Wall, and to the summit.
The easiest way up the mountain
The best route for first time climbers
One full day to train and prepare
A great preparatory climb for Mt. Rainier and beyond
Coleman-Deming Glacier Custom Climb
The Coleman-Deming Glacier Route is a great introductory climb for those looking to gain more mountaineering experience or for experienced climbers looking to climb a less-traveled route.
A little steeper and a bit more objective hazard than the Easton Glacier
A beautiful approach through pristine forest up to the base of the glacier
Suitable for first time climbers, but good fitness and aptitude is required
While all of our Baker Climbs are suitable for novice climbers with little or no previous climbing experience, this program does require adequate fitness and endurance training in order to be successful.
Safety is our number one priority. We make no guarantees with respect to the program objectives. Many circumstances, including weather and abilities of yourself or other climbers may inhibit you from reaching the summit. Our goal is to give each of our customers the best experience we possibly can, regardless of the weather, route conditions, or time of year.
More Info on IMG's Mt. Baker Climbs
IMG operates under special use permit with the Mt. Baker-Snoqualmie National Forest.
This institution is an equal opportunity provider.