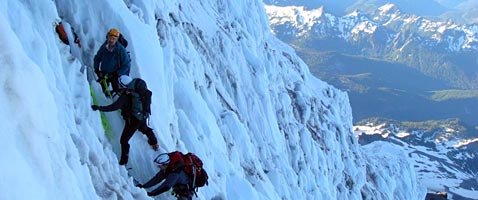 Mt. Rainier Kautz Summit Climbs
The Kautz Glacier is an iconic intermediate climb that is more physically demanding and technically challenging than our novice routes. If you are fit and looking to push yourself physically and technically on a climb of Mt. Rainier, this program is for you. The Kautz Glacier Summit Climb is an excellent choice for people with a strong base of fitness who have done some previous climbing and are looking to hone their alpine skills while tackling a greater summit day challenge. The training curriculum for this trip is comprehensive, but previous cramponing practice on glacier ice is required. The early season climbs, before the glacier snow starts to melt down to ice, are scheduled as 4½ day climbs. Starting in July, when the steeper sections of the Kautz Route start to present sections of glacier ice, there is an additional advanced training day included in the course curriculum to help the team members fine-tune skills prior to venturing onto the upper mountain.
While our 4½ and 5½ day Kautz programs are suitable for those with previous climbing experience, this program does require adequate fitness and endurance training in order to be successful.
Why Choose This Program?
Climbers on this program have often previously climbed either the Emmons or the Disappointment Cleaver routes on Mt. Rainier or have other comparable technical experience. You must be confident cramponing in firm glacier conditions on steeper slopes and ready to learn more advanced techniques for climbing through steeper, icier terrain. This is an intermediate climb that ascends large and imposing glaciers significantly steeper than those found on our Disappointment Cleaver program. The crux of the Kautz route, just above high camp, involves ascending a steep face that increases in angle from 30-50° and likely includes a section of firm snow or glacier ice. Multiple pitches of belays by the guides from ice anchors are often employed to facilitate passage. The 4½ day program allows enough time for the team to learn necessary skills and complete the climb comfortably in early summer snow conditions. In July, the route above high camp starts to turn to ice, necessitating a group training day in advance of climbing in order to prepare the team for the climbing ahead. If you are looking for a climb that will challenge you physically and technically, then the Kautz Glacier route is an excellent choice.
IMG employs a light and efficient philosophy for climbing. IMG will provide shelter, stoves, fuel, cookware and group climbing gear (ropes, pickets, shovels, etc.) for the team to carry to each camp. We will help you review your personal climbing gear prior to departure to make sure you are not carrying any unnecessary weight up Mt. Rainier. Total personal gear, including filled water bottles, should be approximately 50 pounds, excluding your boots and trekking poles.
Prerequisites
This is an intermediate climb requiring previous glacier climbing experience. A review of basic climbing skills is incorporated into this program's curriculum; however, we include additional training via the Advanced Mountain Day School into the itinerary of the July climbs to create a 5½ day program to help participants prepare for the icier sections of the route. For those looking for an extended learning experience on Mt. Rainier, we offer our popular Mountain Day School and 2-day Crevasse Rescue School prior to or just after select Kautz climbs and highly recommend this additional training as well for those who are looking capitalize on training opportunities.
All participants must have prior alpine climbing experience either on Rainier or on other glaciated peaks and be familiar with basic mountaineering skills including cramponing in firm ice and snow conditions. As with all IMG programs, a review of basic climbing skills is incorporated into this program's itinerary. Additional skills will be taught including multi pitch belayed climbing, lowering, and rappelling. Previous experience on multi day backpacking trips is highly recommended. This is a strenuous and more technically demanding summit climb, and is not for first time climbers.
Safety is our number one priority. We make no guarantees with respect to the program objectives. Many circumstances, including weather and abilities of yourself or other climbers may inhibit you from reaching the summit. Our goal is to give each of our customers the best experience we possibly can, regardless of the weather, route conditions, or time of year.