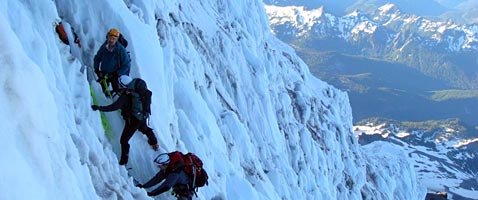 Covid-19 Notice for 2021 Rainier Programs

While we are certainly planning for several eventualities, our working plan for 2021 will be based on the assumption that Covid-19 is still prevalent. We will move forward under similar protocols implemented during 2020, and plan to run all Rainier programs in 2021 with the exception of the Little Tahoma Seminar. There are some notable changes to the way we've traditionally ran our programs as listed below:

We will not be providing meals on our climbs in 2021. We hope this changes so we can get back to serving our world-famous Camp Muir Burritos! Please see our food suggestions page for additional details.
We plan on providing transportation from IMG HQ to/from the trailhead. However, this may not be feasible under Covid-19 protocols. We're working on alternative options and will keep all registered climbers updated on any changes to this plan.
We will provide single tents to all climbers unless you are members of the same household wishing to share a tent.
We will require a cloth facemask during the first ½ day orientation and in IMG vehicles.

Naturally people will want to know our 2021 Covid-19 cancellation policy. For 2021, funds from any National Park Service, WA State mandated or IMG directed Covid-19 related cancelled programs, will be to carried over to the same program and same or closest date in 2022. Short of an NPS, WA State or IMG directed cancellation, our no refund policy remains in place. Note that if your 2020 program was rescheduled by IMG, and is rescheduled again in 2021 due to Covid-19, you will have the option to carry your funds over to 2022, or be issued a refund.

Additionally, we will defer accepting reservations for pre-climb tent lodging at IMG Headquarters until April 1, 2021, when we will have more current information on the status of COVID and any impact it may have on operations for the season.

As is the case with all things Covid-19, we will remain as flexible, communicative and as transparent as possible in these unprecedented times.
Mt. Rainier Kautz Summit Climbs
The Kautz climb is perfect for anyone with prior alpine climbing experience looking to increase their climbing skills during an ascent of a more challenging route on Mt. Rainier. If you are fit and looking to push yourself physically and technically on a climb other than the standard route this program is for you.
Why Choose This Program?
The Kautz Glacier is a great intermediate climb and is a bit more demanding and technically challenging than the standard routes. It is an excellent choice for people in good condition who have done some previous climbing, are looking to hone their alpine skills, and are seeking a greater summit day challenge. The intermediate mountaineering training curriculum for this trip is comprehensive, but previous cramponing practice on glacier ice is required. The early season climbs, before the glacier snow starts to melt down to ice, are 4½ day climbs. Starting in July, when the steeper sections of the Kautz Route start to get firmer with sections of exposed glacier ice, there is an advanced training day included into the course curriculum to help the team members fine tune skills prior to venturing up onto the upper mountain.
If you are fit and looking to push yourself physically and technically on a climb other than the standard route this program is for you.
Climbers on this program have often climbed either the Emmons or the Disappointment Cleaver routes on Mt. Rainier and have felt comfortable with the skills learned on those routes. They must be confident cramponing in firm glacier conditions on steeper slopes and ready to learn more advanced techniques for dealing with steeper, icier terrain. This is a challenging climb that ascends large and imposing glaciers and snowfields, and gets you away from the regular climbs found on the more commonly climbed Camp Muir corridor. The crux of the Kautz route, just above high camp, involves ascending a chute that increases in angle from 30 to 50 degrees over several hundred feet and likely includes a section of firm snow or glacier ice. Later in the season this section can become exposed glacier ice in its entirety. Multiple pitches of belays by the guides from ice anchors are often employed to facilitate passage. The 4½ day program allows enough time for the team to learn necessary skills and complete the climb comfortably in early summer snow conditions. In July, the route above high camp starts to firm up more and we feel a group training day in advance of moving up the route is essential for preparing all members of the team for the skills involved in the climb. We offer the Kautz 5½ day program during this month. If you are looking for something more physical, technical and remote, then the Kautz Glacier route is an excellent program.
We employ a light and efficient philosophy for climbing on Mt. Rainier. We will help you pare down your personal climbing gear during a pre-climb gear check to minimize weight and make certain you bring only the essentials up the mountain.
We maximize training by adding a half day pre-climb orientation and instructional meeting at IMG's Headquarters in Ashford, just outside the park. Learning to climb thoughtfully and efficiently continues en route during each day of the ascent. This increases acclimatization, minimizes total days for the trip and allows for training to be conducted on the mountain in real conditions all the way to the summit and back.
Climbing with a 2:1 client-to-guide ratio provides a superior level of support and instruction. Our group size is never larger than twelve (8 climbers and 4 guides).
Prerequisites
This is an intermediate training climb for big glaciated mountains. A review of basic climbing skills is incorporated into this program's curriculum. However, we include the Advanced Mountain Day School into the itinerary of the July climbs to create a 5½ day program to help participants prepare for the steeper sections of the route. For those looking for an extended learning experience on Mt. Rainier, we offer our popular Mountain Day School and 2-day Crevasse Rescue School prior to or just after select Kautz climbs and highly recommend this additional training as well for those who are looking for a maximum of training opportunities.
All participants must have prior alpine climbing experience either on Rainier or on other glaciated peaks and be familiar with basic mountaineering skills including cramponing in firm ice and snow conditions. As with all IMG programs, a review of basic climbing skills is incorporated into this program's itinerary. Additional skills will be taught including multi pitch belayed climbing, lowering and rappelling. Past experience on multi day backpacking trips is highly recommended. This is a strenuous and more technically demanding summit climb, not for first time climbers.