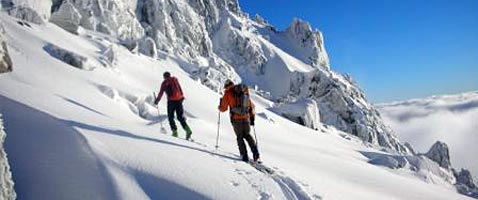 IMG Winter Ski & Avalanche Training Programs
Come join us this winter for world class training in snow travel and avalanche evaluation. We have a variety of courses from one day to multi-day overnights designed for all levels of outdoors enthusiasts.
Ski & Avalanche Training Courses at Paradise on Mt. Rainier
AIARE Avalanche Level 1 Course »

Course Description

Whether you are new to exploring the mountains during the winter or want to freshen up on your snow and avalanche skills, you'll find topics covered in this course tailored to the backcountry recreationist. This curriculum meets and exceeds all guidelines put forth by the American Avalanche Association's Education Committee for an Avalanche Level 1 course.

We all know that learning about Decision Making in Avalanche Terrain needs to take place in the mountains. IMG wants to maximize our learning time in the field. We'll begin each day in the warmth of IMG's headquarters in Ashford, WA and then travel together up to Paradise Park. Transportation from IMG headquarters to Paradise is included.

AIARE Avalanche Rescue Course »

Course Description

AIARE Avalanche Rescue is a one-day course that focuses on the basics of companion rescue for new students. Returning participants will expand their skill set with advanced topics and realistic scenario practice to help improve their skills. This program is intended to be retaken every other year or so to keep up on best practices in rescue techniques and gear. The Avalanche Rescue Course is a prerequisite of the AIARE Level 2 Course. Each student will receive professional coaching on their rescue skills as well as a rescue card acknowledging the completion date.
AIARE Avalanche Rescue Course PDF »

5½-Day Mt. Rainier Ski Traverse »

Course Description

Come join us for an unforgettable ski and ski mountaineering training experience. It is not an exaggeration to say that Mt. Rainier has some of the world's finest alpine ski mountaineering terrain. You will be training and skiing on a wide variety of fantastic terrain including glaciers, chutes, and long descents during the course of a full south to north traverse across the lower flanks of Mt. Rainier from Paradise to the Carbon River Entrance below 10,000 feet.
5½-Day Mt. Rainier Ski Traverse Page »
Course Venue
At IMG's headquarters in Ashford, WA, we are nestled right at the foot of iconic Mt Rainier and Washington's highest year round trail head at Paradise, 5440'. We will capitalize on the excellent access to world class winter terrain in a variety of topographic and snowpack settings. Learning how to identify and travel in avalanche terrain below, at, and above tree line, will give us the skills we need to plan and carry out exciting and safe backcountry tours. IMG's headquarters will serve as our base of operations with access to local weather and avalanche information. We can take full advantage of our base facilities to focus on tour planning and efficient learning. You can't ask for a better place to learn the skills needed to be explore the mountains during the winter.
Lodging and Transportation
Due to Covid-19 restrictions, lodging is not included with the programs. Group transportation to the trailhead will be provided each day. Meals are on your own.
Lowest Instructor to Student Ratio
IMG has always focused on the highest quality experience for its students. With an instructor to student ratio of 1:5 you'll receive the best possible educational opportunity.
Training and Fitness
To learn more about training for this seminar, please read our Training Suggestions for Mt. Rainier.