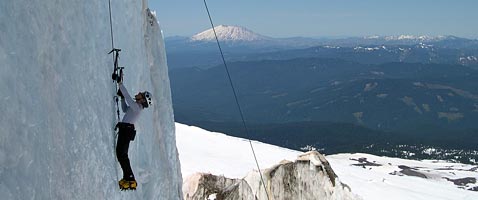 North Cascades Alpine Climbs with International Mountain Guides
North Cascades National Park
The North Cascades of Washington are a climber's playground and offer a complete variety of challenges in an incredible mountain wilderness. Some of the great climbers of North America cut their teeth here, honing the skills necessary to make them competent climbers. These legends from our climbing history spent endless amounts of time exploring this vast empire of mountainous terrain making many peaks famous through literature like the "50 Classic Climbs". If you are looking for adventure on a grand scale, but need to manage your time, then you will find it here. Custom climbs can be arranged to your schedule and interests. Maximum large group size is 8 climbers and 4 guides (2:1) — these large groups are possible on only a few of the peaks. Most climbs require a 1:1 or 2:1 ratio and smaller groups. Minimum duration for a North Cascades climb is 3 days, but most objectives require 4 days.
Our unparalleled guide ratios allow us to offer a higher level of instruction, move more quickly, increase our flexibility and our rate of success. This is what sets us apart from the rest. There is a huge variety of climbing terrain, from mellow glacier to steep snow and ice, easy rock scrambling to challenging 5th class climbing. Climbs often start below tree line in old growth forest, making for a well-rounded full mountain experience. They can be an excellent primer for alpine climbs like Denali, the Matterhorn, or Ama Dablam, but they're an incredible experience in their own right. If you're looking for training, the North Cascades offer a great venue for spending time practicing the basics, such as ice-axe arrest, crevasse rescue or rock rescue, anchor systems, belaying and multi-pitch climbing, running belays and fixed line ascension. Give us a call and we can help you to decide on just the right program for your needs. If you are not in need of beginning instruction then we will be happy to recommend a more advanced climb based on your desires and level of experience. Some of our climbers come back year after year to continue to explore the North Cascades.
More info on IMG's North Cascades Alpine Climbs
Skill Level
For all climbs we will be carrying a full load of gear in to base camp. All participants must be in very good physical condition. The need to train for this climb cannot be overstressed! For several months prior to the start of the climb, training should include lots of long, slow distance runs over hilly terrain, an hour or more in duration to build a solid cardiovascular base. Add additional weekend outings carrying a heavy pack (35-50 lbs.) up steep hills or stairs. These sessions should gain 2-3,000 feet over 3 or more miles. Occasional workouts at a higher intensity and general strength training are also helpful in building higher levels of fitness.
Possible Learning Objectives
Skills clinics are possible, covering all aspects of snow and alpine climbing:
Basic snow and ice climbing
Glacier travel and crevasse rescue
Alpine rock climbing techniques
Rope handling/belay techniques
Crevasse rescue
Route finding
Developing educated, self-reliant climbers with the ability to evaluate subjective/objective hazards including: travel over glacier and alpine terrain, mountain weather, wilderness navigation