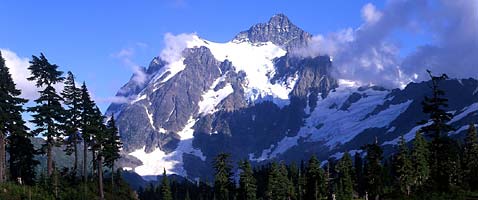 Mt. Shuksan Climbs with International Mountain Guides
Mt. Shuksan is one of the highest non-volcanic peaks in the Northwest at 9,127 feet. A strikingly beautiful peak, it is the most frequently photographed mountain in the United States.
Mt. Shuksan has it all for the aspiring mountaineer: Either of its two main approach hikes lead through dense forest up into the alpine zone and glaciated terrain. It's many routes give good options for both moderate glacier climbing and steeper, moderately technical rock climbing and ice climbing. All of the routes have good opportunities for training in ice axe arrest, cramponing, crevasse rescue skills and technical alpine climbing. The spectacular summit pyramid demands steeper snow climbing or moderate rock scrambling to get to the summit pinnacle. Your IMG guide will take you through the training process and to the summit of Mt. Shuksan for a classic Northwest mountain experience.
Options for Mt. Shuksan Climbs:
Beginner level: Sulphide Glacier Route

3 days for those with prior ice axe arrest, cramponing and rope travel training (custom trip only)
4 days required for those lacking prior training (recommended time frame for all climbers!)

Intermediate level: Fisher Chimneys Route

4 days, for climbers with experience following 4th class rock and moderately steep snow/ice only
More info on IMG's Mt. Shuksan Climbs
Guide Ratio
Our unparalleled guide ratios allows us to offer a higher level of instruction, move more quickly, increase our flexibility and our rate of success. This is what sets us apart from the rest. Techniques that will be used and introduced may include movement over rock, ice axe arrest, use of crampons, rope travel, running belays and fixed line work making this an excellent primer for a Denali expedition, climbing elsewhere in Alaska, the Alps, and other big alpine climbs. If you are not in need of beginning instruction then give us a call and we will recommend a guided climb based on your previous experience.
Skill Level
For all climbs we will be carrying our full load of gear in to base camp. All participants must be in very good physical condition. The need to train for this climb cannot be overstressed! For several months prior to the start of the climb, training should include lots of long, slow distance runs over hilly terrain, an hour or more in duration. Add additional weekend outings carrying a heavy pack (50-60 lbs.) up steep hills or stairs. These sessions should gain 2-3,000 feet over 3 or more miles. It would also be helpful to get out in the snow during the winter and practice with a pack on steeper slopes.