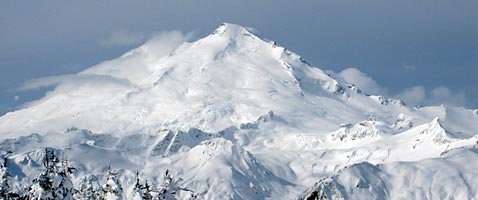 Mt. Olympus Summit Climb with International Mountain Guides
Mount Olympus is one of the most iconic, big, isolated mountains in the Pacific Northwest. Located in the center of Olympic National Park and far from any roads or viewpoints, many locals have never seen the mountain in person and relatively few climbers have ventured to its lofty summit. Mount Olympus is the third most heavily glaciated peak in Washington State, even more impressive due to its relatively low height. The high level of annual precipitation (140 inches and more each year) in the Park is responsible for heavy snowpack on the mountain in the winter months and is the reason for the formation of the extensive glaciation on Mt. Olympus.
The actual height of Mt. Olympus, 7,980 feet above sea level, may not seem impressive at first, but the challenge of Mt. Olympus becomes obvious when you consider the approach hike starts at an elevation of 573 feet. In a distance of 22 miles, the total elevation gain to the summit is over 7,000 vertical feet! A big part of the allure of climbing Mt. Olympus involves starting at low elevation in the Olympic Rain Forest and hiking up through the forest zones into the alpine zone to experience the full spectrum of wilderness environments.
Safety is our number one priority. We make no guarantees with respect to the program objectives. Many circumstances, including weather and abilities of yourself or other climbers may inhibit you from reaching the summit. Our goal is to give each of our customers the best experience we possibly can, regardless of the weather, route conditions, or time of year.
Prerequisites
There are no specific climbing prerequisites for this program. All that is required is an eagerness to learn, a significant base of cardiovascular physical fitness, and previous experience carrying an overnight pack. You will be expected to carry this weight over the course of many hours each day. For training suggestions please review the information provided on our Training for Rainier page. This is a novice climb for those interested in learning elements of travel on big, glaciated mountains. Technical training is conducted during the pre-climb orientation and continually throughout the climb.
While our Mount Olympus Climbs are suitable for novice climbers with little or no previous climbing experience, this program does require adequate fitness and endurance training in order to be successful.