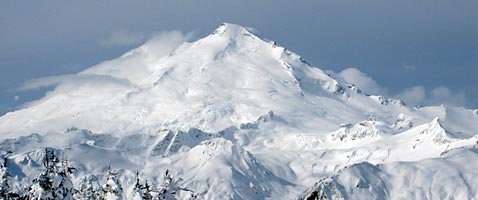 Mt. Olympus Summit Climb with International Mountain Guides
Olympic National Park is a vast area of exceptional beauty and varied ecosystems covering more than 900,000 acres of land. It was named a World Heritage Site in 1981. The Park, bordered on the west by the Pacific Ocean, is home to the longest stretch of undeveloped coastline in the lower 48 States. Rising from this coastline is an old growth rain forest system surrounding isolated snow clad peaks. In the very midst of this, remote to all except those willing to make the journey, lies Mt. Olympus, one of the great isolated peaks in the Pacific Northwest. The mountain rises almost 8,000 vertical feet from the ocean, 30 miles distant.
To climb Mt. Olympus is to fully experience one of the greatest National Parks in the U.S., unique in its biodiversity spanning terrain from ocean coastline to alpine summit.
Your small team of 6 climbers led by 2 IMG guides will utilize lightweight gear and Leave No Trace training to travel through the Park with minimal impact. The climb takes two days to hike in 17½ miles to high camp. The summit attempt occurs on day three and the final two days are reserved for hiking back out again in an unforgettable five day round trip journey.
The Mountain
Mount Olympus is one of the most iconic, big, isolated mountains in the Pacific Northwest. Located in the center of Olympic National Park and far from any roads or viewpoints, many locals have never seen the mountain in person and relatively few climbers have ventured to its lofty summit. Mount Olympus is the third most heavily glaciated peak in Washington State, even more impressive due to its relatively low height. The high level of annual precipitation (140 inches and more each year) in the Park is responsible for heavy snowpack on the mountain in the winter months and is the reason for the formation of the extensive glaciation on Mt. Olympus. Sadly, the glaciers are slowly wasting away, and have lost 15% or more of their total volume in the past 30 years due to climate change. For more information on the changes occurring in Olympic National Park and on Mt. Olympus follow this link to the NPS website nps.gov/olym/learn/nature/glaciers.htm.
The Challenge
The actual height of Mt. Olympus, 7,980 feet above sea level, may not seem impressive at first, but the challenge of Mt. Olympus becomes obvious when you consider the approach hike starts at an elevation of 573 feet. In a distance of 22 miles, the total elevation gain to the summit is over 7,000 vertical feet! A big part of the allure of climbing Mt. Olympus involves starting at low elevation in the Olympic Rain Forest and hiking up through the forest zones into the alpine zone to experience the full spectrum of wilderness environments.
Skill Level
Prior experience with crampons, ice axe and roped glacier travel is recommended, but a short review will be conducted prior to and during the summit day. On the climb we will be carrying our full load of gear in to high camp... The need to train for this climb cannot be overstressed! Please see more details on Prerequisite Skills in IMG's Mt. Olympus FAQ »