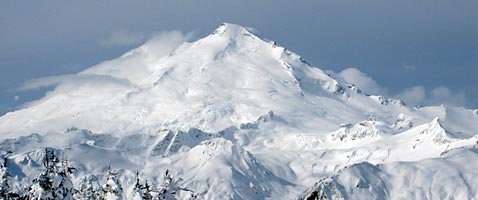 Mt. Olympus Summit Climb with International Mountain Guides
Mt. Olympus is one of the last remote peaks in Washington State. It is situated in the heart of Olympic National Park and is over 20 miles from the nearest road. Although smaller than many of its Pacific Northwest counterparts, Mt. Olympus is the third-most glaciated peak in the state.
This trip starts at sea level along the Hoh River, and winds its way through the rainforest and finally into the alpine ecosystem. After spending two nights on the trail, the team will further ascend on the Blue Glacier to the summit of Mt. Olympus.
This trip is a well-suited for both novice and experienced climbers looking to have a remote mountain adventure in one of the most biodiverse places on the planet.
Safety is our number one priority. We make no guarantees with respect to the program objectives. Many circumstances, including weather and abilities of yourself or other climbers may inhibit you from reaching the summit. Our goal is to give each of our customers the best experience we possibly can, regardless of the weather, route conditions, or time of year.
Prerequisites
The Blue Glacier is a novice climbing route well suited to beginners with no previous mountaineering experience. Guides will conduct some technical training of the skills you need to be successful on this program. Prior experience hiking and backpacking is a plus and will allow you to be more comfortable and confident on this trip.
While this program is suited for novice climbers, Mt. Olympus is still a strenuous climb. All participants must be in very good physical condition and have significant cardiovascular fitness. Each day (except summit day) will require climbers to carry a heavy backpack (45-50 lbs) over at least 10 miles.
For several months prior to the start of the climb, training should include many long, slow runs or hikes over hilly terrain, an hour or more in duration. Add additional weekend outings carrying a heavy pack up steep hills or stairs, ideally gaining 3,000 feet over 3 or more miles. Aim to move consistently at a moderate pace, with breaks approximately every hour.
For training suggestions please review the information provided on our Training for Rainier page.