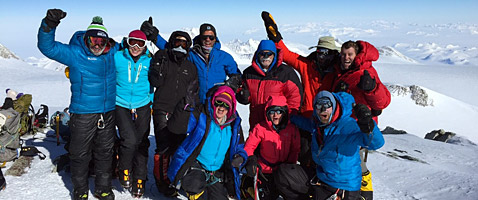 Climb Vinson, the Highest Peak in Antarctica, with International Mountain Guides
Early Decision Discount for
Trip 1 (Dec 29, 2022 Departure)
For climbers CONFIRMED on the IMG Roster no later than May 31, 2022, a discount of $1,000 will be applied against the final payment (contingent on making all scheduled payments on time).
This is the trip of a lifetime! At 16,067 ft, The Vinson Massif is the highest peak on the Antarctic continent and one of the most unique of the Seven Summits. International Mountain Guides has been conducting expeditions on Vinson since 1988, making us one of the few guide services with such extensive Antarctic experience. We take great pride in having never missed a summit of Vinson in over 30 years.
Mount Vinson requires a solid mountaineering background and a true spirit of adventure. While not technically difficult, the extremes of this environment require team members to have reasonable crampon, rope travel and ice axe experience. Prior time spent in cold weather camping and carrying loads is also required.
Antarctica is an amazing place. It's as close as you will ever get to another planet without leaving this one. We hope you will seriously consider joining us on a trip to The Ice.
MEN WANTED...
For Hazardous Journey. Small wages, bitter cold, long months of complete darkness, constant danger. Safe return doubtful. Honour and recognition in case of success...

The Climb
We fly to Punta Arenas, Chile where the trip begins. From here, we fly in a chartered jet to Union Glacier camp at 80 degrees south latitude. We then fly in a ski-equipped twin-engine Otter to Vinson Base Camp at 79 degrees south latitude. Vinson Base Camp is located approximately 660 miles from the South Pole; the pilots are Antarctic experts. Two camps will be established above base camp by making a carry to the new camp prior to moving higher. The climbing will consist of extensive cramponing on moderate slopes and one steeper, fixed line section, like the Denali headwall. Temperatures can drop to minus 40°. You can think of Vinson as a short Denali climb.
The Guides
An IMG Senior Guide leads each of these programs and has guided many mountains all over the world including many of the Seven Summits.