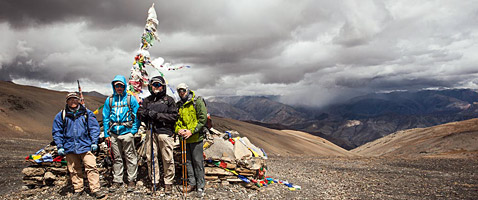 Upper Dolpo Nepal Trek to Mustang on the Great Himalaya Trail
This is the ultimate trek for the traveler who's done it all and is still seeking a truly rewarding experience. We cross 9 demanding high passes, the highest is 18,275 feet! Our journey begins in the lowlands of Lower Dolpo following lush valleys and steep river canyons typical to the south side of the Himalayas. When we cross the first pass, we enter the distinctive heights of the Tibetan Plateau, upper Dolpo. Over 24 days of trekking we bounce back and forth between these two worlds. To make this journey even cooler, we extend the trek by departing the regular route and traversing to Mustang on the soon to be famous Great Himalaya Trail.
Expedition Highlights
This is an impressive traverse across remote and rarely visited regions. We see very few trekkers, especially when we leave Dolpo and traverse the high passes to the Kingdom of Mustang. This is "old" Nepal and when we say "off the beaten path," we really mean it on this one. No backtracking!
We bring "regulars" from the IMG Sherpa Team. These guys are the best in the biz and it's worth bringing them half-way across Nepal to make this trek the best it can be.
Explore the shores of Phoksundo Lake in Ringmo, a village established on the 40,000 year old landslide / natural dam that created the lake. The lake is almost 500' deep and must be seen in person to appreciate the magnificent color of the water. We take a rest day here and visit the 900 year old Thashung Gompa on the eastern side of the lake. (See pictures in the 2013 Dolpo trip report »)
Trek the valley of the Kali Gandaki between two 8000m peaks, Dhaulagiri and Annapurna.
For those with an interest in Tibetan culture, Dolpo is as Tibetan as it gets. Isolated and governed by Nepal, Dolpo is "more Tibetan than Tibet" in 2015.
In 2013 we saw snow leopard tracks. Dolpo's isolation makes it home to the largest snow leopard population on Earth. For you literary buffs, this is the region that Peter Matthiessen and George Schaller explored in the classic book "The Snow Leopard."
A note from IMG Guide Adam Angel
I led the first IMG Dolpo Trek in 2013, and it was the most incredible trek I've ever done. Dolpo is super-remote and more committing and strenuous than some of the other treks out there. BUT, if you can put one foot in front of the other, the acclimatization schedule is perfect. We travel self-sufficiently like we did before lodges and teahouses inundated popular trekking regions of Nepal; staying in our own tents and eating from our own kitchen complete with cooks. We'll pick up chickens or a goat every now and then as we eat down our supplies! Once we hit the trail there is no easy way out, so show up healthy and in great shape. I have no doubt that you will find this trek very rewarding. Check out my 2013 Dolpo trip report to see pictures and get a feel for the trek.
Expedition Organization and Leadership
International Mountain Guides (IMG)
IMG is the oldest and most respected high-altitude climbing service in the world and its Himalayan mountaineering programs are organized and directed by Eric Simonson. Their teams include a group of professionals and Sherpas who are the best in the business. Since 1990, we have conducted over 60 Himalayan 8000 meter expeditions and over 800 IMG team members have summited the world's classic 8,000-meter peaks, including Everest, Lhotse, Cho Oyu and Shishapangma.
IMG's Philosophy
IMG leads the way! Our goal is to minimize risk while helping as many members as possible reach their goal, and we invest in the logistics and manpower to make this possible. We will not sit back and let other teams do the work. Invariably, our IMG Sherpas are part of the rope fixing efforts and the first team to the summit, preparing the route for future summit bids. We value our reputation as one of the premiere international climbing companies. If you would like to join a world-class team on Everest, we encourage you to contact us to discuss your goals and qualifications for membership in the IMG Everest team!
Ang Jangbu and the IMG Sherpa Team
A veteran of dozens of expeditions and an Everest summiter, Ang Jangbu has worked on every IMG Himalayan program since 1991 and is a very popular leader. Ang Jangbu Sherpa and his staff put together one of the very best Sherpa teams for IMG. We are proud to have a group of Sherpas working for us who are among the best paid, best led, best equipped, and best trained in the business.
References
Joining a high-altitude trek or expedition is a serious decision. You should be completely confident in the organization and leadership before you make that decision. Many of you have climbed with us before, and because your experience with us was good, you're considering another climb with us. For those of you who haven't climbed with us before, we strongly encourage you to interview us thoroughly and also talk to our past clients. When you're ready to make the decision, we'll be happy to provide you with a complete list of references. Please also browse comments online from our trekkers and climbers.