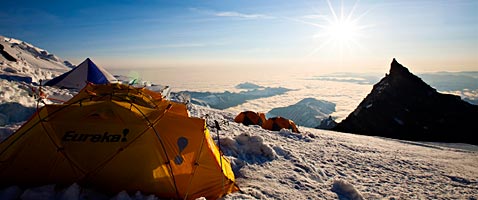 Mt. Rainier Camp Muir Guided Hike
Standing at 14,410 feet tall, Mt. Rainier is the highest peak in Washington and is the most glaciated peak in the Lower 48.
The Camp Muir Guided Hike program is an excellent option for those who want to come test their fitness and equipment before their climb of Mt. Rainier, or just enjoy a scenic hike to the first camp on this iconic peak.
As hikers ascend from Paradise, they will pass though lush alpine meadows and wildflowers, up into the alpine on the Muir Snowfield. This snowfield is present year round and hikers will ascend the snowfield all the way to Camp Muir (10,080ft) where the team is rewarded with stunning views of Mt. Rainier, Mt. Adams, and the Tatoosh Range.
This hike will be led by our experienced guide staff who have summited Rainier many times and will have likely guided on Denali and internationally. The guides will be a great resource to ask questions about training for Rainier and other climbs as well as coaching you on efficient travel techniques for steep trails and snow.
The day hike will not require too much gear and packs should not weigh more than 20lbs, excluding your boots and trekking poles.
Prerequisites and Training
Hiking to Camp Muir is suitable for those with no previous mountaineering experience yet is still a strenuous hike. You will gain 4,600' in the 9-mile round trip which brings you halfway to the top of Mt. Rainier! All participants must be in very good physical condition. Training should include many long, slow runs or hikes over hilly terrain at a moderate pace with breaks approximately every hour.
Rental Gear
Some of the more specialized gear (like plastic boots, harness, etc.) is available for rent from IMG. Please consult our Rental Page for details.
See video of an IMG Mt. Rainier Gear Check »
Safety is our number one priority. We make no guarantees with respect to the program objectives. Many circumstances, including weather and abilities of yourself or other climbers may inhibit you from reaching the summit. Our goal is to give each of our customers the best experience we possibly can, regardless of the weather, route conditions, or time of year.