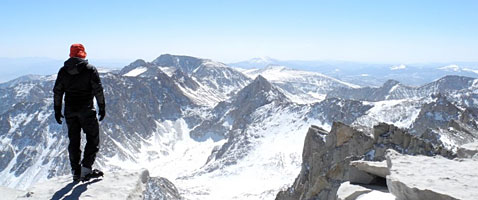 Mt. Whitney via the Mountaineer's Route
Mt. Whitney, at 14,495 feet is the highest peak in the lower 48 states. It is also the most sought after peak in North America. During the summer months it is normal to find several hundred hikers ascending the peak on any given day via the Mt. Whitney Trail.
In the spring, Mt. Whitney is a different mountain. It becomes a climber's challenge. Our route of ascent is the Mountaineer's Route on the east side of the mountain. What is a third class loose rock gully in the summer becomes a snow climb on terrain up to 45°.
Techniques that will be used and introduced include running belays and fixed line work making this an excellent primer for a Mt. McKinley expedition, climbing elsewhere in Alaska, the Alps, and other big snow climbs.
We will use expedition camping skills and bring the same equipment that we would use on a summer climb of Mt. Rainier. In addition, we will use snowshoes on the approach hike up to high camp.
Skill Level
Mt. Whitney in the spring is every bit as strenuous as Mt. Rainier. All participants must be in very good physical condition. The need to train for this climb cannot be overstressed! For several months prior to the start of the climb, training should include lots of long, slow distance runs over hilly terrain, an hour or more in duration. Add additional weekend outings carrying a heavy pack (50-60 lbs) up steep hills or stairs. These sessions should gain 2-3,000 feet over 3 or more miles.
It would also be helpful to get out during the winter and practice snowshoeing with a pack on steeper slopes. This is not required, but prior experience with snowshoes will make the approach hike the first two days easier.
Previous ice axe arrest practice, use of crampons, and rope travel experience is required.
A one-day training course will be offered prior to one or more of the programs as demand requires. This will cover ice axe arrest, cramponing, rope travel and ascending fixed ropes.