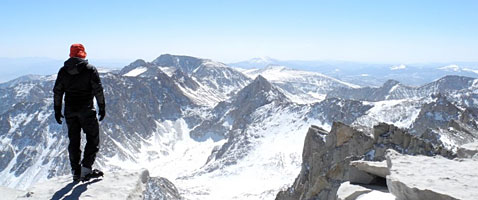 Mt. Whitney via the Mountaineer's Route
Standing at 14,505 ft, Mt. Whitney, is the highest peak in the lower 48 and one of the most sought after peaks in North America. This climb, organized by International Mountain Guides and operated under contract with Sierra Mountaineering International, ascends the Mountaineer's Route on the east side of the mountain. The Mountaineer's Route is typically a third-class loose rock gully in the summer but come spring, it becomes a snow climb ascending terrain up to 45°.
Why Choose This Program
This program gives climbers an opportunity to practice technical climbing skills such as running belays, fixed line work and expedition camping skills which makes it an excellent primer for any bigger expedition, whether it be Denali, Everest or Aconcagua.
Prerequisites
Previous ice axe arrest practice, use of crampons, and rope travel experience is required. A one-day training course will be offered prior to several of the programs and will cover ice axe arrest, cramponing, rope travel and ascending fixed ropes.
Mt. Whitney in the spring is every bit as strenuous as Mt. Rainier and as such, all participants must be in very good physical condition. For several months prior to the start of the climb, training should include lots of long, slow distance runs or hikes over hilly terrain, an hour or more in duration. Add additional weekend outings carrying a heavy pack (50-60 lbs.) up steep hills or stairs. These sessions should gain 2-3,000 feet over 3 or more miles.
It would also be helpful to get out during the winter and practice snowshoeing with a pack on steeper slopes. While this is not required, experience with snowshoes will make the approach hike the first two days easier.
Safety is our number one priority. We make no guarantees with respect to the program objectives. Many circumstances, including weather and abilities of yourself or other climbers may inhibit you from reaching the summit. Our goal is to give each of our customers the best experience we possibly can, regardless of the weather, route conditions, or time of year.