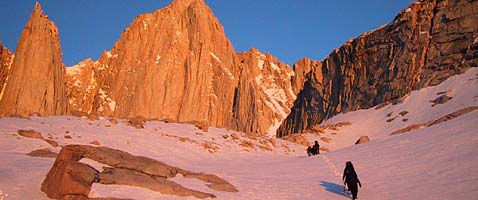 Mt. Whitney Climb Frequently Asked Questions
This information should answer many of your initial questions and also guide you through the next stages of preparing for the expedition. If you have any questions, please feel free to contact us: This e-mail address is being protected from spam bots, you need javascript enabled to view it
How do I get there?
Mt. Whitney is located in a fairly isolated part of the Sierras. There is no direct crossing of the Sierras from the west side to Whitney in the winter/spring months. Your best bet is to fly into whatever major airport is most convenient for you: Mammoth Lakes (1¾ hrs), Las Vegas (4 hrs.), Reno (4½ hrs.), LA (3½ hrs.), or Bakersfield, among others, and then plan to rent a vehicle for the up-to half day drive to Mt. Whitney.
Several airlines have recently started service into Mammoth Lakes out of LAX and San Jose amongst other locations. You might want to consider this option if you want to get as close as possible by air. From Mammoth Lakes you'll need to rent a car and drive to the town of Lone Pine, about a 95 mile journey taking approximately one hour and 45 minutes driving time. Best is to plan to arrive the afternoon prior to the starting date, allowing time to drive to Lone Pine (or Bishop first if you are attending the optional training day), arrive at your lodging, get set for the meeting the following morning and enjoy a good night's sleep. However, please note that this flight can often be delayed or cancelled in the event of stormy weather! The airport is small and sits at high elevation. My normal preference is Las Vegas because of the cheap airfares and efficient airport. Also, there is no major pass to drive over in case of snow. The downside is the drive is a longer one.
Drive to highway 395 on the east side of the Sierras and the small town of Lone Pine, about 59 miles south of Bishop. In the town of Lone Pine, drive west on the Whitney Portal Road to the marked end of the road. If the road is free of snow (unlikely) it is 13 miles to Whitney Portal from Lone Pine. If you would like to carpool to Lone Pine, I will send out a team roster with names and addresses approximately 30 days prior to the start of the program. Feel free to contact other members of the team regarding sharing rides. The simplest strategy is to book your flight through IMG's travel agent, CTT Destinations (800/909-6647 or This e-mail address is being protected from spam bots, you need javascript enabled to view it ). They are happy to coordinate flight times for you. In general, if you book your flight in to Las Vegas or Mammoth Lakes arriving by mid-afternoon the day prior to the start of the climb, you will have the best chance of teaming up with others. Your return time would be best planned for mid-afternoon of the day after the end of the climb.
Where do I stay?
You are on your own for lodging the night prior to the start of the trip. There are several small motels in the town of Lone Pine, and many more an hour north in Bishop. One good option is the Whitney Hostel. Rooms sleep up to 4 in two sets of bunks and runs around $25 a person plus tax. There are showers in each room and the place is nice. The address is 238 S Main in Lone Pine. Phone is (760) 876-0030 for reservations. Tell them you are climbing with SMI/IMG. For pictures of the hostel, go to www.whitneyportalstore.com and click on the message board to find pictures and info. It really is pleasant! You can spend the extra money on a nice dinner before the trip. We'll do our gear check and briefing after breakfast in the main downstairs room at the hostel.
If the idea of the hostel just doesn't appeal to you, try the Dow Villa Motel just to the south, 310 Main St., phone: (800) 824-9317 This e-mail address is being protected from spam bots, you need javascript enabled to view it . Rent a room in the new side of the motel, not the historic section which has showers down the hall. The Dow is a nice comfortable place.
The group will hope to be down by noon (earliest) on the last day. It is a long drive back to Las Vegas if you are flying out that way. The team usually enjoys getting together for lunch and final good-byes in Lone Pine at the end of the climb. If you are spending the night in Lone Pine, don't forget to make a reservation for the last night of the program as well.
Where do we meet?
Plan to meet for breakfast at the Alabama Hills Cafe, just across the street from the Hostel and the Dow at 111 Post Street. The guides will be there at 7:00 a.m. on the morning of the starting date and will allow for time to eat breakfast at 7:00. You can make final adjustments and we'll issue group gear and rentals after breakfast.
What kind of gear will I need?
Please see the Mt. Whitney Gear List. Some items, including snowshoes, avalanche transceiver, crampons, boots, climbing harness, ascender, ice axe, helmet, pack, sleeping bag and Thermarest pad are available for rent directly from Sierra Mountaineering International. Contact IMG for a copy of the rental form. Please fill out the form and return it with payment directly to Sierra Mountaineering. Your guide will bring your gear to the meeting place and issue it to you on the first day of the trip.
Please note that plastic double boots are not available for rent, except in limited supply in the town of Bishop at Wilson's Eastside Sports. SMI does have single insulated boots for rental, the Lowa Mountain Expert. These boots work fine for most, but not those especially prone to cold feet. Best of all, invest in a good fitting pair of plastic double boots. You won't be sorry!
What's included in the climb fee?
Costs Included in Trip Fee are: guides, dinners and breakfasts during the climb, group equipment including tents, stoves, climbing ropes and hardware, and permits.
Costs Not Included in Trip Fee are: transportation to the trailhead, lodging the evening prior to the start of the climb or the last night of the trip, or meals other than breakfasts and dinners on the trip. REQUIRED Insurance: IMG requires that all* trip participants purchase Travel Insurance that includes coverage for medical evacuation, repatriation and medical expenses for the duration of their IMG program. Trip Cancellation Insurance is strongly recommended. Trekking and mountaineering programs are true "adventure travel."
*The insurance requirement does not apply to IMG customers on programs within the continental USA but is strongly encouraged.