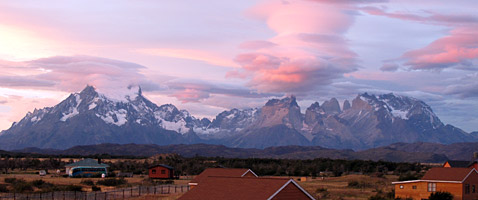 Trek the Torres del Paine Region of Patagonia with International Mountain Guides
Patagonia is simply a trekker's dream. On this trek we'll enjoy long days on the trail taking in all of the postcard moments of Torres del Paine National Park in Chile. A few of highlights include Los Torres (aka The Towers), The Silence Valley, Los Cuernos, The Bader Valley, The French Valley and the spectacular Grey Glacier.
The trek itself starts out at the main entrance of Torres del Paine National Park. Once in the park we'll get right to it. Day one of the trek takes us up the Ascencio Valley along the Ascencio River, to the base of Las Torres (Spanish for The Towers). The three spectacular granite Towers: Torre D'Agostini (2,850m), Torre Central (2,800m), and Torre Norte (2,600m), are the centerpiece of Torres del Paine National Park. Jaws drop as the towers appear as if from nowhere. We'll spend the night in this area at Laguna Azul to maximize opportunities to see these towers in the evening and morning times.
After enjoying the views of Los Torres and trekking up into the Silence Valley (special permit required), we will make our way west towards Los Cuernos. The day will be spent in the Bader Valley (special permit required). This trek also follows along Lake Nordenskjold. This beautiful glacier fed lake is named after the Swedish geologist, Otto Nordenskiöld whose studies formed an important contribution to world glacial geology. Then it's onto the French Valley, famous for the hanging glaciers and an amphitheater of granite walls and spires at the head of the valley.
After the French Valley it's on to another highlight of the park, Grey Lake and The Grey Glacier. Once we've reached Refugio Grey we'll remain flexible to take what the weather gives us. If the weather cooperates, we will hop a zodiac boat for about 15 minutes until we reach the west side of Grey Glacier. We will then disembark on the island at the glacier (nunatak) and will walk on the island for about an hour, until we reach the ice. We will then cross the glacier from West to East where we will be able to observe cracks, rivers, lagoons, and tunnels with their beautiful blue colors. We will then hike back to the lodge for the evening. We may also take advantage of some sea kayaking for an optional ($100) 2-3-hour tour up next to some icebergs and the glacier itself.
Our trip culminates with a ride across Lago Grey on the Grey III boat where we'll enjoy a Pisco Sour chilled by fresh glacier ice.
Once back in Puerto Natales it is time to shower up and celebrate! After dinner, we'll say our goodbyes and prepare to head home.
Let us know what questions you have or sign up here!