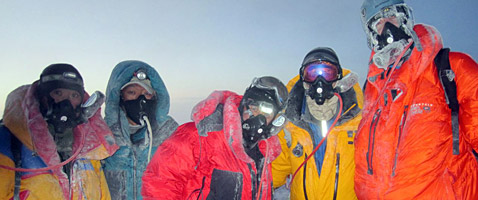 Manaslu Climb with International Mountain Guides
Travel to Nepal and climb Manaslu in Autumn 2023 with IMG! IMG has conducted 32 autumn season expeditions to 8000 meter peaks in Nepal and Tibet, including Cho Oyu, Shishapangma, and Manaslu. Now that the Chinese have closed access to Tibet for climbers, we will return to Manaslu in Autumn 2023.
Leading the 2023 Manaslu expedition will be IMG's sirdar (head sherpa) Phunuru Sherpa. Phunuru has thirty-three (33) 8000 meter summits under his belt, including a successful ascent of Manaslu in Autumn 2021. Joining Phunuru will be IMG guides from the USA and our IMG Sherpa All Star team.
For the best possible chance of summiting this 8,163m (26,781 ft) mountain we will look to take advantage of the window of good weather that follows the end of the monsoon, but before the cold winter winds start picking up. IMG will plan on using supplemental oxygen, which is a big benefit on a cold summit day!
This climb is fantastic, giving you the opportunity to climb a big Himalayan mountain, become familiar with our great Sherpa team, and also gain experience using oxygen on the summit day. If an 8000 meter peak is in your future, we hope you will join us for Manaslu. This will be great experience!
Why Manaslu?
Over the years, IMG has organized expeditions to many mountains in Tibet and Nepal during the Autumn season including Hiunchuli, Singu Chuli, Tharpu Chuli, Baruntse, Mera, Imja Tse, Lobuche, Cholatse, Ama Dablam, Dhampus/Thapa Peak, Cho Oyu, Shishapangma, Manaslu and Annapurna 4.
It is no secret that for over 20 years Cho Oyu was IMG's first choice for an Autumn 8000 meter peak, and we have led over 260 climbers to the summit of that peak. However, Cho Oyu is now closed and it is unlikely that it will reopen any time soon due to politics. With an improved climbing route on the mountain we are excited to get back to Manaslu this Autumn. Our IMG Sherpa Leader Phunuru reports after his Manaslu climb in 2021 that the climbing route has now been revised since his previous climb there, making it safer and less exposed to avalanche. Now, the location of Camp 3 and the route between C3 and C4 have been moved further to the climber's right into better locations. Additionally, the local infrastructure has improved, with better trails, more tea houses in Samagaon, and ready access via helicopter from Kathmandu.
Expedition Itinerary and Plan
For our 2023 IMG Manaslu Expedition we have a 35-day itinerary that combines an expedited trip by helicopter to and from the mountain, with an unhurried acclimatization schedule once we start climbing. After meeting in Kathmandu, the team will fly by helicopter to Samagaon (3850m) in the heart of the Gorkha District of Central Nepal, near to the Tibet border. Here we will spend several days doing acclimatization hiking prior to moving up to the Base Camp (4800m). Then, above Base Camp, a series of camps will be utilized: Camp 1 (5800m); Camp 2 (6400m); Camp 3 (6800m); and Camp 4 (7450m).
This expedition will be led by IMG's Phunuru Sherpa, a veteran of over a dozen summits on Everest and Lhotse and 19 Cho Oyu summits (the current world record). Joining Phunuru will be IMG guides from the USA and our top IMG Sherpa Guides from Nepal (at a 1:1 ratio to climbers). These are the same guides who staff our IMG Everest and Lhotse and Ama Dablam expeditions.
We will provide high altitude climbing oxygen starting at Camp 3 for the day you move to Camp 4, for the overnight at Camp 4, and then for the summit day climb and descent back down to Camp 3. Climbers will typically set their flow rates for climbing in the 3 LPM range (liters per minute, a generous flow), and for sleeping at night at 1 LPM.
Personal Sherpa and Extra Oxygen Option
In addition to your climbing guide, we can arrange for you to have a personal Sherpa and 1800L of extra oxygen for the Manaslu Expedition, allowing you to begin oxygen at Camp 2 (when you move to Camp 3 on the summit bid). The cost will be $7,500 for this combination. Your personal Sherpa will assist with carrying your extra oxygen, helping you with some of your personal gear, and being a climbing partner who will have an extra set of eyes on you during your climb. If you anticipate wanting additional support during the expedition, this would be a good option for you. Please let us know if this is something you are interested in having during the expedition.
Ama Dablam Extension
Do you want to take advantage of your acclimatization and climb Ama Dablam after you return to Kathmandu? We can organize an accelerated Ama Dablam climb for you. The itineraries for Manaslu and Ama Dablam match up perfectly, giving you some time back in KTM to rest and do laundry before getting on a helicopter and heading into the Khumbu Valley. Let us know if you are interested in adding Ama Dablam. We are here to help get your questions answered.