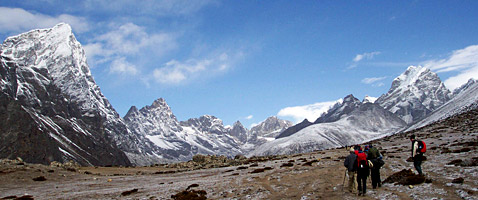 Lobuche Peak Climb and Nepal Treks with International Mountain Guides
Lobuche Peak with Everest BC Treks
Our Mt. Everest climbers have used Lobuche Peak as a warmup climb for many years. This is also a great high altitude training climb for people with Mt. Rainier skills, along with a classic trek. We will review cramponing and fixed rope techniques before heading up.

Details in the Autumn Everest PDF Doc »


Details in the Spring Everest PDF Doc »
—Eric Simonson
2020 Autumn Early Decision Discount
$250 will be subtracted from the final payment of climbers CONFIRMED on the IMG Roster for the Autumn 3x2 Trek with Lobuche Peak Climb prior to March 31, 2020, contingent on making all scheduled payments on time.*
*Note: Offer will be forfeited in the event of late payments.
IMG's Everest programs are recognized worldwide as simply outstanding, with a reputation for our highly professional staff of leaders, climbers and Sherpas, first-rate logistics and our resulting safety and success record on the mountain.
Under the direction of legendary climber and expedition leader Eric Simonson, we offer an exciting array of Nepal options from treks to summit climbs. We have designed our programs to be truly unique and special — not like anything else you'll find on the market, so please read on!
Lobuche Peak Summit Climb
If you would like to visit Everest Base Camp, and stay longer and go higher, bring your crampons and ice axe and add a climb of Lobuche Peak, to over 20,000 feet (we stop at the false summit — the real summit is a very difficult technical climbing). Our itinerary includes staying in lodges between Lukla and Pheriche, then in our custom Lobuche Peak base camp (for fantastic acclimatization hiking) for several nights prior to moving on up to Everest BC at the beginning of the expedition.
Then our Lobuche climbers, guides, and Sherpas will drop one day back down the valley to climb this beautiful peak, with world class views of Everest from the summit. Afterward, trek back out to Lukla with our crack Sherpa team for the flight to Kathmandu. From the beautiful Lobuche Base Camp tucked up a side valley from the EBC trek route, the route climbs to a high camp, then from there up rock scrambling to the glacier, which leads to the summit ridge. The steeper parts of the climb to the ridge are normally fixed with about 500 meters of rope.
Lobuche Peak is a perfect objective if you are fit and have Mt. Rainier type skills. (ice axe, crampons, roped glacier travel). We will review use of fixed ropes for climbers who have not done this before.
Note on Dates
Dates are listed starting with the arrival day to Kathmandu to the arrival day back to Kathmandu from Lukla at the end of the trip.
The ending dates for the EBC Classic Trek, Sherpa Trek, and Lobuche Climb are FIXED, but you should add one contingency day in Kathmandu at the end, before flying home, in case of Lukla flight delay.
Expedition Organization and Leadership
International Mountain Guides (IMG)
IMG is the oldest and most respected high-altitude climbing service in the world and its three principals, Eric Simonson, Phil Ershler, and George Dunn, have led and organized hundreds of expeditions worldwide since 1975. IMG's Himalayan mountaineering programs are organized and directed by Eric Simonson and Greg Vernovage. Their teams include a group of professionals and Sherpas who are the best in the business. Since 1990, we have conducted over 60 Himalayan 8000 meter expeditions and over 800 IMG team members have summited the world's classic 8,000-meter peaks, including Everest, Lhotse, Cho Oyu and Shishapangma.
IMG's Philosophy
IMG leads the way! Our goal is to minimize risk while helping as many members as possible reach their goal, and we invest in the logistics and manpower to make this possible. We will not sit back and let other teams do the work. Invariably, our IMG Sherpas are part of the rope fixing efforts and the first team to the summit, preparing the route for future summit bids. We value our reputation as one of the premiere international climbing companies. If you would like to join a world-class team on Everest, we encourage you to contact us to discuss your goals and qualifications for membership in the IMG Everest team!
Ang Jangbu and the IMG Sherpa Team
A veteran of dozens of expeditions and an Everest summiter, Ang Jangbu has worked on every IMG Himalayan program since 1991 and is a very popular leader. Ang Jangbu Sherpa and his staff put together one of the very best Sherpa teams for IMG. We are proud to have a group of Sherpas working for us who are among the best paid, best led, best equipped, and best trained in the business.
References
Joining a high-altitude trek or expedition is a serious decision. You should be completely confident in the organization and leadership before you make that decision. Many of you have climbed with us before, and because your experience with us was good, you're considering another climb with us. For those of you who haven't climbed with us before, we strongly encourage you to interview us thoroughly and also talk to our past clients. When you're ready to make the decision, we'll be happy to provide you with a complete list of references. Please also browse comments online from our trekkers and climbers.