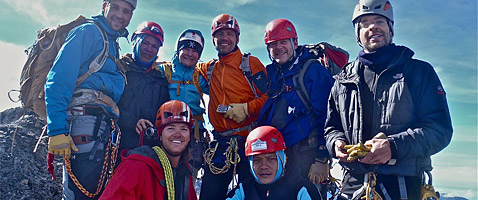 Carstensz Pyramid with International Mountain Guides
Custom Carstensz Expeditions
We are in regular communication with our local agents, and as soon as we get the green light, we will be back to climbing this unique mountain in Papua Indonesia. We had hoped that 2022 would be the year that we could get back to Mt Carstesz, but now we are being told not to expect permits to be issued by the Government until sometime in 2023.
Given the uncertainties, our plan is to operate our next expedition as a Custom Trip, with the dates and prices based on the number of climbers and when they can go. If you (and your friends!) are interested in climbing Carstensz Pyramid in 2023, please contact the IMG Office, and we'll keep you advised!
One of the most elusive of the Seven Summits is Carstensz Pyramid. We have now conducted eleven successful Carstensz trips, via five different routes (from the mine, via helicopter from both Enarotoli and Timika, via Ilaga trek and via the Sugapa trek approach). In addition, we have conducted guided climbing expeditions to other Papuan high peaks including Idenberg, Trikora, Mandala, Ngga Pulu, Semantri, and East Carstensz. This is a great trip for climbers with solid rock-climbing skills and the ability to adapt to the altitude when flying in by helicopter.
This is real "adventure travel" so we have added several additional contingency days to the Carstensz Expedition itinerary, for extra flexibility dealing with the challenges inherent in this expedition. If these extra days prove to be unnecessary, then you can have a couple days on the beach in Bali on the way home!
Our team will meet in Denpasar (Bali), then fly to our jump off location in Papua (likely Timika). From here our helicopter charter will fly to the Carstensz area. Our actual drop off point is dependent on a number of factors that we are accustomed to working with including the ever-changing weather, the situation with the helicopter, and the local porters. If possible, we will fly into the Nasidome Camp, which is slightly lower (12,200 feet) and will provide a bit more acclimatization before we make the one-day approach hike to the Yellow Valley Base Camp. If we need to fly directly into Yellow Valley (13,700 feet) then we will take extra time acclimatizing and training before we make our summit attempt (we have flown into Yellow Valley twice and have a 100% success rate when doing this). Either way we go, it is prudent to take Diamox and move slowly for the first couple days, since it is a big jump in altitude!
Once we arrive to Yellow Valley Base Camp we will have an opportunity to train for the summit climb by trekking to the beginning of the route to familiarize ourselves with the first few pitches of rock climbing. This is incredibly beneficial because when we head up on our summit rotation it will be dark and having already been on the beginning of the route in the daytime will make our movements more efficient.
For Carstensz you need to be confident moving on moderate (3rd, 4th and easy 5th class) rock terrain, on fixed ropes, rappelling, clipping in and out of anchors, etc. Up on the summit ridge there are several precipitous notches to cross (with fixed ropes). These days the biggest notch is now fixed with a cable Tyrolean Traverse. It is not unusual to get rain or snow during the climb, but the temperatures are not extreme. Don't forget leather gloves to protect your hands from the rough rock!
After the climb, the team will spend the night at BC before flying by out by helicopter (normally early in the morning for the best weather). We have used this Hybrid itinerary on our recent expeditions, and it has worked very well. Are you ready to Sign Up?
It's good to know that there is still some real "Adventure Travel" left in the world! Let us know if you have any questions about the expedition.
Recommended Reading

I Come From the Stone Age
by Heinrich Harrer

Under the Mountain Wall
by Peter Matthiessen