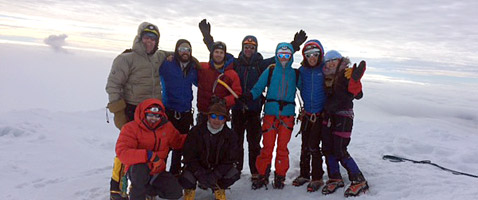 Climb the Ecuador Volcanoes with International Mountain Guides
IMG has been leading expeditions to Ecuador since the early 80's and the contacts and relationships we've built over the years make this program unique! Our Classic program includes ascents of Cayambe and Antisana and for the interested and capable climber, we offer a summit attempt of Chimborazo as an optional 3-day extension.
On our two-week trip, we will try to sample as much of this beautiful country as possible! Our newly enhanced Ecuador program offers luxury hotels, haciendas and restaurants. Your journey is enriched exploring Quito before and after our ascents, visiting cathedrals and markets and sampling local cuisine. We will also sightsee the famous Indigenous market in Otavalo while spending time with local long-time friends of IMG, and you're efforts on Cayambe will be rewarded with a night at the famous Papallacta hot springs! Our goal is to make this trip so much more than just a mountaineering expedition!
The Climbs
Our acclimatization schedule includes two mountains. We hike Fuya Fuya (13,986') and Imbabura (15,190') prior to our Cayambe attempt. Additionally, we do a basic technique review on the slopes of Cayambe and spend two nights at the Oleas-Ruales-Berge Refuge prior to our climb. After our summit attempt we will drive to the jungle town of Papallacta, where we can soak in the hot springs for which this town is famous.
Antisana is next, well known for its beauty, serenity and spectacular views of Cayambe and Cotopaxi. The team will camp at 14,800' and make the summit attempt. After climbing Antisana, we spend a night at the Hacienda Cienega. We wrap up the trip with lunch at Hacienda San Agustin and historic Inca Ruins.
The Guides
An IMG Senior Guide leads each of these programs and is joined by some of the finest and most experienced local Ecuadorian guides.