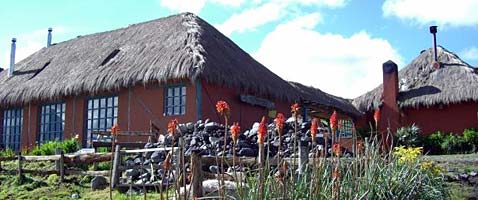 IMG Ecuador Volcanoes Itinerary
Day
Trip 1
Trip 2
Cayambe & Antisana Itinerary
Day 01
2-Nov-2023
4-Jan-2024
Depart home for flights to Quito. Most flights arrive to Quito just before midnight (Day 1) or just after midnight (Day 2).
Day 02
3-Nov-2023
5-Jan-2024
Morning gear checks followed by a hike above Quito via the Teleferico (Gondola). Afternoon will be spent seeing famous churches and other sights in Old Town Quito. A second night in hotel Quito. We will stop for lunch with a view of Imbabura and Laguna Cuicocha. Night will be spent near Otavalo.
Day 03
4-Nov-2023
6-Jan-2024
Early morning departure from Quito. We will visit the famous indigenous Otavalo Market, then stop for lunch in San Pablo Lake and enjoy a view of Imbabura Volcano. Afternoon visit to Lake Cuicocha with a short hike along the lake. Overnight at the historic Hacienda Pinsaqui.
Day 04
5-Nov-2023
7-Jan-2024
Early morning hike and scramble to the top of Fuya Fuya (13,986') followed by a stop in Otavalo to visit local knitting workshop. Travel to San Clemente for the night.
Day 05
6-Nov-2023
8-Jan-2024
Early morning to hike and scramble to the summit of Imbabura (15,109'). Spend the night at Cabañas Cayambe where we will sort our gear and pack for Cayambe.
Day 06
7-Nov-2023
9-Jan-2024
Drive to the Oleas-Ruales-Berge Hut (15,092') on Cayambe. The group will spend the afternoon relaxing at the hut and discuss topics including high altitude and expedition climbing.
Day 07
8-Nov-2023
10-Jan-2024
Training day on the lower slopes of Cayambe. Review to include basic cramponing, proper use of the ice axe and roped travel. Second night spent at the hut.
Day 08
9-Nov-2023
11-Jan-2024
Summit attempt of Cayambe (18,997'). Return to the hut, pack gear and transfer to Papallacta for the night at the famed hot springs and hotel.
Day 09
10-Nov-2023
12-Jan-2024
A nice recovery day spent visiting several Haciendas near Sangolqui followed by spending the night at Hacienda Carriona.
Day 10
11-Nov-2023
13-Jan-2024
Travel to Antisana via 4wd trucks. A short hike up the last bit of road to camp. The trucks will drive up the backpacks and tents. Sleep in tents at a scenic camp below Antisana.
Day 11
12-Nov-2023
14-Jan-2024
Summit attempt of Antisana (18,876'). Return to camp, pack gear and travel to Hacienda Cienega for the night.
Day 12
13-Nov-2023
15-Jan-2024
Late breakfast and nice lunch at nearby Hacienda San Agustin which features historic Inca Ruins. Those traveling home will depart for Hotel Quito in the afternoon while those climbing Chimborazo will spend another night at Hacinda Cienega. For those headed home, any flight after 8pm of Day 12 will work.


Chimborazo Extension
Day 13
14-Nov-2023
16-Jan-2024
Travel day to Chimborazo from Hacienda Cienega. Depending on the weather and conditions, we may stay at the Carrel Refuge (16,000ft) at the end of the road, or we climb to high camp for the night (17,400ft).
Day 14
15-Nov-2023
17-Jan-2024
Summit attempt on Chimborazo if weather allows. Long day of climbing followed by travel to Baños for famous hot springs and nice food.
Day 15
16-Nov-2023

18-Jan-2024

Contingency summit day for Chimborazo with travel back to Quito in the afternoon. If we summit on this day, then we will go straight from Chimborazo to Quito and be back in time for flights after midnight.
Day 16

17-Nov-2023

19-Jan-2024
Travel day home. Any flight after midnight on Day 15 will work well.