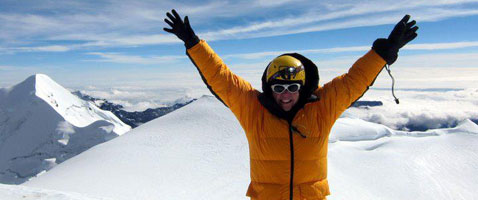 Bolivia Climbs with International Mountain Guides
With some of the Western Hemisphere's best high altitude climbing, you can't beat Bolivia for refining your mountaineering skills! These programs are suitable for climbers in excellent physical condition with solid Mt. Rainier skills (crampons, ice axe, and roped glacier travel.)
If you have a Himalayan Peak in your sights for the future, Bolivia is a great training ground. At high altitudes, the mountains bear a striking resemblance to the rugged peaks of the Himalaya. From Ama Dablam to Cho Oyu, Lhotse, or Everest — if your goal is to climb in the Himalaya, these mountains are great training.
Our IMG Guides in Bolivia have climbed some of the highest peaks around the world and will train you for all the technical skills needed to have a successful attempt on these great mountains. With our combination of top-quality accommodations in the city and camps, and great guides, the Bolivia trip is about as good as it gets for combining fun travel and challenging high altitude climbing. We have also worked with many individuals and groups to organize custom programs in Bolivia.
Whether it's different trip dates, other mountains, or additional acclimatization or tourist days before or after a trip, we're here to assist you. If you have a favorite IMG guide with whom you like to climb, we can also work with your group to put a great trip together with them.
Climbing in Bolivia with IMG
Our expedition begins with a couple nice training days in the Condoriri area of the Cordillera Real Mountains culminating with a climb of Pequeño Alpamayo (17,482'). Then we head over to Huayna Potosi (19,974') which is one of the Classic Bolivian peaks. These are excellent climbs, requiring a variety of snow and ice climbing skills. If you have the time, take advantage of your acclimatization by adding the higher and steeper Illimani (21,200'). For those interested in climbing Parinacota and/or Sajama, we can work with you on these mountains as well in a Custom Program arrangement.
Bolivia checks all the boxes for a mountaineer looking for a fun adventure. The mountains are spectacular, the people are welcoming and we include plenty of sightseeing and acclimatizing before heading to our climbing objectives. The history of the ancient people is noted everywhere and many of the skills learned hundreds of years ago are still being used today. The wildlife is abundant, and we rarely make a move without being accompanied by llamas, donkeys or mules as well as other wildlife that is just curious!
Getting off the plane at 13,000' will be a bit of a shock as you start hauling your duffels around the airport and are quickly reminded that you are at altitude. One of the most critical factors determining our success in the mountains of Bolivia will be our ability to acclimate well. While acclimatizing, there is plenty to do and see while in the city of La Paz, and we'll spend time wandering through colorful outdoor markets where the local people sell everything from fruit and vegetables to antiques and musical instruments. If you like, you can even outfit yourself with a few charms from the Witches Market, "guaranteed" to bring health, wealth, and happiness.
Our visit to Bolivia wouldn't be complete without a trip to Lake Titicaca for two nights, the highest lake in South America at over 12,500 ft. We'll charter a small boat to take us out to the Island of Suriki (Sun Island) where we will visit the Amayra Indians who helped Thor Heyerdahl build the famous reed boats Ra II and Tigress for his exploratory expeditions and lunch on local food on the shore of the island.
After our acclimatization, we are ready for the mountains! For both trips, we will go to the Condoriri area, where we will continue acclimatizing and attempt our first mountain, Pequeño Alpamayo (17,482ft). After several days of training and acclimatization climbing, we head to Huayna Potosi (19,974ft.)
Illimani Extension
For our Huayna Potosi climbers, we offer Illimani as an extension. This is a more technical climb, which is suited to climbers with additional acclimatization under their belts. To climb Illimani, we drive east over a high pass to a village where we'll load the bulk of the gear onto a few pack animals and begin our hike into base camp at about 15,000ft. The next day, we'll hike from base camp to our high camp, Nido de Condores (the Condor's Nest) perched at 18,000ft. The route from base camp will take us onto a rock ridge and involves some very minor rock scrambling. The Illimani summit day sees the team climbing a narrow snow ridge after which, the team will face a headwall. This is a steep climb at over 20,000 feet that demands our attention, presenting some exposed climbing using running belays and fixed lines, with a classic finish along the ridge leading to the summit of Illimani.
Following our ascents, the team will return to La Paz for a final night. Members are free to leave the next day (many flights to/from USA arrive/depart early in the morning.)