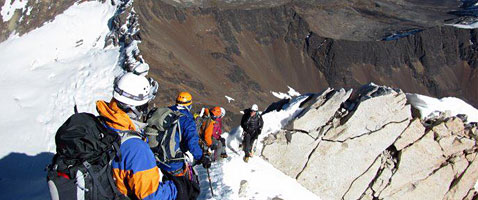 Bolivia Frequently Asked Questions
This information should answer many of your initial questions and also guide you through the next stages of preparing for the expedition. If you have any questions, please feel free to contact us: office@mountainguides.com
What is the climbing like?
IMG guide Greg Vernovage describes the climbing in Bolivia:
"Huayna Potosi (HP) and Illimani (Illi) are certainly a notch or two up from Rainier. In my experience, quite a few people head to the peaks of South America to see what they're capable of on larger mountains. HP and Illi are both steep and heavily glaciated peaks. The nature of the climbing differs from that on Rainier in a couple of ways. HP and Illi do have massive glaciers yet, we spend little time on terrain that typifies glacier travel (crossing crevasses, dealing with ice falls, seracs... etc.). Much of the climbing sticks to ridge lines comprised of snow and ice. Never is the climbing so steep as to necessitate two ice tools but, on occasion there will be fixed line in place or running belays being used on the climbs. In terms of objective hazards (rock fall, ice fall... etc.) yes, these mountains do have them but, they are pretty user friendly compared to some other peaks I've guided (sticking predominately to ridges really helps). So, to summarize the route conditions... some steeper snow and ice, generally on ridge lines, at altitude, climbing in rope teams of three to five people, and using fixed lines and running belays when the exposure to a fall is unmanageable with a team arrest/self-arrest."
How do I get there?
International Mountain Guides has worked for many years with the staff at CTT Destinations to provide professional travel service for participants in our programs. For help with your plans, we urge you to contact Pirjo DeHart at CTT Destinations: 425-831-0367 or pirjo.dehart@cttdestinations.com
Is a visa required?
A visa is needed and can be obtained on arrival at the LaPaz airport. The cost is US $160 (cash) and the visa is good for the life of your passport. The visa applications forms are usually handed out on board your flight to LaPaz. You will need to have your passport handy to present to immigration officials in LaPaz upon landing, a 2" x 2" passport photo, the visa fee, and the visa application form. We will also provide you a letter before the trip begins confirming your reservations (sometimes you need to present this when getting the visa on arrival in LaPaz).
What kind of insurance do I need?
Emergency evacuation and medical expense coverage is required for International Programs. IMG strongly recommends trip cancellation/interruption coverage due to the IMG refund policy. Be sure the policy you select covers mountaineering activities. You can find more information on our Travel Insurance page.
Please extend your insurance policy to cover your trip until you return to your home country.
What immunizations will I need?
Tetanus-Diphtheria - You should already have. Do you need a booster?
Polio - You should already have. Do you need a booster?
MMR - You should already have. Do you need a booster?
Meningitis - Recommended. Consult your physician.
Hepatitis A - Recommended. Consult your physician.
Hepatitis B - Not a bad idea. Ask your physician.
Cholera - Ask your physician. Not usually recommended any more.
Typhoid - Not a bad idea to be safe. The tablet form, Vivotif Berna, is good for five years.
Rabies - The new vaccine is easy. Rabid animals are occasionally encountered in Bolivia.
Malaria - Not necessary unless you plan on traveling, for example, to certain areas near sea level before/after the trip... then malaria chemoprophylaxis is recommended (we suggest Malarone)
Yellow Fever - Not necessary unless you are coming to Bolivia from an endemic country.
Covid vaccination - Please send a copy of your vaccination card to Becky Kjorvestad at IMG.
We recommend that you visit the travel clinic at a major University Hospital or your local Public Health Department for the most up to date info on travel requirements, or check the Center for Disease Control Website cdc.gov and cdc.gov/travel/destinations/bolivia.htm
What's included in the trip cost?
Cost Includes
IMG Leadership & local guides @2:1 ratio
Cook team, drivers, porters, mules
Group equipment (kitchen, tents, etc.)
Climbing permit fees/park fees/museum/boat to Sun Island
Airport transfers
Ground transportation
Lodging for published itinerary
Includes 3 hotel nights in La Paz, double occupancy (2 before and 1 after climb returns to La Paz)
For members climbing Illimani, we add 2 more nights (2 before, 2 in the middle, 1 at the end).
We can make a reservation for you if you wish to come early or stay on after the trip ends, additional nights are at your expense
Shared accommodations in tents while climbing
Welcome dinner on first night & continental breakfasts in La Paz.
Meals while climbing except for snack items.
IMG Buff
Cost Does Not Include
International airfare/tax/baggage fees
Single Supplement hotel accommodations (SINGLE SUPPLEMENT COVERS LA PAZ HOTELS ONLY)
Food and lodging, should you arrive in La Paz early or stay longer than itinerary
Please let us know by your final payment due date if you arrive in the middle of the night and would like a room reserved upon arrival
Beverages during the trip
Personal shopping and snacks
Lunches and dinners in La Paz with the exception of the Welcome Dinner
Personal gear/climbing equipment
Travel insurance; evacuation, hospital or medical costs
Covid tests (if required for travel); any Covid-related expense resulting in delays or quarantine
Tip pool for local guides and support staff: $300 USD per person
Optional but customary gratuity for your IMG guide, 5% is a good starting point