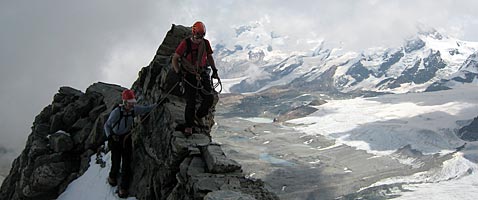 Climb the Matterhorn with International Mountain Guides
We will climb three or four peaks in the vicinity of Zermatt, Switzerland. The climbing is a progression that culminates in an ascent of the Matterhorn. After initial training at a local crag, we will attempt Pollux (13,425'), a 4,000-meter peak involving a glacier approach and exposed mixed snow and rock climbing to the summit. The next objectives may be Castor (13,868'), the Breithorn, or similar 4,000-meter peaks that involve additional glacier travel and training in mixed snow and rock climbing techniques.
Our final and most important goal will be, of course, the Matterhorn. For this ascent, we will split the group into two parts to allow the guides to lead one-on-one. Skills required for the Matterhorn include the ability to move steadily in mountain boots over fourth and moderate fifth class rock. Participants must have confidence moving over steep, exposed, and sometimes loose rock. The more difficult sections will be led and belayed by the guides, but the easier sections of third and fourth class climbing will be climbed moving simultaneously. Good balance, coordination and stamina are a necessity.
The upper portion of the mountain will likely include snow and ice over rock and climbers will be wearing crampons. There is fixed rope cable on some of the steepest upper pitches and some strenuous hand-over-hand climbing is involved. Summit day from the hut takes up to 6 hours of rapid climbing and an equal amount of time in descent.
Prospective team members must have a high enough level of skill and stamina to meet the rigors of this climb. Final determination of each climber's ability to complete the climb will be the responsibility of the guide leading their rope. Nonetheless, each participant must come fully prepared to meet the demands of this challenging and exciting climb. The Matterhorn is without a doubt the best known and most sought after peak in Europe. The ultimate challenge for any aspiring Alpinist.