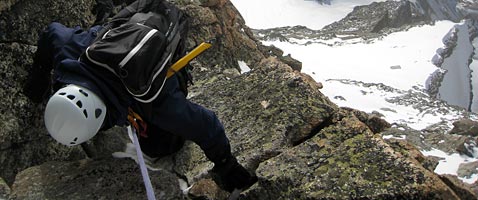 The Matterhorn Frequently Asked Questions
This information should answer many of your initial questions and also guide you through the next stages of preparing for the expedition. If you have any questions, please feel free to contact us: This e-mail address is being protected from spam bots, you need javascript enabled to view it
What is the climbing like?

Knowledge of basic mountaineering skills, including ice axe arrest, cramponing and roped glacier travel is required. In addition, specific rock climbing skills are necessary. This includes the ability to climb rapidly with hands and feet, in balance over 3rd, 4th, and moderate 5th class rock (up to 5.7). Past participation in a rock climbing course, and completion of additional full day rock climbs in mountain boots is required. Other necessary skills include knowledge of belaying and rappelling. Submission of a climbing resume and an interview with the program director is necessary for participation in the program.
How do I train for this?
The best training program for such a climbing trip is one that includes aerobic activities such as running, swimming and bicycling. Get in plenty of time hiking with a pack or running up and down hills. Muscle strengthening exercises for the legs, arms and back are also important. It is critical for the Matterhorn that participants are able to move rapidly up steep, exposed rock scrambling and climbing for up to six continuous hours up and an equal amount of time in descent. Adequate advance preparation is mandatory.
What are the accommodations
Accommodations are not included in the landcost fee. We will overnight as a group in climbing huts on each peak. The European huts are quite luxurious compared to those in the States and their convenience has made them popular with climbers throughout the Alps. Sleeping bags and pads are not required on this trip. Bunks with blankets are provided at each hut. The guides will secure reservations for the group for each night at a hut, but it is up to each person to pay this fee at the hut.
Between climbs IMG recommends team members stay at the same hotel in Zermatt, the Alpenblick. This 3 star hotel is very comfortable and picturesque. It is up to each person to make arrangements for their own lodging, but IMG's travel agent, CTT Destinations, This e-mail address is being protected from spam bots, you need javascript enabled to view it , can help with bookings. We encourage sharing rooms, and can help to expedite this for you. The vagaries of the weather and changes in the climbing itinerary require flexible hotel reservations. IMG will do its best to specify which days will be spent in hotels, but some last minute changes may occur. If we require additional nights of lodging at the hotel, the Alpenblick will do its best to accommodate you. However, they cannot cancel a reservation for you at short notice. If they are unable to provide lodging for additional nights at short notice, they will be happy to find the closest comparable lodging at another hotel for you.
What about food?
Each person is responsible for providing his or her own meals during the course of the program except for breakfasts and dinners in the climbing huts, which are included in the lodging. Between climbs we will have the opportunity to sample local specialties in some of the many excellent restaurants and specialty shops found in Zermatt. The team will normally have the option of meeting as a group for dinner in the evenings, and this is an enjoyable and social part of the program. There will be opportunity to purchase lunch food in town prior to each of the climbs. Our hotel provides a very nice continental breakfast with the price of lodging.
Where do we meet and how do I get there?
The Matterhorn trip starts and ends in Zermatt. Transportation to Zermatt is not included in the cost of the program. It is generally best to fly directly to Geneva, arriving in the morning, and then catch a train departing hourly for Zermatt. Plan to arrive no later than the evening before the starting date of the trip, but it is best to allow an additional day to help recover from jet lag.
When you purchase your train ticket, be sure to ask about the best deal available for your specific travel needs. I normally buy a Swiss Card right at the railway station in Switzerland. It costs about $135 U.S., but is good for a round trip ticket from the airport to a single destination as well as 50% discounts on gondola and lift tickets. You can also buy a Swiss Pass or a Flexipass if you plan to travel more in Switzerland. These passes are often good for a discount on lifts and gondola rides as well. Other options exist if you plan to travel to and from different countries. For more information train travel in Switzerland, check out www.raileurope.com or www.rail.ch.
Participants should be sure to make allowance for the significant time change when arranging your flight to Europe. You will want to arrive at least a day in advance in order to overcome jet lag. Please notify the IMG office of your arrival time and flight plan prior to the start of the program.
IMG's travel agent, CTT Destinations is well versed in our European operations. For help with booking airfare, lodging before and after your program and train transportation, we urge you to contact Pirjo at CTT Destinations: 800-909-6647 or This e-mail address is being protected from spam bots, you need javascript enabled to view it .
What kind of insurance do I need?
We invest in insurance coverage for commercial liability and medical and disability insurance for our employees while participating on our programs. We cannot insure you for your personal needs, but we do expect you to be as fiscally responsible as we are. We require that you insure yourself against potentially expensive difficulties that may arise. First, Trip Cancellation Insurance may provide financial relief should you be forced to withdraw from the program before it even happens. Next, make sure you have adequate Travel Insurance for coverage should you have a problem during the trip. Medical care and evacuation in remote locations can be expensive. For more information, please see our page on Trip Cancellation and Travel Insurance.
What is the weather like?
The weather in the West Alps is similar to that of the Cascades in the Pacific Northwest. One can experience several days of beautifully clear skies or be plagued by storms. However, late July, August and September is generally the best time to climb in this area, for reasons of weather and snow conditions. By bringing the proper clothing we will be prepared for all types of weather.
The enclosed itinerary is designed with some allowance for bad weather but may require further alterations. We will attempt to adhere to the schedule as much as possible, but our goal is to have a safe, fun climbing trip. Some flexibility is important for the smooth operation of the program. The guides will be open to suggestions throughout the trip.
Do I need a passport?
If you do not have a passport, or if your current one is due to expire before, or during the trip, you must obtain a new one. Passports are required to travel in Europe. Passport information is available from your main post office or your local passport agency. At this time, visas are not required for travel in France, Switzerland and Italy. It is a good idea to carry Xeroxed copies of your passport and birth certificate to ease matters in case of loss or theft of your passport.
What kind of luggage should I bring?
For travel to Europe, it is a good idea to have just two pieces of luggage: your pack with all of your climbing gear inside and a medium duffel bag for extra clothing and items to be strapped onto your pack at a later time, such as crampons and ice axe. A wheeled duffel is helpful when lugging your gear between train connections. The weather in this part of Europe is much like that of the Pacific Northwest, be sure to bring appropriate summer clothing for travel to the mountains. Keep your street clothes simple and bring a good pair of light comfortable hiking shoes. A sweater should be sufficient for evenings in town. Casual dress will be fine for all of our dining. Hand washable clothing allows you to do laundry in your room and get by with less. There are self-service and full-service laundries at each of the towns we visit.
How much spending money should I plan on?
For spending money, ATM's are found almost everywhere in Europe and give the best exchange rate. Mind the exchange fee and your maximum daily withdrawal limit! Check with your banker to understand the costs and fees associated with using your card in Europe, and then you can get by with bringing less cash or traveler's checks. Visa, MasterCard, and American Express are also accepted in most shops and restaurants. Be sure to notify your card company that you will be traveling in Europe to avoid a hold being placed on your card when charges are placed on it from a foreign country. There is a rumor currently that American Express is going out of business, so check with your banker before purchasing traveler's checks. Traveler's checks have been a traditional safe way to carry additional expense money.
Train fares along with related gondola rides and cog rail trains will cost from $300-$400 total and can all be charged on a Visa. I would plan to spend from $1,000 to $1,500 total during the trip for all meals, train fares and personal expenses.
What's worth reading beforehand?

We encourage you to do as much reading on the area as you can. A little research on the history of Alpinism in Europe can add greatly to the experience once you are there. A good basic guide book that describes the climbs we will attempt is The Alpine 4000m Peaks by the Classic Routes, by Richard Goedeke, 1991.
What immunizations will I need?
No immunizations are currently required to enter Switzerland. It is recommended that you consider the following:
Tetanus/Diphtheria: There is no natural immunity to the tetanus toxin and since it is found throughout the world, immunization is a universal recommendation regardless of age. A combined tetanus/ diphtheria booster is available, good for ten years.


Hepatitis Vaccine: New vaccines are available for both hepatitis A and B.
Please consult your physician or local health department for their recommendations.
You should also ask your physician for a prescription for a course of the antibiotic azithromycin ("Z-Pak"). Please consider this to be part of your required equipment.
We recommend that you visit the travel clinic at a major University Hospital or your local Public Health Department for the most up to date info on travel requirements, or check the Center for Disease Control Website at www.cdc.gov.
What's included in the trip cost?
Cost Includes:
guides
dinners and breakfasts during the climb
group equipment including tents, stoves, climbing ropes and hardware
permits
Cost Does Not Include:
airline tickets of any kind
airport taxes
meals in towns or restaurants
lodging
trail snacks or bottled water
costs incurred as a result of delays or events beyond the control of IMG
required travel insurance policy (for trip cancellation, medical treatment, evacuation etc.)
and customary but optional tips for IMG guides