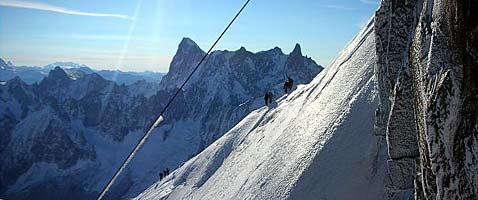 Chamonix Alpine Climbs with International Mountain Guides
IMG is proud to announce our newest 8-day program in the Alps, Chamonix Alpine Climbs. Come join us on this exciting adventure in Chamonix, France located at the base of the Mont Blanc massif in the heart of the Alps. Chamonix is the birthplace of mountaineering, and the home to some of the finest quality alpine climbs in the world. If you were to choose one place to spend the rest of your life climbing, Chamonix would be a very good choice. With an endless list of high quality rock, snow and ice climbs, Chamonix has it all. The bustling town of Chamonix provides a perfect staging area for our climbs and is a great place to return to for rest and relaxation after a day of hard climbing. Mont Blanc provides the perfect backdrop to the town, providing spectacular scenery and vistas.
Qualifications for Participation
If you attend the program with a compatible partner, then any level of climbing ability is acceptable. The guides will be happy to climb at your level and work with you to improve your skills over the course of the trip.
General requirements for participation in the program include:
Past participation in an IMG Alps Program and a positive referral from your lead guide.
For non-IMG past participants, the requirements are:
Comfort following 5.4 to 5.6 rock climbing in rock shoes and 4th class to moderate 5th class rock in mountain boots.
Previous glacier travel experience including use of ice axe and crampons and traveling on a rope as a team and in short-roped situations.
Ice climbing experience following up to Grade III ice.
The ability to do all of the above efficiently and at a steady pace in an alpine environment.
Conditioning
The best training program for such a climbing trip is one that includes aerobic activities such as running, swimming and bicycling. Get in plenty of time hiking with a pack or running up and down hills. Strive for longer training sessions - over an hour - and go on hikes during the weekend that gain a thousand vertical feet per mile for several miles whenever possible. Muscle strengthening exercises for the legs, arms and back are also important. Adequate preparation will ensure a successful and enjoyable trip for all. There is no substitute for previous climbing experience. Get out to your nearest local crag whenever possible. Take a weekend rock climbing course, or go ice climbing in winter with a guide. Get out and climb!