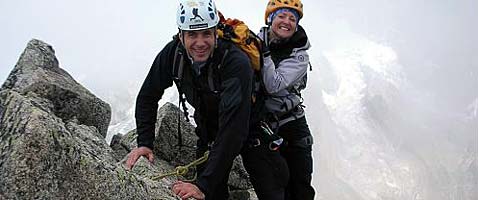 IMG Chamonix Alpine Climbs Itinerary
The trip starts and finishes in Chamonix, France. It is the responsibility of each participant to arrange transportation to Chamonix by the night prior to the starting date.
The simplest route is to fly to Geneva arriving in the morning and take a train directly from the airport to Chamonix. There is frequent daily train service. Another option is a van shuttle. This is faster and easier than the train, but a bit more expensive. When making arrangements, keep in mind the time change. It would be wise to allow a day of rest prior to the start of the program to help deal with jet lag. If you would like help with your flight arrangements, recommendations for a hotel in Geneva or Chamonix, or plan to arrive in Europe early, feel free to contact IMG's travel agent, CTT Destinations (formerly Travel Time), img@cttdestinations.com. They are knowledgeable of our programs and will be happy to help you work out your itinerary.
Day
Itinerary
Day 0

The evening prior to the starting date the guides will want to meet with the group to arrange first day objectives and assign guides. Meeting time and place to be determined at the group's convenience, but tentatively will be the lobby of the Gustavia (kitty corner from the railway station) at 7:00 p.m the evening prior to the starting date.

Day 1

Meet at the Hotel Gustavia at 8:00 a.m. Be all ready to go with alpine day pack, extra layers, lunch, water, sun protection, alpine boots, crampons, ice axe, helmet, harness and minimum 2 locking carabiners. Exact personal gear will of course be dependent on the group's objective for the day. For the entire 8 days the climb of the day will be determined based on current weather, current climbing conditions and group interest. Most days will be one day outings and back to the hotel for the evening. Plan on at least one or two overnights at a climbing hut, the most common one being the Cosmiques Hut.

The first day will be used as a warm-up and re-familiarization of techniques, with a moderate day objective and a chance to shake out the cobwebs.

Days 1-8

Listed below are just some of the many possible objectives we might choose from:

Petite Aguille Verte 3512 meters PD
Approach via the Grand Montets Cable Car
Mixed steep snow/ice and rock up to 3b (5.4+)


West Face of the Tour Rhonde 5.7 9 pitches
Approach via Point Helbroner, Torino or Cosmiques Hut
Easy glacial approach and rappel descent


East Ridge of Pyramid du Tacul 5.7 9 pitches
Easy glacial approach from Aguille du Midi, Cosmiques or Torino Hut
Rappel descent


Midi Plan Traverse
Long day of snow and rock ridge climbing
Approach from Aguille du Midi or Cosmiques


Arete du Cosmiques
Classic traverse from the Cosmiques Hut to the very platform of the Aiguille du Midi station.


Traverse of Point Lachenal
Ice and rock traverse
Approached from the Midi or Cosmiques


Traverse of Aguille d'Entreves
A step up in difficulty and length from the Arete du Cosmiques
Approached via Pt. Hellbroner


Many routes in the Aguille Rouge:

Crakoukass on Le Clocher 5b (5.8) 5 to 8 pitches of pure rock

Clocher-Clochenton 4c (5.6) cool traverse with rappels and tyroleans

Aguille du Gliere (4c) Long rock ridge climb 13 pitches

L'Index 4b to 5b several rock routes just off of the Index lift

East Face of the Crochues 4b 4 pitches of rock climbing reaching the traverse



Many other options are possible, depending on your experience and past climbs in Chamonix.

Day 8

End of program after the day's climbing. You will of necessity need a hotel room for this night as well. All the better to allow for a good night on the town to celebrate your successes.

Plan your departure from Chamonix no earlier than the a.m. on Day 9.