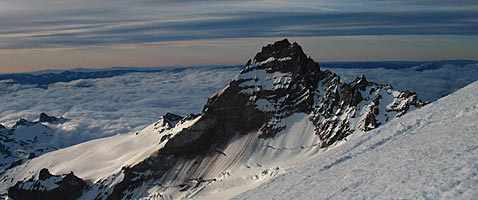 Mt. Rainier and Little Tahoma 6½ Day Mountaineering Seminar
Standing at 14,410 feet tall, Mt. Rainier is the highest peak in Washington and is the most glaciated peak in the Lower 48.
Choose this program if you'd like to attempt to summit both the Mt Rainier and Little Tahoma in one comprehensive training seminar. IMG's 6½ Day Mt. Rainier/Little Tahoma Mountaineering Seminar heads to the less frequented east side of Mt. Rainier to attempt a summit of Little Tahoma, the third highest peak in Washington State (11,137ft) before heading up to make a summit attempt on Mt. Rainier via the Disappointment Cleaver Route. For the Little Tahoma portion of the program, we'll use technical setting to maximize training on the glaciers below Little Tahoma. This program provides excellent hands-on training to prepare climbers for any of the big, high-altitude, glaciated, technical peaks in Alaska such as Denali, South America, the Himalayas and elsewhere.
The 6½ Day Mt. Rainier/Little Tahoma Mountaineering Seminar is one of our most in depth, hands-on training programs and offers a generous amount of time to introduce and practice critical alpine climbing skills. We delve into great detail during the training, lectures, and informal discussions in our small group to allow you to comprehensively understand the topics covered.
Training is geared towards the skills required in order to be successful on these two peaks, including:
Ice axe and ice tool use
Ice climbing
Multi pitch belaying and rappelling
Glacier travel and rescue
Short roping and short pitching
Ice and snow anchors and systems
Glacier route finding and navigation
Ascending and descending fixed line
The seminar is specifically scheduled for mid-summer to capitalize on firmer snow conditions and more exposed crevasses for glacier training.
Prerequisites and Training
This is an advanced itinerary and climb requiring previous glacier climbing experience. All participants must have prior alpine climbing experience on Rainier or other similar glaciated peaks and be familiar with basic mountaineering skills including cramponing in firm ice and snow conditions. As with all IMG programs, a review of basic climbing skills is incorporated into this program's itinerary. Previous experience on multi day backpacking trips is highly recommended. This is a strenuous and more technically demanding summit climb which is not for first time climbers. For fitness suggestions, please see out Training for Rainier page.
Safety is our number one priority. We make no guarantees with respect to the program objectives. Many circumstances, including weather and abilities of yourself or other climbers may inhibit you from reaching the summit. Our goal is to give each of our customers the best experience we possibly can, regardless of the weather, route conditions, or time of year.