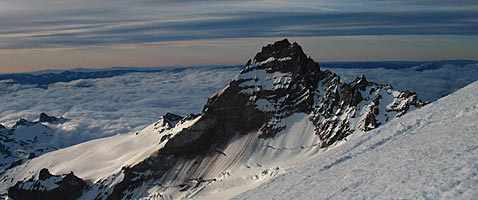 Little Tahoma Seminar Typical Itinerary
One fundamental aspect of all of IMG's training seminars is that the itinerary varies from course to course. The guides will determine the exact route and camp placement prior to the seminar depending upon the weather, conditions, ability of the group, and skills they want to highlight. There is real opportunity to get away from the crowds and enjoy a unique experience on Mt. Rainier's glaciers. The seminar progresses up the mountain moving from camp to camp, putting the team in position for a summit attempt at the end of the program. Most days will be centered on training and skill exercises, lectures, and informal discussions at camp, but camps will be moved to give participants hands on experience in establishing safe, sheltered and well constructed camps as well as experience in the day to day skills required for extended expedition camp life.
Day 1: Meet at IMG Ashford Headquarters (Directions) at 2:00 p.m. This pre-climb meeting of 4-5 hours is instrumental in getting the team outfitted, informed, packed and educated prior to departure the following morning. Topics to be covered include an introduction of the entire team, an introduction to Mt. Rainier National Park, its mission and ecology and a safety briefing. You'll review personal clothing and equipment, group food and gear and sort loads. The team will practice specific knots useful for the seminar and construct prussik slings. As time allows you'll learn additional rope handling skills including belaying and rope rescue skills. You are on your own for lodging this night, but IMG offers a convenient and economical option with our onsite tent camping.
Day 2: Meet at IMG Headquarters at 8:00 a.m. Load up the IMG van and make the 1½ hour drive over to the east side of the Park and the Fryingpan Creek trailhead just past the White River Ranger Station in the Park. From here we hike three miles on trails through forest to Summerland (6,000 feet) before continuing up higher to the snow slopes of Meany Crest and our first camp at 7,500 feet. Just below camp we will stop for some initial training kicking steps up and down steeper slopes and climbing efficiently on snow.
Day 3: After a casual breakfast, the team will continue skills training with ice axe, crampons and rope in preparation for navigating higher up the glacier. After training, the team will break camp, rope up and head up the Fryingpan Glacier to the 9,000 foot notch that leads to the Whitman Glacier. We'll camp a second night somewhere in this vicinity and continue training in the afternoon. This camp will be situated to take maximum advantage of nearby crevasses and glacier slopes for training.
Day 4: A full day of technical rescue training and glacier ice climbing skills with self rescue and team rescue practice scenarios. Other skills may include snow and ice anchors, anchor systems, belaying, ascending and descending ropes. Return to camp at end of day.
Day 5: Starts with an alpine start, just at dawn with a hot drink and instant breakfast. After our team is roped up we'll make our way up the ever steepening Whitman Glacier to a first rock step at 10,500 feet. We'll stop here for some additional instruction in rock climbing and a tight belay from the guides then scramble up this first loose rock step. From here, the going is easier, 3rd class rock scrambling up to the very exposed summit pinnacle. From the top we'll have one of the best views of nearby Mt. Rainier in the area. After spending time at the top, we'll retrace our steps back down the route to camp.
Day 6: After enjoying a final morning on the mountain and breaking camp we'll descend back to the trail head and the waiting van. The van will return us to Ashford headquarters for a group debrief and awarding of certificates by the guides.