Directions to IMG Headquarters
The IMG office is located in Ashford, WA, just before the Nisqually Entrance to Mt. Rainier National Park:

31111 State Route 706 E
Ashford, WA 98304
phone: 360-569-2609
fax: 866-279-7455
Set your GPS: N 46°45', 27.6" • W 122°01', 20.4' • Altitude: 1658', or:
See Map and Get Directions from Google Maps »

See PDF doc of possible road routes and distances »
Driving Directions to IMG Headquarters in Ashford, WA:
From: Seattle/Sea-Tac Airport to Ashford/Mt. Rainier
South on I-5 to exit 127
East on Hwy. 512 (towards Puyallup)
Take 2nd exit (Mt. Rainier exit)
Turn right (this is Pacific Av./Hwy. 7)
Stay on Hwy. 7 to Elbe
At Elbe the road will curve and change to 706 E.
Follow 706 E. to Ashford
From: Portland to Ashford/Mt. Rainier
North I-5 to exit 68
East on Hwy. 12 to Morton
North on Hwy. 7 to Elbe
Turn right on 706 E.
Follow 706 E. to Ashford
Upon reaching the small town of Ashford, drive through town and pass a brown sign on your right that says "Park Entrance 5". Another ¼ mile further, turn left at the blue and white International Mountain Guides sign onto an asphalt driveway which will take you to IMG's Ashford Headquarters.
Shuttle Service
Shuttle service is available from SeaTac airport via Shuttle Express. One way cost is $254 for a van that holds one to ten passengers. Shuttle Express' phone number is (425) 981-7000.
Taxicabs
Taxis run about $2.25 per mile. It is approximately 75 miles from SeaTac to Ashford, so the one-way taxi fare will be approximately $170, plus tip.
Buses
There is no public bus service to Ashford. The best you can do is take the bus from SeaTac to the Graham Public Library for $1.50, and then call for a taxi from there (about 40 miles ($90) from Graham to Ashford.) Use the Pierce County Transit Website to check schedules.
Help with Travel: CTT Destinations
International Mountain Guides has worked for many years with the staff at CTT Destinations to provide professional travel service for participants in our programs. For help with your plans, we urge you to contact Pirjo at:

CTT Destinations
800-909-6647
img@cttdestinations.com

Ripcord — Comprehensive Travel Insurance
A one-stop comprehensive adventure travel protection product that combines elite evacuation and rescue services with the fully insured benefits of a traditional travel insurance product.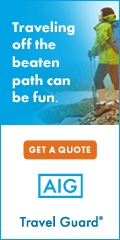 Travel Guard
If you're interested in a Travel Guard policy, IMG only recommends Travel Guard for IMG's Trekking customers. Travel Guard does not offer policies for Non-US Residents. We recommend a
RIPCORD
policy for mountaineering trips and for Non-US Residents.
Includes basic and 24-hour emergency travel services. Optional Coverage Upgrades include Cancel for Any Reason.
Emergency Evacuations

Global Rescue membership provides members with emergency evacuations (only) from around the world. (Please note this is not an insurance policy. For Travel Insurance, please visit this page »)