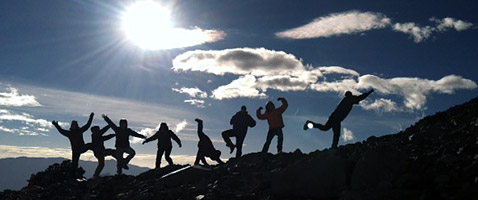 Aconcagua Climb with International Mountain Guides
At 22,840 feet tall and one of the coveted Seven Summits, Aconcagua is the highest mountain in the southern and western hemispheres and is the tallest peak in the world outside of the Himalayas. The weather conditions can be very difficult and the climb requires skill and endurance. Aconcagua attracts climbers from all over the globe to challenge their strength and abilities to reach the summit.
Our expeditions are staged in the unique and welcoming town of Mendoza which offers all the amenities for a comfortable and fun stay. Argentina has a culture known for great food and wine, relaxed nature, and hospitality. IMG has spent years perfecting our logistics in order to offer you the best expedition possible, taking advantage of all that the mountain and area have to offer. In doing so, we have created an almost unparalleled success rate while maintaining our flawless safety record. Your trust is well placed with International Mountain Guides.
The Climb
Aconcagua is a physically demanding climb even though not one of the most technical of the Seven Summits. You will be responsible for your personal equipment and your share of the group gear, food, and fuel. Climbers generally begin the expedition with approximately 80 pounds per person and will shuttle personal and group gear up the mountain during acclimatization climbs. It is imperative that climbers be in excellent physical condition. Climbers are expected to carry their weight or bring additional money with them for porters if they choose. This is a real expedition and requires everyone to be a good teammate who will pitch in for the success of the team.
The Guides
The IMG guides are chosen for their experience, and they are often the same guides leading our Himalayan, Vinson, Alaskan, and Rainier programs. Joining these guides on Aconcagua will allow you to continue a relationship that you have built with them on other programs, or to start building a rapport with guides prior to a Himalayan climb, Vinson expedition, or one of our many other expeditions. Our Local Guides are also incredible, each guide having more than 25 ascents of Aconcagua alone, not to mention they have guided and climbed in other countries around the world.