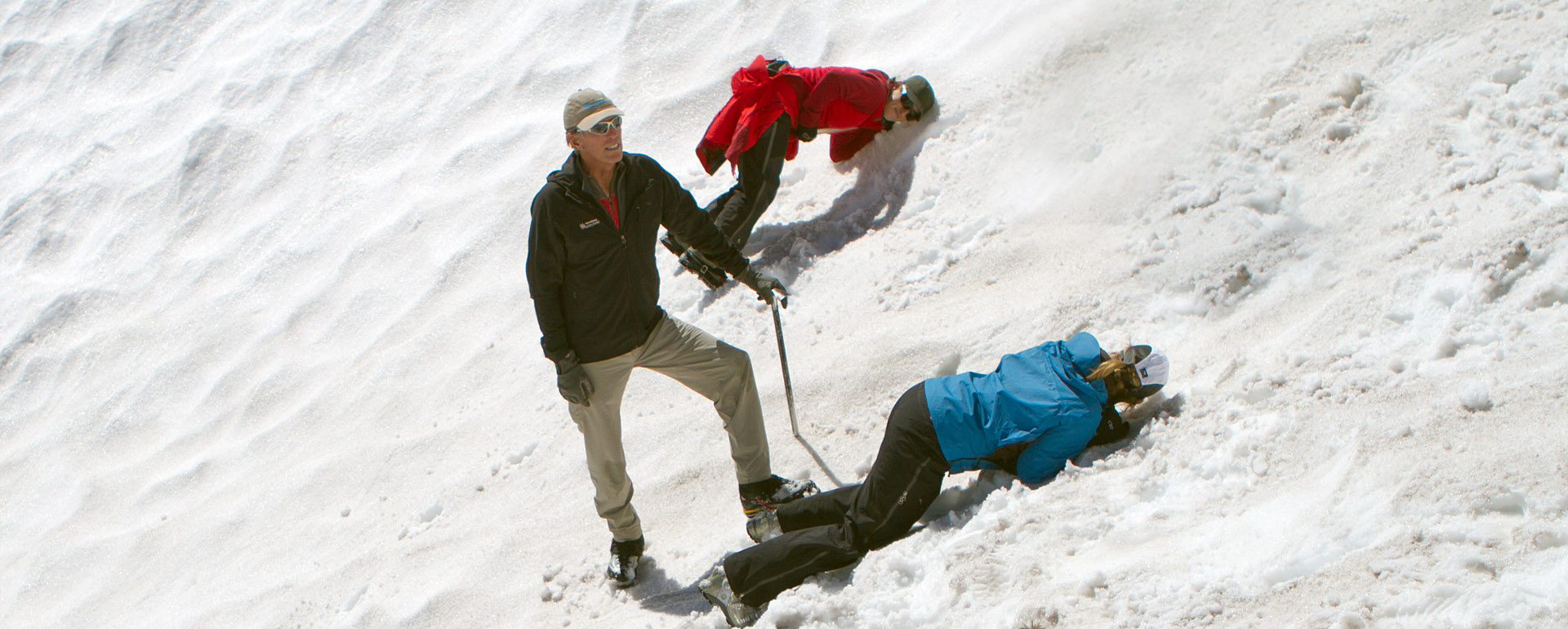 Mt. Rainier with IMG
For greater personal attention from your guides, a more measured pace, and higher chance of success IMG summit climbs on Mt. Rainier are guided at the lowest climber-to-guide ratios (for more information on ratios, please see the Rainier FAQ).
Training starts the very first day and continues throughout each program. We choose to teach many skills up on the mountain rather than at the base prior to the climb. We feel this provides more realistic training conditions so you start out better prepared on summit day.
At IMG we feel it is worth the extra expense to provide two nights on the mountain for our shortest summit climb option. Better acclimatization, realistic training environment, and an easier summit day really pay off!
We provide breakfasts and dinners on all of our programs at no extra cost. The guides work together to help prepare you tasty, nutritious meals during the climb, and we eat together as a team in a social and positive learning environment.
Throughout the climb, every accommodation is made to include you in the IMG family and make you feel welcome.
Mt. Rainier is the best training grounds in the lower 48 states for glacier climbing and expedition skills. IMG is a world class guide service. Our guide staff has the expertise to take you up Mt. Rainier and then on to the world's great mountains.
This service is operated by International Mountain Guides, LLC, a Concessioner under contract with the U.S. Government and administered by the National Park Service. The Concessioner is responsible for conducting these operations in a satisfactory manner. Prices are approved by the National Park Service. Please address comments to: Superintendent, Mount Rainier National Park, 55210 238th Avenue East, Ashford, Washington 98304

These services are operated in an area under the jurisdiction of the U.S. Department of the Interior. No discrimination by segregation or other means in the furnishing of services or privileges on the basis of race, creed, color, ancestry, sex, age, disabling condition or national origin is permitted in the use of this facility. Violations of this prohibition are punishable by fine, imprisonment, or both.

Mt. Rainier News, Weather and Resources
Thank you for a phenomenal trip! It was so well planned by IMG and so well executed... Summiting and camping out on the glaciers was the highlight of my year, and maybe even my life :-). Thank you for delivering on this trip, especially during Covid. I had so many concerns and fears prior to the trip, given the pandemic, and IMG did everything they could to alleviate those worries and provide a safe environment for us. I just can't put into words how thankful I am for this trip of a lifetime.

I am still marveling at my wonderful experience with your team on Rainier. IMG is a class operation indeed... I have never felt so safe and secure on the mountain. IMG does not cut corners.

Thank you to everyone at IMG who made our Rainier Summit one of the most memorable and fantastic experiences of my life.