Why Climb Mt. Rainier with IMG?
IMG has been guiding the world's great mountains since 1986
2:1 climber to guide ratio
The experience and caliber of our guides is first-rate
Extra days on the mountain
On-mountain skill building for realistic conditions
Excellent meals on the mountain
IMG Partner and Director of our Rainier Programs, George Dunn, has over 500 summits of Mt. Rainier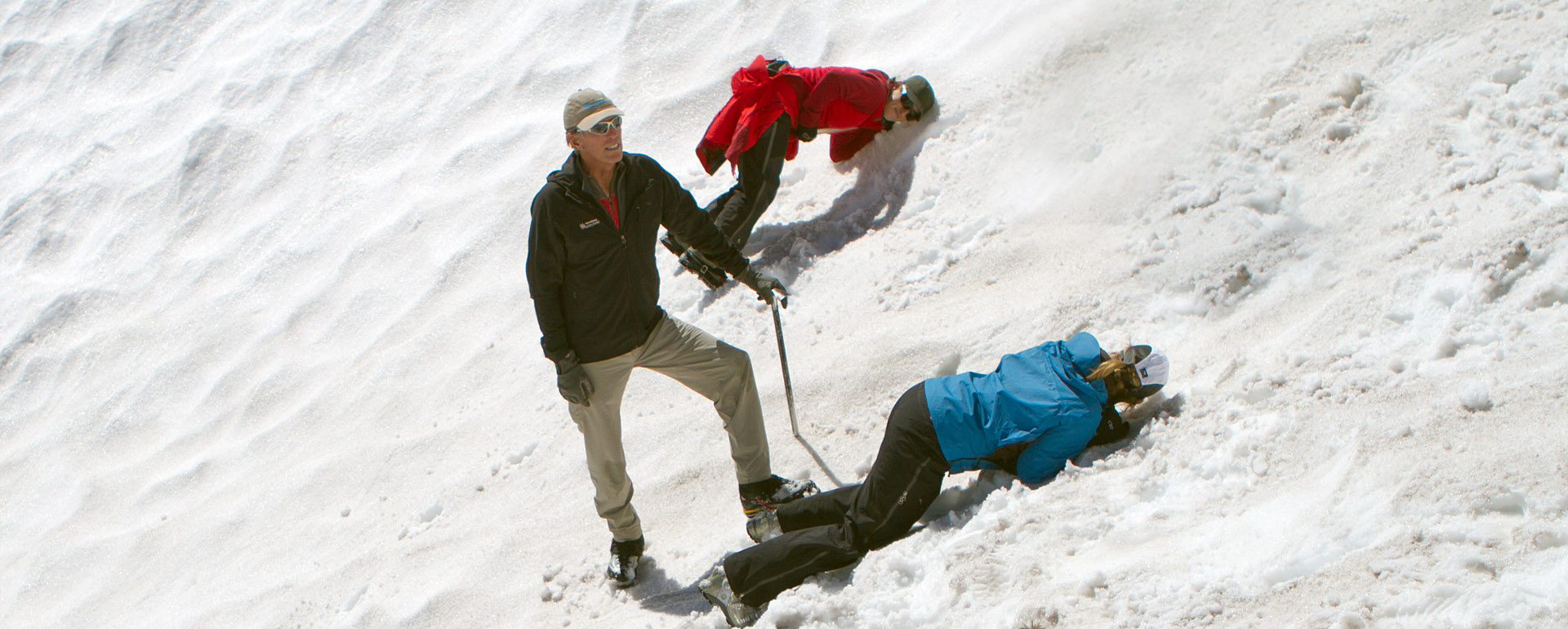 IMG Provides the Best Possible Experience on Mt. Rainier
All IMG programs on Mt. Rainier are guided at a ratio of two climbers per guide. This offers more personal focus, a better measured pace, and better chance of success.
Training starts the very first day and continues throughout each program. We choose to teach many skills up on the mountain rather than at the base prior to the climb. We feel this provides more realistic training conditions so you start out better prepared on summit day.
At IMG we feel it is worth the extra expense to provide two nights on the mountain for our shortest summit climb option. Better acclimatization, realistic training environment, and an easier summit day really pays off!
We provide breakfasts and dinners on all of our programs at no extra cost. The guides work together to help prepare you tasty, nutritious meals during the climb, and we eat together as a team in a social and positive learning environment.
Throughout the climb, every accommodation is made to include you in the IMG family and make you feel welcome.
Mt. Rainier is the best training grounds in the lower 48 states for glacier climbing and expedition skills. IMG is a world class guide service. Our guide staff has the expertise to take you up Mt. Rainier and then on to the world's great mountains.
This service is operated by International Mountain Guides, LLC, a Concessioner under contract with the U.S. Government and administered by the National Park Service. The Concessioner is responsible for conducting these operations in a satisfactory manner. Prices are approved by the National Park Service. Please address comments to: Superintendent, Mount Rainier National Park, 55210 238th Avenue East, Ashford, Washington 98304
Mt. Rainier News, Weather and Resources
I am still marveling at my wonderful experience with your team on Rainier. IMG is a class operation indeed... I have never felt so safe and secure on the mountain. IMG does not cut corners.

Thank you to everyone at IMG who made our Rainier Summit one of the most memorable and fantastic experiences of my life.

Just can't even thank you enough for the incredible experience I just had summiting Mt. Rainier with your company... What a remarkable team of guides we had... They were patient, funny, experienced, knowledgeable, and excellent teachers. I always felt safe and had a blast. I will definitely be climbing with you again... Thanks again. You guys are simply the best!