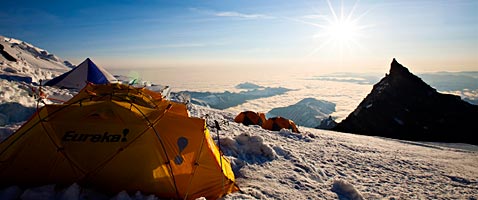 Mt. Rainier 3½ Day Summit Climb
Standing at 14,410 feet tall, Mt. Rainier is the highest peak in Washington and is the most glaciated peak in the Lower 48. Climbers start at Paradise and ascend Rainier via the Disappointment Cleaver, a historic rocky feature on the Ingraham Glacier.
Climb Mt. Rainier with IMG
Our 3½ Day Disappointment Cleaver route summit climb is designed for those looking to experience the elite alpine world of Mount Rainier with a training-based approach. We maximize training by beginning the program with a half-day instructional orientation at IMG's Headquarters in Ashford, WA, just outside Rainier National Park. The training continues on the mountain during the ascent. Our program has more training and time to acclimatize than the typical 2-day climbing program, giving you the opportunity to enjoy the majestic alpine environment with your climbing team. We make use of two camps on the route: Camp Muir (10,080ft) and The Ingraham Flats (11,400ft.) The use of multiple camps over a 3-day program makes for shorter climbing days and a shorter summit day from the higher elevation of The Ingraham Flats.
Climbing Rainier's Disappointment Cleaver route has served as a training grounds for much bigger climbs, from Denali to Everest and everything in between.
IMG All Women's Mt. Rainier Climb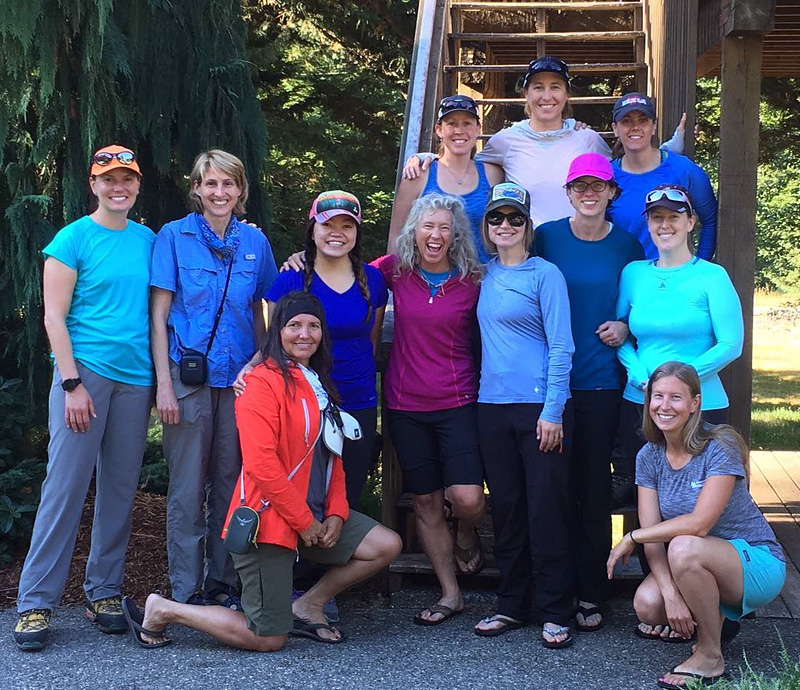 Join us Aug 10-13, 2024 or Sep 3-6, 2024 for an all women's climb of Mt. Rainier. This program will be identical to our standard 3½ day Muir/DC Rainier summit climb. It will be led by female IMG guides, and you will be climbing in the company of other strong women with a common goal.
Prerequisites and Training
The Disappointment Cleaver Route is a novice route well suited to beginners with no previous mountaineering experience. The program will include training at Camp Muir that will cover ice axe arrest, cramponing, and rope travel, the skills you need to be successful on this program. Prior experience hiking and backpacking is a plus and will allow you to focus on practicing your mountaineering skills.
While this program is suited for novice climbers, Mt. Rainier is still a strenuous climb. All participants must be in very good physical condition. For several months prior to the start of the climb, training should include many long, slow runs or hikes over hilly terrain, an hour or more in duration. Add additional weekend outings carrying a heavy pack (30-45 lbs.) up steep hills or stairs, ideally gaining 3,000 feet over 3 or more miles. Aim to move consistently at a moderate pace, with breaks approximately every hour.
Rental Gear
Some of the more specialized gear (like plastic boots, harness, etc.) is available for rent from IMG. Please consult our Rental Page for details.
See video of an IMG Mt. Rainier Gear Check »
Safety is our number one priority. We make no guarantees with respect to the program objectives. Many circumstances, including weather and abilities of yourself or other climbers may inhibit you from reaching the summit. Our goal is to give each of our customers the best experience we possibly can, regardless of the weather, route conditions, or time of year.