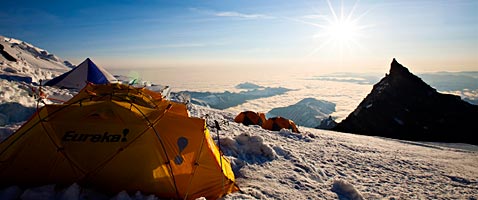 NOTICE: 2020 Mt. Rainier COVID-19 Program Changes
Due to COVID-19 restrictions, the following program changes are in place for Mt. Rainier 3.5 Day DC/MUIR climbs:
Bring a cloth face mask to wear at the first ½ day orientation. Social distancing will be maintained. On the mountain, IMG will provide you with a Buff neck tube for covering your face at the rare times when you gather less than six feet apart while climbing.
Bring two freeze dried dinners and two instant breakfasts (add hot water only). IMG will provide boiled water and hot drinks.
Drive your vehicle into the Park on Day 2. IMG will provide a pass that allows you to enter the Park. Sleep in single occupancy tents at both camps. Exceptions include couples or those who share the same residence. IMG will provide full time coverage of both camps to maintain, clean and sanitize each tent between uses.
We cannot offer tent lodging at IMG Headquarters before or after your program. Alternative lodging options are listed on our Rainier Lodging Page.
Working together, we can make things safer for all.
A detailed outline of COVID-19 protocols will be provided upon registration; please contact IMG for more information.
Mt. Rainier 3½ Day Summit Climb
Our 3½ Day Ingraham Glacier/Disappointment Cleaver summit program is designed for those who want a more individualized training and less hurried approach to climbing on Mt. Rainier. This program is superior to the traditional two-day climb by providing the training in more manageable sections and gives you an extra day to acclimatize to the altitude, as you ascend the mountain and enjoy the majestic alpine environment with your climbing team.
Why Choose This Program?
Climbing with a 2:1 client-to-guide ratio provides a superior level of safety, education and support. Our group size is never larger than twelve (8 climbers and 4 guides).
We make use of two camps on the route: IMG's shelter at Camp Muir at 10,080ft and an established tent camp at The Flats at 11,000ft. These camps make for shorter climbing days and most importantly a shorter summit day due to the higher altitude of The Flats.
We maximize training by adding a half day pre-climb orientation and instructional meeting at IMG's Headquarters in Ashford, just outside the park. Learning to climb safely and efficently continues en route during each day of the ascent. This increases acclimatization, minimizes total days for the trip and allows for training to be conducted on the mountain in real conditions all the way to summit and back.
IMG employs a light and efficient philosophy for climbing. To minimize the weight on your backs we provide shelter, stoves, fuel, cook wear and group climbing gear (ropes, pickets, shovels, etc.) for you at each camp. Climbing without these the first day (4,600 ft. of elevation gain) is a definite advantage and allows you to arrive at camp more rested for the climb ahead. We will help you review your personal climbing gear carefully prior to departure to make sure you are not carrying any unnecessary weight up the mountain. Total personal gear including filled water bottles should be approximately 35 pounds, excluding your boots and ski poles.
IMG provides breakfasts, dinners and hot drinks for the group on the mountain. We use these opportunities to train but also feel this adds considerably to the experience in terms of convenience, comfort and camaraderie.
IMG All Women's Mt. Rainier Climb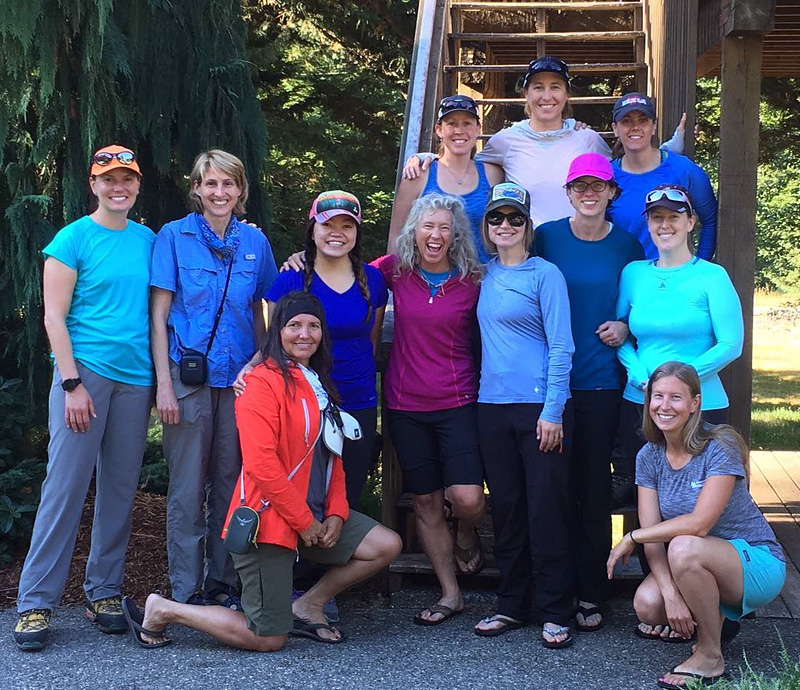 Join us August 1-4, 2020 for an all women's climb of Mt. Rainier. This program will be identical to our standard 3½ day Muir/DC Rainier summit climb. It will be led by female IMG guides, and you will be climbing in the company of other strong women with a common goal.
Prerequisites
There are no prerequisites. This is a basic learning climb for big glaciated mountains. Training is conducted during the pre-climb orientation and at continually throughout the climb. All that is required is good physical fitness and previous experience carrying an overnight pack. For physical training suggestions, please review the information provided on our Training for Rainier page »
Rental Gear
Some of the more specialized gear (like plastic boots, harness, etc.) is available for rent from IMG. Please consult our Rental Page for details.

See video of an IMG Mt. Rainier Gear Check »