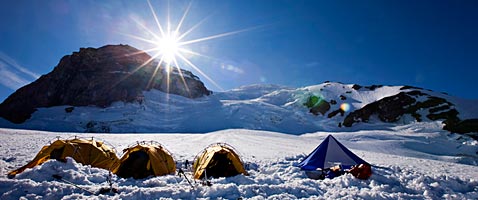 IMG Rainier 3½ Day Summit Climb Itinerary
The Ingraham Glacier/Disappointment Cleaver route on Rainier is a classic ascent route on one of the most well known and recognized mountains in the world and the best "first step" in learning safe glacier travel skills using a proven curriculum and top-notch professional guides and mountaineering instructors.
Day 1 — Your orientation begins at 2 pm at IMG Headquarters in Ashford, WA on Day 1. Your lead guide will take you through a gear check and training session. If you need to rent any gear, it can be taken care of during this portion of the program, no need to reserve in advance. Your lead guide can help make decisions about your gear and will ensure each team member has everything needed for the climb without carrying unnecessary weight. During the training session, you will cover Leave No Trace Principles, the Mission of the National Park Service, crampon adjustment, and packing up together. Day 1 will wrap up by 6 pm and the team will be free for the evening. Note that lodging is not provided for the night of Day 1.
Day 2 — Day 2 will start at 8 am at IMG HQ in Ashford. Each team member will receive a small amount of group food to be carried to Camp Muir. After meeting the guides, the team will travel to Paradise in an IMG van. You'll begin your ascent around 9:30 am and will break approximately every hour until reaching Camp Muir (10,080'), around 3 pm. Once at Camp Muir, you'll rest and enjoy a burrito dinner in IMG's semi-permanent dining tent. After dinner, it's off to bed for a full night of rest!
Day 3 — Pancake breakfast with bacon and French press coffee will be served at 8 am sharp on Day 3. After enjoying breakfast, your snow skills training begins. Guides will lead the team through several hours of training covering the skills needed to summit Mt Rainier: cramponing, self-arrest, and rope travel. After training, you will put these skills into action, making the two hour climb up and over Cathedral Gap to Ingraham Flats (11,000') nestled in the Ingraham Glacier. At "The Flats", dinner and hot drinks are served early and we head to bed soon thereafter to rest and prepare for our summit push early in the night.
Day 4 — On Day 4, you will wake up early to make your summit push. After leaving the Flats, you will climb to the top of Disappointment Cleaver (12,300') before continuing onto the upper mountain and climbing the Ingraham Glacier to the summit. Snap some summit photos and enjoy the views before we descend. Upon reaching The Flats, the team will pack up camp and continue descending to Camp Muir and then to the waiting van at Paradise. From there we travel back to IMG HQ in Ashford together. Here you can return rentals, make retail purchases, and share in a closing ceremony with your guides.