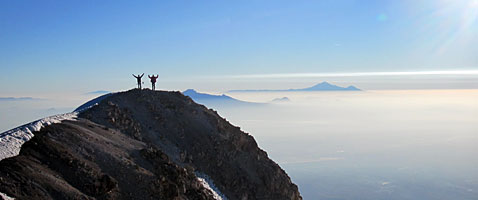 Climb the Mexico Volcanoes with International Mountain Guides
IMG has been leading expeditions to Mexico since 1976 and they have always been a favorite and a great way to bump up your personal altitude record. It would be difficult to find a guide service with more experience climbing in Mexico. This trip only requires you to break away from work for one week. You can sharpen or acquire new skills while enjoying some Mexican sunshine and seeing another area of the world. All put together, this makes for a great climbing vacation.
We sincerely feel that this is one of the best run Mexico Volcanoes programs available. Experience, leadership and relationships make the difference in our programs.
The Climbs
This nine-day trip to Mexico is great as a first high-altitude experience, ascending the 8th (Ixtaccihuatl) and 3rd (Orizaba') highest peaks in North America! Basic climbing experience, such as a climb of Mt. Rainier, would be excellent training for the trip. Each team member needs to be familiar with ice axe arrest, basic cramponing and rope team travel. Each climber also needs to be in excellent physical condition, since climbing to altitudes approaching 19,000 feet is never easy.
Ixtaccihuatl (17,338') is known as the "sleeping lady" and is climbed via the normal "Ridge of the Sun" route, over the feet, knees, stomach and onto the breasts (the top!). Orizaba (18,491') will be climbed via the Jamapa Glacier.
In addition to the climbs, you'll get to experience a variety of Mexican hospitality with overnights in Mexico City, Amecameca, the old Spanish colonial city of Puebla, and with our friends in the country town of Tlachichuca.
The Guides
An IMG Senior Guide leads each of these programs and is joined by some of the finest and most experienced local Guides from Mexico.
It was a great trip, and a fantastic introduction to travel outside of the US. I have (finally) been lucky enough to find the money and time to do some traveling, and feel even luckier that I found IMG...