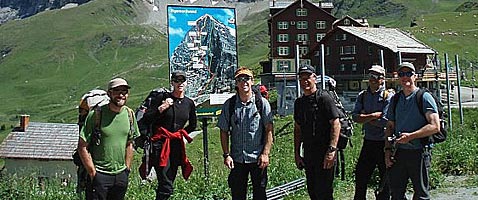 Mont Blanc with International Mountain Guides
Come join us on this exciting adventure to Mont Blanc, the highest peak in the Alps at 15,781 feet. Long considered the highest point in Europe until Mt. Elbrus was recognized as the highest point in the European continent, Mont Blanc remains the crown jewel of the Alps and a major focus for climbing in Europe.
The program bases out of Chamonix, France which sits right at the base of the Mont Blanc massif. Chamonix is a town based on tourism and adventure sports, primarily due to the draw of Mont Blanc, an incredible resource for the area.
Easily reached from the city of Geneva (or other European destinations) by rail or bus, the bustling town of Chamonix provides a perfect staging area to prepare and train for a climb of the mountain and is a great place to return for rest and relaxation after a day of hard climbing. Mont Blanc is the perfect backdrop to the town, providing spectacular scenery and vistas from all locations.
Qualifications for Participation
Participants must have glacier travel skills including cramponing on snow and ice and use of an ice axe in climbing and anchoring situations. Also important is the ability to follow your guide up third and fourth class rock scrambling with some exposed moves. This occurs only in a section above the first hut, climbing up alongside the Great Couloir to the Gouter Hut. The rock is non-technical, but it is steep and exposed in places. Past participation in higher, moderately steep glacier climbs such as Mt. Rainier, other Northwest volcanoes, and 4,000 meter glaciated mountains around the world is required. Equally important is prior experience rock climbing/scrambling up easy hands and feet climbing with steep terrain below. The team will practice glacier travel skills and refresh their rock climbing techniques prior to the ascent of Mont Blanc.