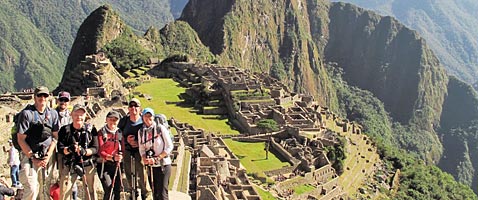 Machu Picchu Trek with International Mountain Guides
We restarted our Machu Picchu programs in 2022 and conducted two fun trips. Peru is a great adventure travel destination and we are looking forward to going back in August 2023!
Join us for a fun filled adventure starting in Cusco, Peru. We'll acclimate, explore local ruins and tour the "Sacred Valley of the Incas" for acclimatization. Then, we'll trek for several days to on the Classic Inca Trail Route to Machu Picchu, a nearly indescribable sight of early Incan architecture and ingenuity.
Trip Highlights
Early morning arrival at Machu Picchu with plenty of time to explore and sightsee during a tour of the area with your guides.
For motivated individuals, there is an option for revisiting Machu Picchu the next morning and hiking up Waynapicchu Peak for a spectacular viewpoint.
A local guide and expert will supplement our own IMG lead guide to lend insight into the area's culture and history
Porters will transport a large part of your gear during the trekking portion of our trip to make the hike more enjoyable. A cook staff accompany the trek.
3 star hotels (or better)
Private vehicle with driver for all transfers
Trekking at high altitude must be taken seriously. IMG carries a hyperbaric ("Gamow") bag and pulse oximeter on every trip, along with an experienced IMG lead guide
The "real" Inca Trail route to Machu Picchu is accessible by permit only. We need to apply for our 2023 permits immediately after January 1, 2023. If you would like to join our 2023 Team, now is the time to get on board!
We hope you can join us trekking to this awesome cultural and adventure experience. Please let us know how we can be of further assistance.
About Machu Picchu and Inca Culture
Machu Picchu, once the citadel of the Inca culture in Peru, sits atop a mountain in a jungle of green landscape in the steep rugged mountains of southern Peru. A mystery for over 400 years, it was left undiscovered during the Spanish Conquest, although the Spaniards searched in vain for the gold that was believed to have been there. The idea of a "lost city" of the Incas faded in credibility over time, as it sat disguised in the jungle overgrowth. Then, after years of searching, Yale archaeologist Hiram Bingham found it in 1911. The rediscovery of the ancient city made worldwide news, as the citadel was slowly unearthed from its hiding place.
Today, the Inca trail is an extraordinary journey leading into a mysterious city built by remarkable craftsmen. The hidden secrets of this lost city are yours to explore with us, as we venture to the ruins on a spectacular four-day trek. We'll have ample opportunity to explore and photograph the breath-taking architecture; enjoy the beautiful scenery along the way; and learn about the Incan culture that fostered the growth of this extraordinary creation — the "Eighth Wonder of the World."
The Inca Trail Trek with IMG
Our program begins in the 12th century colonial town of Cusco, once the Incan capital and home of Manco Capac, one of the early rulers. Today, Cusco retains a history which is a mix of tradition and legend. We'll spend a day here, acclimating to an altitude of 10,900 feet, with time to stroll the downtown area, sight see and shop for local artifacts. The following day we will depart for the "Sacred Valley." We'll visit the local ruins of Sacsayhuaman, travel to the famous Pisak market, a good place to purchase local crafts and goods, and on to Ollantaytambo, a spectacular site perched high above the town below. We'll overnight in a hotel here, close to our departure point for the Machu Picchu trek. Many people find the local cultural tours to be nearly as impressive as Machu Picchu itself.
Throughout our small expedition the team staff will include at least one local resident and guide who is an expert of the local history and legends that surround the sights we will explore. This cultural expert will accompany the group throughout the trek and visit of Machu Picchu.
During the trek portion of our program, we will use local porters to transport our gear and supplies. This permits us to enjoy the walk each day, as we move along unencumbered, free to take photos and investigate our surroundings. Meals will be served by our cook staff in a dining tent set up for your comfort during breakfast, dinner and even some lunches.
For motivated trekkers, the easy but steep ascent of Waynapicchu Peak (the mountain overlooking Machu Picchu) is a satisfying optional challenge, which offers a great "reverse view" of the Machu Picchu ruins. Please note: we may not always make this option available to the group, depending on the trail and cable conditions that lead to the precarious summit. There have been fatalities and injuries recorded in the past on this short excursion. Sure footedness and the ability to tolerate steep exposure are required to make the ascent and descent of Waynapicchu.