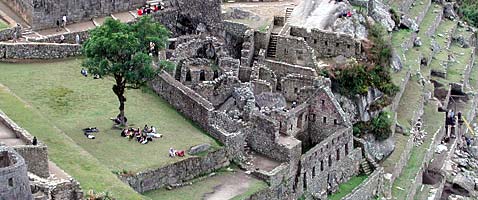 Machu Picchu Frequently Asked Questions
This information should answer many of your initial questions and also guide you through the next stages of preparing for the expedition. If you have any questions, please feel free to contact us: office@mountainguides.com
How fit should I be?
Most of the trek days typically require 4-8 hours of effort, with the bulk of our gear carried by porters. Because of the trekking portion of this trip and the general high altitude of the area (10-13,000 feet), we recommend that all participants engage in a physical training program for several months prior to trip departure. All participants must consult with their family physician regarding their personal health and the additional demands of high altitude well in advance of the trip.
What kind of experience do I need?
Participants should have solid day hiking experience. Overnight backpacking or trekking experience is helpful. High altitude experience is also beneficial, to confirm that your body can reasonably tolerate visits to 10,000 feet and higher.
How is the Salkantay Trek different from the Classic Inca Trail?
At 20574' (6271m), Nevado de Salkantay is the tallest and most majestic mountain in the Cordillera Vilcabamba range and the backdrop for an alternate trek to Machu Picchu. This journey travels off the beaten track, far from the crowds found on the Inca Trail. It offers a true view of the Peruvian mountains with spectacular vistas and provides the feeling of adventure and remoteness the Inca Trail has lost. Salkantay means "Savage Mountain" in the Quechua language.
The trek takes us up over a high mountain pass gaining a maximum elevation of 4600 meters (15,180 feet), past the massive snow clad peaks of Tucarhuay, Salkantay and Huamantay. The trek then descends from the region of high peaks down river drainages and multiple ecological zones, ending in lush forested terrain, the "cloud forest" with wild orchids, banana plantations and exotic birds. The total trek distance is approximately 20 miles yet experiences the breadth and depth of the Peruvian mountainous region. This trek is slightly more arduous than the Inca Trail, but requires no load carrying other than a day pack. On the Salkantay we pack personal and group gear on horses led by wranglers in addition to the normal trek leaders, kitchen and camp staff. This route is more seldom traveled than the Inca Trail and there is no limit on the number of permits for the trek. You do not need to apply by the first of the year in order to guarantee participation on the program.
How do I get there?
International Mountain Guides has worked for many years with the staff at CTT Destinations to provide professional travel service for participants in our programs. For help with your plans, we urge you to contact Pirjo at CTT Destinations: 800-909-6647 or img@cttdestinations.com
What kind of insurance do I need?
We invest in insurance coverage for commercial liability and medical and disability insurance for our employees while participating on our programs. We cannot insure you for your personal needs, but we do expect you to be as fiscally responsible as we are. We require that you insure yourself against potentially expensive difficulties that may arise. First, Trip Cancellation Insurance may provide financial relief should you be forced to withdraw from the program before it even happens. Next, make sure you have adequate Travel Insurance for coverage should you have a problem during the trip. Medical care and evacuation in remote locations can be expensive. For more information, please see our page on Trip Cancellation and Travel Insurance.
What immunizations will I need?
No immunizations are currently required to enter Peru. It is recommended that you consider the following:
Tetanus/Diphtheria: There is no natural immunity to the tetanus toxin and since it is found throughout the world, immunization is a universal recommendation regardless of age. A combined tetanus/ diphtheria booster is available, good for ten years.


Hepatitis Vaccine: New vaccines are available for both hepatitis A and B.
Please consult your physician or local health department for their recommendations.
You should also ask your physician for a prescription for a course of the antibiotic azithromycin ("Z-Pak"). Please consider this to be part of your required equipment.
We recommend that you visit the travel clinic at a major University Hospital or your local Public Health Department for the most up to date info on travel requirements, or check the Center for Disease Control Website at www.cdc.gov.
What's included in the trip cost?
Cost Includes:
IMG leader and local staff including local lead guide/cultural expert, cook, cook staff, porters
private tours as described in itinerary
transfers to/from Cusco airport and return
entrance fees for all cultural touring sites
hotel accommodations in three-star hotels (or better) with continental breakfast
most meals in town unless noted on the itinerary
group camping gear (tents, cooking gear, porter gear, stoves, lights, dining tent, bathroom tent
cook and trekking food and 3 meals per day, while hiking)
Cost Does Not Include:
airline tickets of any kind
airport taxes
trail snacks or bottled water
costs incurred as a result of delays or events beyond the control of IMG
required travel insurance policy (for trip cancellation, medical treatment, evacuation etc.)
and customary but optional tips for IMG guides