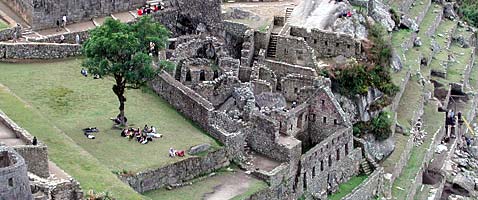 Machu Picchu Frequently Asked Questions
This information should answer many of your initial questions and also guide you through the next stages of preparing for the expedition. If you have any questions, please feel free to contact us: office@mountainguides.com
How fit should I be?
Most of the trek days typically require long hiking days, 6-10 hours of effort, with the bulk of our gear carried by porters. All mornings usually start early and the day's journey often takes until dinner time. Because of the trekking portion of this trip and the general high altitude of the area (10-13,000 feet), we recommend that all participants engage in a physical training program for at least six months prior to trip departure. All participants must consult with their medical professional regarding their personal health and the additional demands of high altitude, well in advance of the trip.
Are there any pre-requisites?
Participants should have solid hiking experience over steep rugged terrain and good all-around fitness. High altitude experience is not required, but is beneficial, to confirm that your body can reasonably tolerate visits to 10,000 feet and higher. All members must be vaccinated for Covid.
By when do I need to sign up?
The Peruvian government has placed a daily limit on the number of trekkers allowed to walk the Classic Inca trail. Your application DEADLINE is December 1, 2021 in order to guarantee that we will get the needed permits.
How do I get there?
International Mountain Guides has worked for many years with the staff at CTT Destinations to provide professional travel service for participants in our programs. For help with your plans, we urge you to contact Pirjo DeHart at CTT Destinations: 425-831-0367 or pirjo.dehart@cttdestinations.com
Travel agencies may charge an additional fee for services.
What kind of insurance do I need?
IMG requires that all trip participants purchase Travel Insurance that includes coverage for medical evacuation, repatriation and medical expenses for the duration of their IMG program. Trip Cancellation and Interruption Insurance is strongly recommended.
What immunizations will I need?
No immunizations are currently required to enter Peru. It is recommended that you consider the following:
Tetanus/Diphtheria: There is no natural immunity to the tetanus toxin and since it is found throughout the world, immunization is a universal recommendation regardless of age. A combined tetanus/ diphtheria booster is available, good for ten years.


Hepatitis Vaccine: New vaccines are available for both hepatitis A and B.
Please consult your physician or local health department for their recommendations.
You should also ask your physician for a prescription for a course of the antibiotic azithromycin ("Z-Pak"). Please consider this to be part of your required equipment.
We recommend that you visit the travel clinic at a major University Hospital or your local Public Health Department for the most up to date info on travel requirements, or check the Center for Disease Control Website at www.cdc.gov.