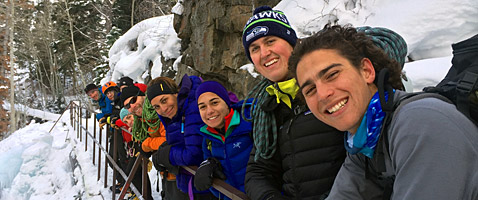 Ouray Ice Climbing with International Mountain Guides
Due to the easy access, consistent ice and 285 days of sun, Ouray, CO is often touted as the "Ice Climbing Capital of North America." The southwest Colorado town has a vibrant restaurant scene as well as many natural hot springs making it the ideal spot to explore a Colorado winter.
IMG always stresses safety in every aspect of the trip, and the 3 day Ouray trip was no different. Ice climbing for the first time can be nerve-racking enough, but when you know that every knot is secure, crampons are on your feet the right way, and the person on belay is not going to let you fall, the nerves subside so you can focus on climbing! The entire trip was incredibly fun, and I cannot believe how much I learned in such a short time period. I think this trip should be on everyone's list even if you don't plan to climb in the Himalayas or Denali. This 3 day trip left me with such a sense of accomplishment and reward... not to mention, some really cool looking pictures!

Ouray Climbing Highlights
Ice climbing is great fun. Come do some climbing on the frozen waterfalls in and around Ouray!
These programs are an excellent choice for those considering participation in an expedition or climb that requires confident cramponing in icy conditions. Focusing on the balance and technique necessary for climbing steep water ice gives one a real advantage when the going gets tougher. Upcoming IMG expeditions for which this training is useful include Everest, Denali, Alaska, Mt. Logan, Aconcagua, the big peaks of South America and the Himalayas.
For you skiers, ice climbing is the perfect complement to a ski vacation. Telluride is just 47 miles or an hour drive away from Ouray! Bring the family skiing, then come spend a few days training with us.
A typical climbing day will start with breakfast at the hotel. Access to the Ice Park is a stroll across the street to the start of the box canyon. There are at least 11 distinct areas in the Ice Park with all levels of climbing and more than 150 named routes. The 3 day, 5 day, and private guided programs have the option of visiting "natural" backcountry ice outside the Park on Forest Service land. In the evening head to the hot tub or the hot springs pool in town to soak and relax, then finish with dinner at a local restaurant.
The focus of the programs will be on improving individual climbing skills and having fun ice-climbing. With a small instructor/student ratio there will be lots of close attention for all levels of climbers. Participants are encouraged to progress at their own pace and comfort level.
No previous ice climbing experience is required. Sign up for a two-day, three-day or five-day course, and come have a great time with us!
Just wanted to let you guys know that the course this weekend was amazing. Having climbed with IMG, I went in with high expectations, and they were exceeded. Mark and Gary were great guides and mixed in lots of mileage with technical stuff... Thanks for a spectacular weekend.

Just a quick note to let you know how much we enjoyed the Ouray ice climbing. Sondra is a superb instructor; I learned so much from her about footwork on the ice, how to use ice axes, belaying, knots, etc. Most importantly we had a great time ice climbing and enjoying Ouray. The skills Chris and I learned of course will be useful on our
Kautz climb
this summer, but our Ouray trip was a big success on its own — great long weekend away from the office rat race. Thanks again for putting together such a good program with such a talented instructor.