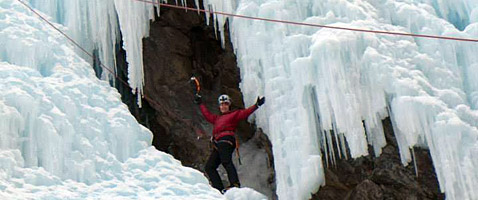 Ouray Ice Climbing — "IMG Veteran" Beginner
by Sarah Cousins Hoopes
I love going to Ouray each year (this is our 5th) with my husband and friends to meet up with the crew of the IMG Veterans program. During the ice festival, friends come from Grand Junction to spend time with us. During the following week, I enjoy taking pictures of the climbers and surrounding area, the comradery with all these fascinating folks from different backgrounds, great food, lovely hot springs, all while having a nice relaxing vacation (if I choose not to work).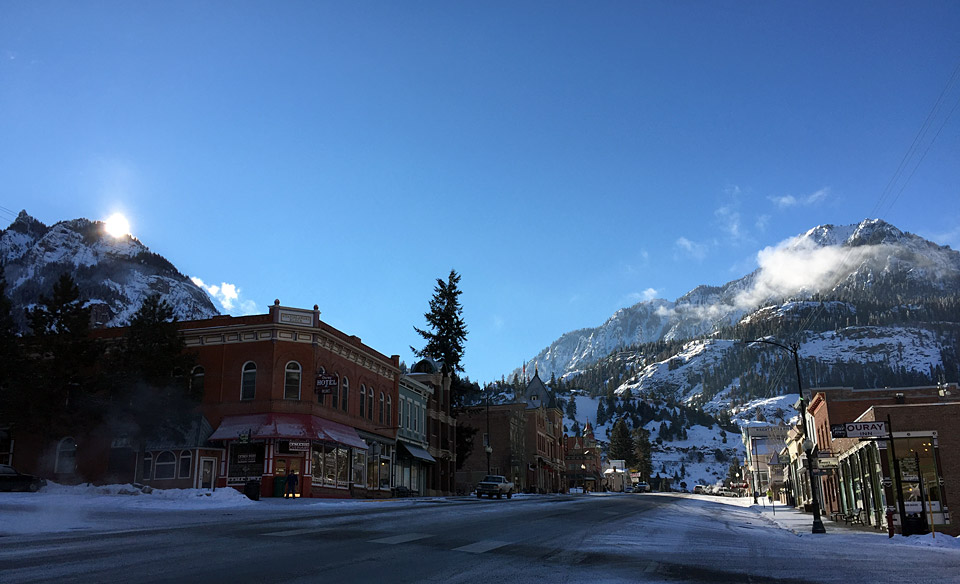 Beautiful town of Ouray, CO at sunrise
You see, I am a cold weenie; I don't like feeling cold and I am not a fan of pain. But I have a wonderful time anyway, making friends, finding various pieces of equipment around town for crew photo shoots, but that is another story. So the fact that I decided to get a private guide for the day and try my hand at ice climbing was a little out of character.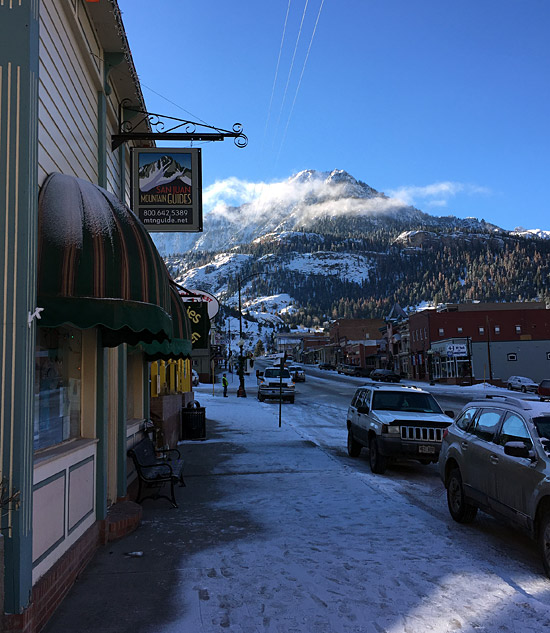 Downtown Ouray, CO
A brief history: Back in 2012 (my 2nd year in Ouray) I attended a beginners clinic as part of the Ouray Ice Festival. My instructor was really great and helpful, but as soon as I got up on the wall, one of the assistants decided he really, really, wanted my ice pick planted in his forehead. He was hovering and demanding and criticizing because I wasn't doing it his way. Since experiencing the Ouray jail first hand, or being hauled off in handcuffs was not on my list of goals for that day, I dropped off the wall, and that was my experience with ice climbing.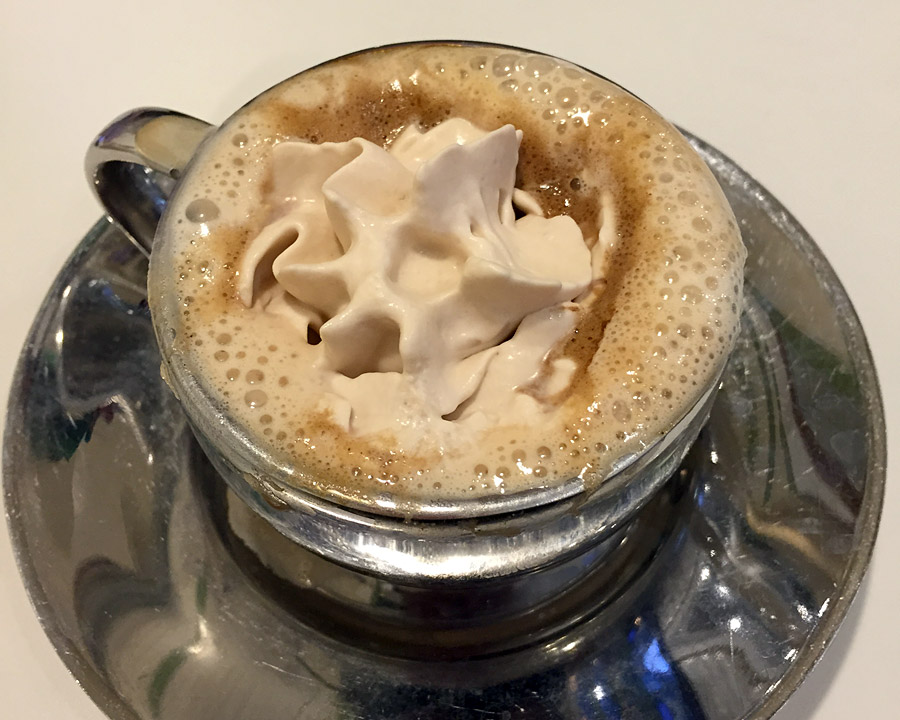 Mmmm! Post climb café con panna at Mouse's
Then, last year, 2014, I met Sondra Ripperger, a new guide with the IMG Veterans program. I immediately enjoyed her company and during the week I saw she interacted with the clients in a fun and easy going manner. Later in the year, I contacted her, and we worked it out with IMG so I could get a private instruction day with her on Monday of the IMG Veterans program.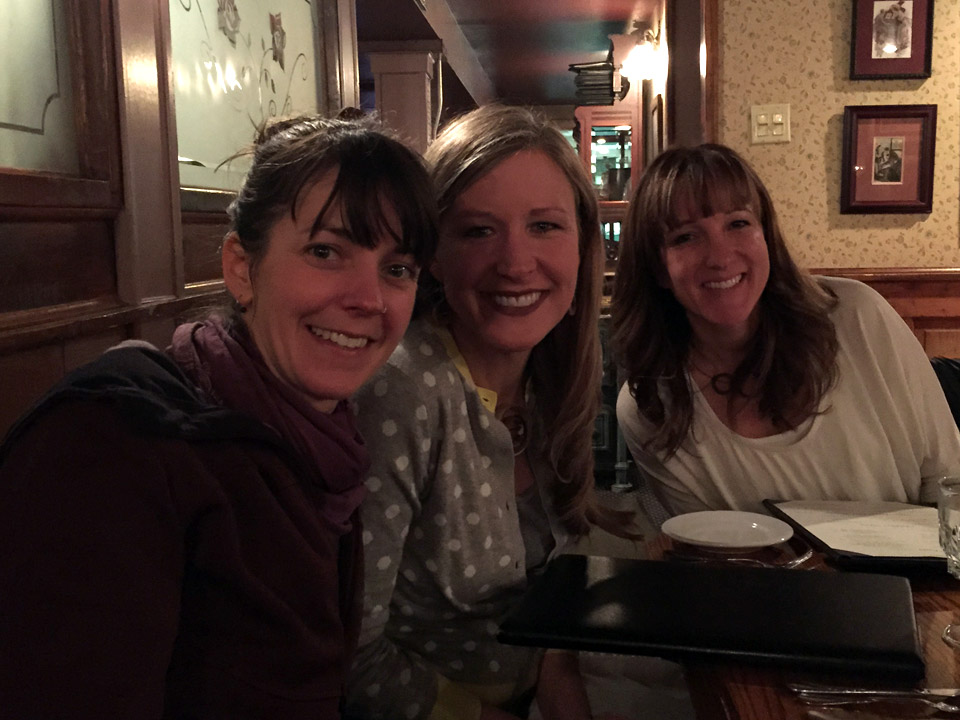 Sondra, Rachel, and Ronda at Bon Ton
Aside — please do not misunderstand. I love all the guides of the IMG Veterans program, they are very skilled, pleasant, fun, and strong instructors. Sondra is someone from whom I personally felt I could comfortably learn something new since we have so many shared interests and hobbies, with whom I could focus on the experience itself and not her perception of me. I mostly learn by watching and doing, and when I'm uncomfortable, I shut down (and maybe try again when I'm in a more comfortable situation). I know myself, and I could work with Sondra for a first experience of learning a completely new technical skill.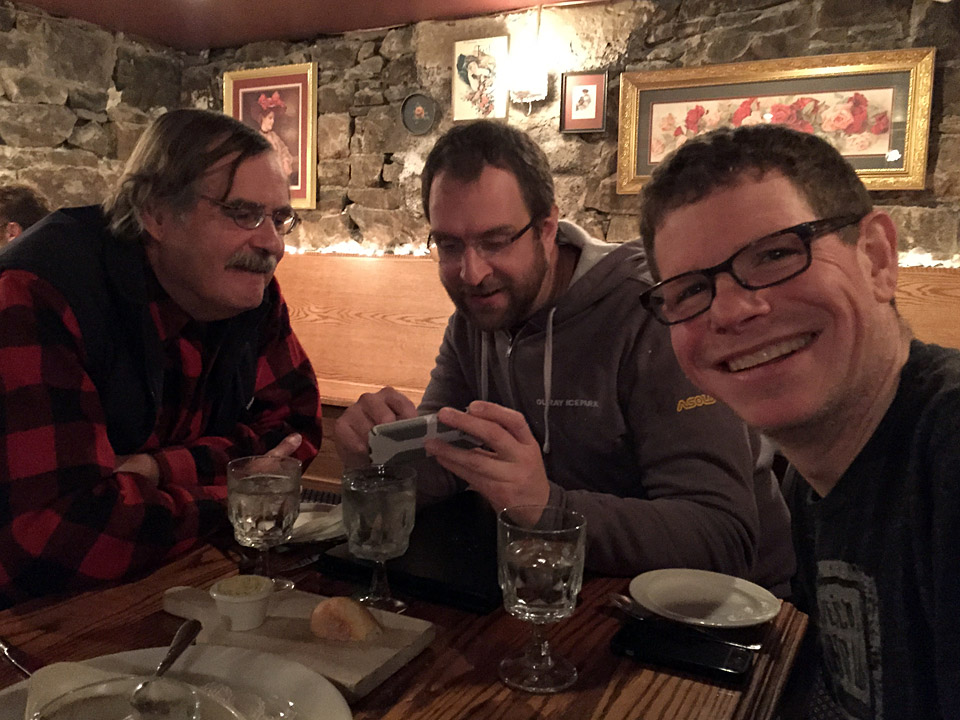 Linn, Richard, and Cale at Bon Ton
I was right. She was amazing. Her first rule is "having fun"; everything else is secondary. We talked about many varied subjects on our way out to South Park that morning and throughout the day. We discussed making lotions, limoncello, vanilla, singing, instruments, Cuisinarts, and kitchen gadgets, how to properly set up an anchor, which knots are best for different tasks, lots of tricks to make climbing easier, and so much more.
Once down in the gully at the South Park section of the Ouray Ice Park, she taught me to climb with my feet. I was amazed how far I could go without the tools I see everyone using. My gloves got wet, my hands got cold, but with her encouragement and gentle guidance, I got up two-thirds of the wall just with hands and feet! And in the process, I forgot about cold and wet and pain; I began to see why people do this over and over again, and why my husband and his friends return year after year.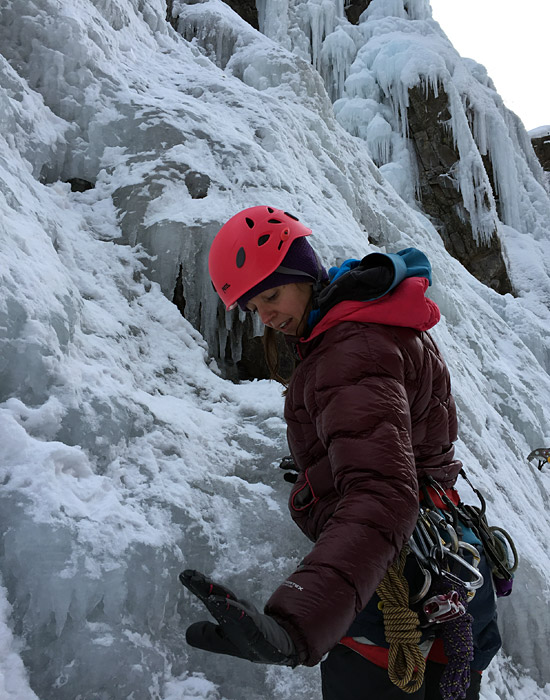 Sondra explaining footwork
Then she taught me about the ice axe and the A (tripod/triangle) position, and sent me up with just one axe. I quickly discovered that it's almost easier to climb without tools, because with the axe in hand I was more focused on it than my feet (as she had wisely warned me would happen).
Around this time, some of my friends from back home set up ropes near us and distracted me with some bikini ice climbing, but that is not the focus of this tale.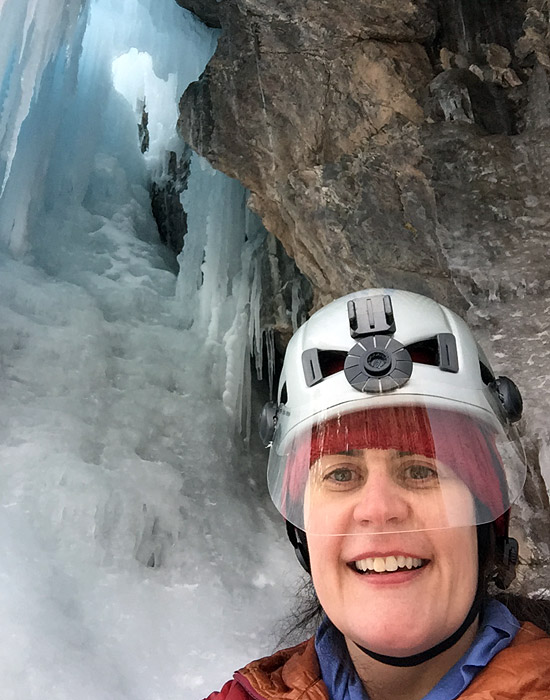 Selfie at my target location
After lunch (when the distractions were over) she sent me up the wall with the skills I had learned in the morning. It was an eventful climb; I made all the normal mistakes, and my muscles were tired and in pain, and yada yada yada, I made it to the cave. Sondra gently encouraged me to take breaks, inspired me to find ways to solve various problems, and before I knew it, I was at the top of the climb, even though that hadn't been my goal. With her help, I went farther than I had hoped!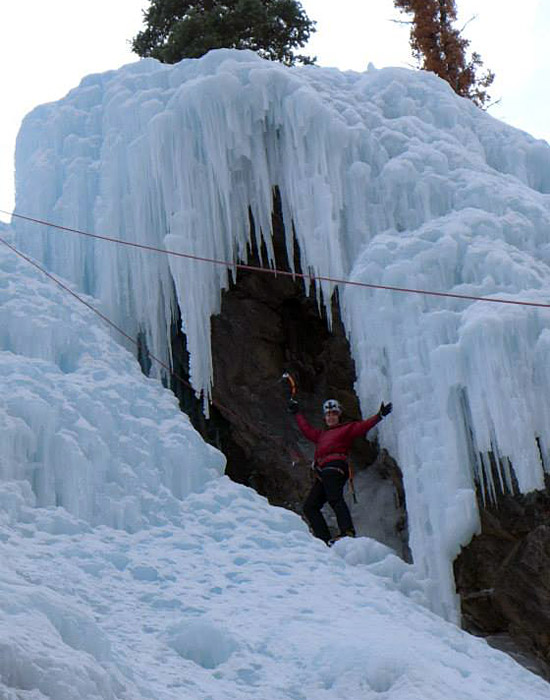 Heading to the top!
The next day I was exhausted, and in pain, and stiff, but the memory of my day with Sondra is a great one. I will never be as dedicated as the IMG Veterans; I still have a lot of snow bunny activities to do, but I do plan to get at least one day each year if she is available.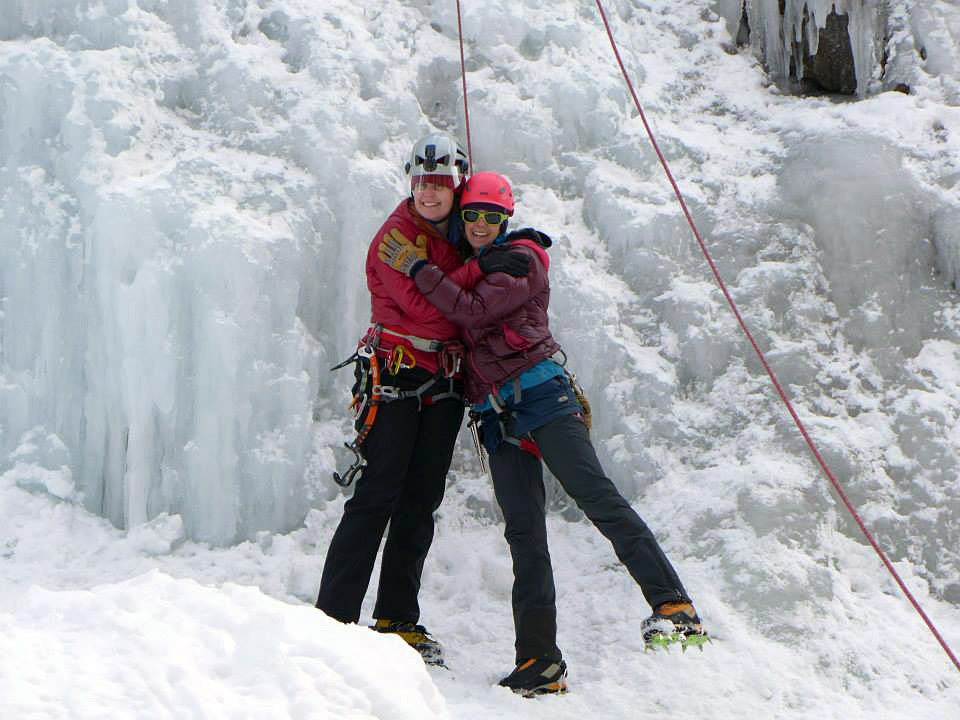 Myself and Sondra after the climb
Sondra is an amazingly gifted instructor and fascinating person all around. From what I hear the other clients say, she is great with all levels of ability, and I definitely recommend her skills to anyone who is interested in trying their hand at this sport.
—Sarah Cousins Hoopes