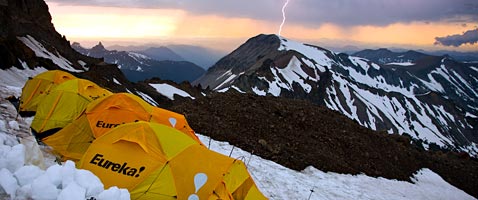 Mt. Rainier Emmons Route Summit Climb
Standing at 14,410 feet tall, Mt. Rainier is the highest peak in Washington and is the most glaciated peak in the Lower 48. Climbers start at Paradise and ascend Rainier via the Disappointment Cleaver, a historic rocky feature on the Ingraham Glacier.
Climb Mt. Rainier with IMG
The 5½ Day Emmons Glacier Summit Climb is an excellent basic mountaineering training program. It's perfect for anyone desiring a less-rushed summit experience in a more remote alpine environment, away from the bigger crowds found on the South side of the mountain. The focus of this group climb is on glacier skills training, self-sufficiency, and teamwork. This climb is more physically demanding than the standard 3½ Day Disappointment Cleaver Summit Program due to the heavier loads, the longer distance traveled, and lower-elevation start. All group equipment is carried by the team, resulting in an average pack weight of about 45-55 pounds.
The Emmons Route incorporates significant roped glacier travel, which the team prepares and trains for each day during the approach to Camp Schurman. Despite being longer than our other novice-level climb on Mt. Rainier, this route is popular due to its consistently moderate snow and relatively few objective hazards. The Emmons Route is a great choice if you are looking for a more complete mountain experience, training as a team on a less frequented route on the largest glacier in the lower 48 States.
Prerequisites and Training
There are no specific climbing prerequisites for this program. All that is required is an eagerness to learn, a significant base of cardiovascular physical fitness, and previous experience carrying an overnight pack. You will be expected to carry this weight over the course of many hours each day. For training suggestions please review the information provided on our Training for Rainier page. This is a novice climb for those interested in learning elements of travel on big, glaciated mountains. Technical training is conducted during the pre-climb orientation, on Day 2, and continually throughout the climb.
Rental Gear
Some of the more specialized gear (like plastic boots, harness, etc.) is available for rent from IMG. Please consult our Rental Page for details.
See video of an IMG Mt. Rainier Gear Check »
Safety is our number one priority. We make no guarantees with respect to the program objectives. Many circumstances, including weather and abilities of yourself or other climbers may inhibit you from reaching the summit. Our goal is to give each of our customers the best experience we possibly can, regardless of the weather, route conditions, or time of year.