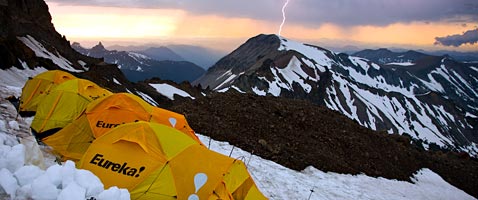 Covid-19 Notice for 2021 Rainier Programs

While we are certainly planning for several eventualities, our working plan for 2021 will be based on the assumption that Covid-19 is still prevalent. We will move forward under similar protocols implemented during 2020, and plan to run all Rainier programs in 2021 with the exception of the Little Tahoma Seminar. There are some notable changes to the way we've traditionally ran our programs as listed below:

We will not be providing meals on our climbs in 2021. We hope this changes so we can get back to serving our world-famous Camp Muir Burritos! Please see our food suggestions page for additional details.
We plan on providing transportation from IMG HQ to/from the trailhead. However, this may not be feasible under Covid-19 protocols. We're working on alternative options and will keep all registered climbers updated on any changes to this plan.
We will provide single tents to all climbers unless you are members of the same household wishing to share a tent.
We will require a cloth facemask during the first ½ day orientation and in IMG vehicles.

Naturally people will want to know our 2021 Covid-19 cancellation policy. For 2021, funds from any National Park Service, WA State mandated or IMG directed Covid-19 related cancelled programs, will be to carried over to the same program and same or closest date in 2022. Short of an NPS, WA State or IMG directed cancellation, our no refund policy remains in place. Note that if your 2020 program was rescheduled by IMG, and is rescheduled again in 2021 due to Covid-19, you will have the option to carry your funds over to 2022, or be issued a refund.

Additionally, we will defer accepting reservations for pre-climb tent lodging at IMG Headquarters until April 1, 2021, when we will have more current information on the status of COVID and any impact it may have on operations for the season.

As is the case with all things Covid-19, we will remain as flexible, communicative and as transparent as possible in these unprecedented times.
Mt. Rainier Emmons Route Summit Climb
The 4½ Day Emmons glacier climb is another excellent basic mountaineering training program. It is perfect for anyone desiring a less-rushed summit experience in a more remote alpine environment, away from the greater crowds found on the south side of the mountain. The focus of this small group climb is on glacier skills training, self-sufficiency and teamwork. This climb is physically more demanding than the Disappointment Cleaver route due to the heavier loads carried and longer distance traveled. All group equipment is carried by the team so average pack weight is in the range of 45-50 pounds rather than the 35 pound weight for the standard route. The Emmons route incorporates significant roped glacier travel for which the team prepares and trains each day during the approach to high camp and is a very "do-able" route considering its consistently moderate nature and fewer objective hazards. The Emmons is a great choice if you are looking for a more complete mountain experience training as a team on a less frequented route up the largest glacier in the lower 48 States.
Why Choose This Program?
Although climbing Mt. Rainier is never an easy endeavor, a fourth day can sometimes mean the difference between reaching the top or falling short; being able to climb comfortably within your limits, and enjoying the descent. Two nights at or above 8,200ft will give you an increased advantage and help you feel fitter and less oxygen deprived on summit day. This program is recommended for anyone hoping to avoid the greater crowds of the standard route, while continuously learning the skills for glacier travel on a big mountain, and enjoying a less-rushed, more self-sufficient alpine experience.
The approach trail starts at White River Campground and climbs through several distinct plant life zones starting in the dense forests of the Western Hemlock Zone, eventually climbing up through beautiful sub alpine meadows into the alpine zone. We use two tent camps strategically located; one at 8,200ft on the lower Inter Glacier and another at 9,600ft, Camp Schurman.
In addition to the continuous daily training on the climb we include a half day pre-climb orientation and instructional meeting at IMG's Headquarters in Ashford, just outside the park. We incorporate the bulk of the training en route during each day of the ascent. This increases acclimatization, minimizes total days for the trip and allows for training to be conducted on the mountain in real conditions all the way to the summit and back.
We employ a light and efficient philosophy for climbing on this program. We will help you go through your personal climbing gear prior to departure to help you minimize the weight of your pack.
IMG's Climber to Guide Ratio
Climbing with a 2:1 client-to-guide ratio provides a superior level of support and direction. Our group size is never larger than twelve (8 climbers and 4 guides).
Prerequisites
There are no prerequisites. This is a basic learning climb for big glaciated mountains. Training is conducted during the pre-climb orientation and continually throughout the climb. The required skills (use of crampons, ice axe and roped glacier travel) are incorporated into this program as part of the en route curriculum. All participants are strongly encouraged to train specifically for this program and to have prior experience on overnight backpacking trips. For physical training suggestions, check out our Training for Rainier page »
Rental Gear
Some of the more specialized gear (like plastic boots, harness, etc.) is available for rent from IMG. Please consult our Rental Page for details.