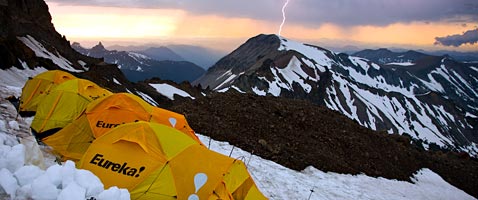 IMG Rainier Emmons Summit Climb Itinerary
Day 1 — Meet in Ashford at HQ (directions) at 2:00pm for your pre-climb orientation. This orientation is instrumental in getting you outfitted, informed, packed and educated prior to departure the following morning. Topics to be covered include an introduction to your climbing team; an introduction to Mount Rainier National Park, its mission and ecology; a safety briefing; the examining, issuing and fitting of gear; and instruction on the proper use of safety equipment including helmets, harnesses and avalanche beacons. Lodging is not provided the night of Day 1.
Day 2 — Meet at IMG HQ at 7:00am and prepare to depart for the White River trailhead. Please eat breakfast before arrival. Depending on timing constraints, we may stop at a coffee shop along the way where you'll be able to buy additional snacks. It will take us a couple hours to drive around the Park to the White River trailhead at 4,500ft on the NE side of Mt. Rainier. The first section of trail covers 3 miles through dense forest to Glacier Basin before continuing up steeply over rough trail and snow to our first camp at 8,200ft on the Interglacier. Just below camp, we'll stop for training in the use of the ice axes and efficient climbing techniques. Upon arrival at our camp site, the guides will teach you how to construct a well sheltered and anchored tent camp on the glacier.
Day 3 — On Day 3, we will climb a relatively short distance to our high-camp at Camp Schurman, located at 9,600ft below the Steamboat Prow, a wedge formation that divides the Emmons and Winthrop Glaciers. En route to Camp Schurman, we will ascend the Emmons Glacier which will provide us with a perfect opportunity to practice roped glacier travel, one of the skills we will need in ascending the upper mountain the following day. Once at Camp Schurman, we'll learn about constructing a proper expedition camp while incorporating LNT techniques, then hold an informational meeting to discuss the summit climb. We'll have dinner and get to bed early.
Day 4 — Our summit day takes us up the Emmons "Corridor" and often onto the Upper Winthrop Glacier depending on the route location. The conditions can vary greatly but we usually encounter crevasses, snow bridges, and some moderately steep snow climbing. Throughout the day, the guides will be directing their rope teams while providing safety feedback and hands-on training of safe travel techniques. We normally reach the summit crater close to the true high point, Columbia Crest. We will spend about an hour on the summit (weather permitting) before descending. The round trip typically takes about 12 hours in total. After arriving back to Camp Schurman, we'll get some well-deserved rest during our final night on the mountain.
Day 5 — The following morning, we'll descend the Interglacier and retrace our steps back down to the White River Trailhead by early afternoon. From there, we'll load up for the ride back around the mountain to IMG headquarters in Ashford. At HQ, we'll wrap up the trip with an awarding of certificates of achievement by the guides. The average program ends around 4PM but unpredictable variables may significantly impact our return time.