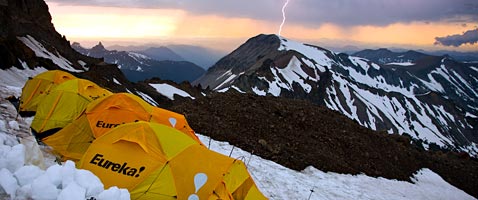 IMG Rainier Emmons Summit Climb Itinerary
Day 1 — Meet in Ashford at HQ (directions) at 2pm. Your lead guide will take you through a gear check and training session. If you need to rent any gear it can be taken care of during this portion of the program, no need to reserve in advance. Your lead guide can help make decisions about your gear and will ensure each team member has everything needed for the climb without carrying unnecessary weight. During the training session, you will cover Leave No Trace Principles, the Mission of the National Park Service, crampon adjustment, and packing up together. Day 1 will wrap up by 6 pm and the team will be free for the evening. Note that lodging is not provided for the night of Day 1.
Day 2 — Day 2 will start at 8 am at IMG HQ in Ashford for a day of snow skills training. Please arrive having eaten breakfast and mountain ready- packed up and dressed for a full day of learning and practice. Load up in the IMG van for a 45-minute drive to the beautiful and historic Paradise area on the south side of Mt Rainier. Spend the day learning and practicing the snow travel skills you'll need for a safe and successful climb of the Emmons Glacier route - cramponing, ice axe arrest, and rope team travel. Additional topics can be covered as time allows. Expect to return to Ashford by 4 pm. Note that dinner and lodging are not provided for the night of Day 2.
Day 3 — Depart Ashford in the IMG van early on the morning of Day 3 for the White River Trailhead, a 90 minute drive. After splitting up the group food and gear, we'll pack up together and start our ascent. Hike through old growth timber with occasional striking views of Mt Rainier and the Emmons Glacier. Soon, the landscape opens into the lush meadows of Glacier Basin at the base of the Inter Glacier. We begin our snow ascent here, climbing to build our camp above 7,800'. Rest and relax in the evening light with dinner and hot drinks to prepare for our ascent to our high camp - Camp Schurman - the following day.
Day 4 — Day 4 begins with a hearty breakfast before breaking down camp and continuing up the Inter Glacier. Roping up before a short descent off Steamboat Prow, we arrive on the Emmons Glacier where we weave through a few large crevasses to reach Camp Schurman. We'll establish our high camp here and continue training or explore the nearby Emmons and Winthrop glaciers as time allows. Enjoy an early dinner with views of Puget Sound. Soon thereafter we head to bed, setting ourselves up for an alpine start and success on our summit day.
Day 5 — Awakening in the dark, we'll eat breakfast and pack up with purpose for Day 5, our summit day. We'll climb through the early morning, first reaching The Corridor, an area of smooth glacier with good, direct travel. Angling climber's right and ever upward, we gain the upper reaches of the Emmons Glacier where we continue to climb, crossing the bergschrund near 13,000'. Our final push tops out directly on Columbia Crest. Snap some sunrise summit photos and enjoy the views before descending back to Camp Schurman. Well-earned snacks, naps, and celebration fill the afternoon, until we end the day with a filling dinner and another beautiful Puget Sound sunset.
Day 6 — After a restful night's sleep breakfast is served and we begin to pack up camp on the morning of Day 6. Descending our ascent route, we leave the Emmons Glacier and return to the Inter Glacier. Conditions-dependent, a long and exciting glissade brings us quickly back to Glacier Basin. Retracing our steps through meadows, wildflowers, and the deep forest we arrive at our waiting van for the drive back to Ashford. Here you can return rentals, make retail purchases, and share in a closing ceremony with your guides.