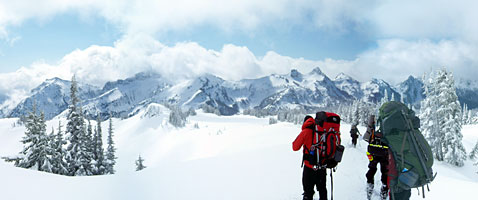 Mt. Rainier Winter Expedition Ascent
The Winter Expedition Ascent takes place in mid-winter: January and February. It is an opportunity to climb Rainier when conditions can be quite extreme, providing valuable experience in cold weather, high altitude conditions. Eric Simonson and George Dunn originated the Winter Expedition Seminar as guides on Mt. Rainier in the mid-eighties. They carry on the tradition today as owners of International Mountain Guides.
Mt. Rainer is the ultimate winter challenge with its world record snowfall and rules supreme as the premiere training ground for North American climbers. This program ascends Mt. Rainier in expedition fashion using two or more camps along the way at progressively higher altitudes. We incorporate avalanche level 1 training material into the climb to offer in depth snow training and avalanche risk assessment. This program has two primary goals: to attempt to climb, survive and summit the mountain, and to spend a significant amount of time learning skills and training. Weather can potentially limit our ability to climb higher at any step of the way, but this allows for more time spent training and learning skills to survive what the mountain throws at us. Winter Expedition Climbs ascend through the Muir Corridor (Ingraham Glacier, Disappointment Cleaver, and Gibraltar Ledges routes), but the selected route is weather and snow pack dependent. Camp Muir is always used as the high base for our summit attempts.
Why Choose This Program?
This program is designed specifically for the person wanting to gain more experience in winter conditions in the alpine environment, while learning valuable avalanche evaluation skills. Many people who choose this program are considering future winter alpine climbs and/or backcountry skiing and snow boarding outings with or without guides. This is an excellent test for persons who want to climb Mt. McKinley, Aconcagua, or one of the Himalayan giants, as it does a great job replicating the more extreme conditions you can expect to find on those peaks. In fact it is probably the best way to train for high altitude climbs in the lower 48 due to the extreme conditions and expedition style climbing. It can be quite enjoyable attempting Rainier at this time of year when the mountain is covered in a thick new blanket of snow and there are very few visitors. This program is not suited for those who want the easiest, quickest way up Mt. Rainier with the highest probability of summiting. Climbing Mt. Rainier in winter is very challenging with a significantly lower chance of success. The overall success rate is less than 20% in winter. That makes a winter summit all the more rewarding if you are lucky enough to participate in a climb that gets to the top!
Topics to be covered include:
Basic techniques with ice axe and crampons
Best practices roped glacier travel
Self rescue and team crevasse rescue training
Expedition winter camp setup
Construction of snow caves and snow shelters
Avalanche training and field evaluations
We employ a light and efficient philosophy for climbing on this program. We help you go through your personal climbing gear at the start of the program to make sure you have everything essential and nothing more.
Climbing with a 2:1 client-to-guide ratio provides a superior level of support and instruction.
Prerequisites
The Mountaineering Day School is incorporated into this program's itinerary so it is not necessary to take it separately. It is encouraged that you have prior experience with winter backpacking, carrying up to 60 pound loads and are self sufficient in cold, inclement weather conditions. All participants must be in excellent physical condition. For training suggestions please review the information provided on our Training for Rainier page »