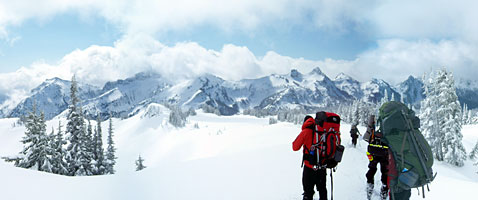 Rainier Winter Seminar and Summit Climb
The 6½ Day Winter Seminar/Mt Rainier Program is one of IMG's comprehensive training programs. It is designed as an in-depth skills and training seminar for climbers looking to develop a greater depth of climbing skills combined with a summit attempt of Mt Rainier via the Disappointment Cleaver Route. This program is designed as a skills and training seminar for climbers seeking a primer in cold weather mountaineering skills, as well as those with aspirations of greater climbs in the future. As the name implies, this is excellent base level training for a Denali expedition or other high altitude, glaciated, technical peaks. This program emphasizes technical training and expedition logistics and is designed to deliver to people the specific skills required. The seminar teaches and reviews basic climbing skills like ice axe arrest, cramponing on steeper slopes and rope travel, then progresses on to more advanced training such as anchors, crevasse rescue, and fixed line ascension. As time and conditions allow, additional time will be spent on skills such as snow caves, avalanche hazard evaluation and route finding. A summit attempt is included at the end of the seminar.
While our 6½ Day Winter Seminar/Mt Rainier Program is suitable for novice climbers with little or no previous climbing experience, this program does require adequate fitness and endurance training in order to be successful.
Why Choose This Program?
The 6½ Day Winter Seminar/Mt Rainier Program is our most in-depth, hands-on training program designed to prepare climbers for Expeditions such as Denali while putting climbers in a position to summit Mt. Rainier. Unlike our 3½ Day Summit Climb, this program is focused on training in expedition climbing skills. At the end of the program we will attempt to summit as a team, utilizing all of the training we have learned during the seminar. 6½ Day Winter Seminar/Mt. Rainier Program is the right choice if you are climbing.
Topics to be covered include:
Expedition gear and its use
Snowshoeing
Basic skills with ice axe and crampons
Sled rigging and use
Expedition camp building and maintenance
Construction of snow caves and snow shelters
Ascending and descending fixed ropes
Building snow anchors and anchor systems
Expedition glacier travel and route finding
Crevasse rescue practice
Lectures on high altitude medicine and prevention of cold weather injuries
Avalanche hazard evaluation
IMG employs a light and efficient philosophy for climbing. IMG will provide shelter, stoves, fuel, cookware and group climbing gear (ropes, pickets, shovels, etc.) for the team to carry to each camp. We will help you review your personal climbing gear prior to departure to make sure you are not carrying any unnecessary weight up Mt Rainier. Total personal gear, including filled water bottles, should be approximately 50 pounds, excluding your boots and trekking poles.
Prerequisites
There are no specific climbing prerequisites for this program. All that is required is an eagerness to learn, a significant base of cardiovascular physical fitness, and previous experience carrying an overnight pack. You will be expected to carry this weight over the course of many hours each day. For training suggestions please review the information provided on our Training for Rainier page. This is a novice climb for those interested in learning elements of travel on big, glaciated mountains. Technical training is conducted during the pre-climb orientation and continually throughout the climb.
Safety is our number one priority. We make no guarantees with respect to the program objectives. Many circumstances, including weather and abilities of yourself or other climbers may inhibit you from reaching the summit. Our goal is to give each of our customers the best experience we possibly can, regardless of the weather, route conditions, or time of year.