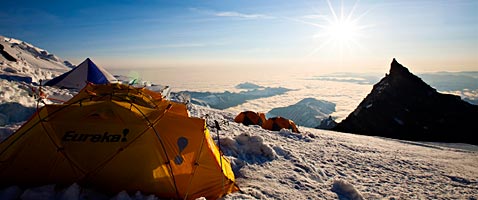 Mt. Rainier and Mt. Baker Seminar with IMG
IMG's 7 Day Mt. Rainier/Mt. Baker Seminar is one of IMG's comprehensive training programs and includes summit attempts on two of Washington's most iconic peaks. It is designed as an in-depth skills and training seminar for climbers looking to develop a greater breadth of climbing skills.
Why Choose This Program?
This program provides excellent hands-on training to prepare climbers for any of the big, high-altitude, glaciated, technical peaks in Alaska such as Denali, South America, the Himalayas and elsewhere. This program incorporates the Mountaineering Day School, Advanced Mountaineering Day School, and Crevasse Rescue School into the course curriculum. Training and skills sessions include anchors, self and team crevasse rescue, ice climbing, route finding, glacier travel and fixed line ascension. The seminar is specifically scheduled for mid-summer to capitalize on firmer snow conditions and more exposed crevasses for glacier training. A summit attempt is included on both Mt. Baker and Mt. Rainier.
While our 7 Day Mt. Rainier/Mt. Baker Seminar is suitable for novice climbers with little or no previous climbing experience, this program does require adequate fitness and endurance training in order to be successful.
This seminar is perfect for those trying to gain a bit of extra experience before attempting Mt. Rainier, and there is no better way to start than with Mt. Baker. The Easton Route on Mt. Baker is the perfect training grounds to gain skills and experience before attempting Mt. Rainier via the Disappointment Cleaver route. The Easton provides similar terrain to Mt. Baker, but with a more flexible schedule and a lower elevation. After wrapping up training and climbing on Mt. Baker, the team will meet up at IMG HQ in Ashford for a half-day of training and orientation to Mt. Rainier. From there, the team will ascend up on Mt. Rainier and continue training on the ascent before making a summit attempt on the highest peak in Washington.
Topics to be covered include:
Cramponing
Ice axe and ice tool use
ce climbing
Belaying and rappelling
Glacier travel and rescue
Short roping and short pitching
Ice and snow anchors and anchor systems
Glacier route finding and navigation
Ascending and descending fixed lines
IMG employs a light and efficient philosophy for climbing. IMG will provide shelter, stoves, fuel, cookware and group climbing gear (ropes, pickets, shovels, etc.) for the team to carry to each camp. We will help you review your personal climbing gear prior to departure to make sure you are not carrying any unnecessary weight up Mt Rainier. Total personal gear, including filled water bottles, should be approximately 50 pounds, excluding your boots and trekking poles.
Prerequisites
There are no specific climbing prerequisites for this program. All that is required is an eagerness to learn, a significant base of cardiovascular physical fitness, and previous experience carrying an overnight pack. You will be expected to carry this weight over the course of many hours each day. For training suggestions please review the information provided on our Training for Rainier page. This is a novice climb for those interested in learning elements of travel on big, glaciated mountains. Technical training is conducted during the pre-climb orientation and continually throughout the climb.
Rental Gear
Some of the more specialized gear (like plastic boots, harness, etc.) is available for rent from IMG. Please consult our Rental Page for details.
See video of an IMG Mt. Rainier Gear Check »
Safety is our number one priority. We make no guarantees with respect to the program objectives. Many circumstances, including weather and abilities of yourself or other climbers may inhibit you from reaching the summit. Our goal is to give each of our customers the best experience we possibly can, regardless of the weather, route conditions, or time of year.