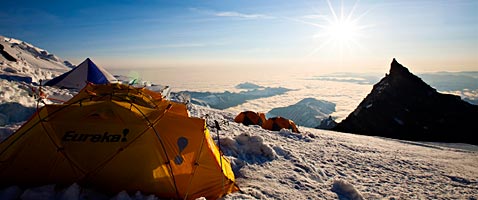 Mt. Rainier and Mt. Baker Seminar with IMG
Our 7 Day Mt. Baker/Mt. Rainier Seminar is one of IMG's comprehensive training programs and includes summit attempts on two of Washington's most iconic peaks. It is designed as an in-depth skills and training seminar for climbers looking to develop a greater breadth of climbing skills. Mt. Baker's Easton Glacier is a perfect warm-up for Mt. Rainier via the Disappointment Cleaver, the most glaciated peak in the Lower 48.
This program provides excellent hands-on training to prepare climbers for any of the big, high-altitude, glaciated, technical peaks in Alaska such as Denali, South America, the Himalayas and elsewhere.
We incorporate basic mountaineering training and crevasse rescue into the course curriculum including:
Cramponing
Ice axe and ice tool use
Ice climbing
Belaying and rappelling
Glacier travel and rescue
Short roping and short pitching
Ice and snow anchors and anchor systems
Self and team crevasse rescue
Route finding and navigation
Ascending and descending fixed lines
The seminar runs mid-summer to capitalize on firmer snow conditions and more exposed crevasses for glacier training. A summit attempt is included on both Mt. Baker and Mt. Rainier.
Prerequisites and Training
Both the Easton Glacier and the Disappointment Cleaver Route are novice routes well suited to beginners with no previous mountaineering experience. Prior experience hiking and backpacking is a plus and will allow you to focus on practicing your mountaineering skills.
While this program is suited for novice climbers, Mt. Baker and Mt. Rainier are still a strenuous climbs. All participants must be in very good physical condition. For several months prior to the start of the climb, training should include many long, slow runs or hikes over hilly terrain, an hour or more in duration. Add additional weekend outings carrying a heavy pack (30-45 lbs.) up steep hills or stairs, ideally gaining 3,000 feet over 3 or more miles. Aim to move consistently at a moderate pace, with breaks approximately every hour.
Rental Gear
Some of the more specialized gear (like plastic boots, harness, etc.) is available for rent from IMG. Please consult our Rental Page for details.
See video of an IMG Mt. Rainier Gear Check »
Safety is our number one priority. We make no guarantees with respect to the program objectives. Many circumstances, including weather and abilities of yourself or other climbers may inhibit you from reaching the summit. Our goal is to give each of our customers the best experience we possibly can, regardless of the weather, route conditions, or time of year.