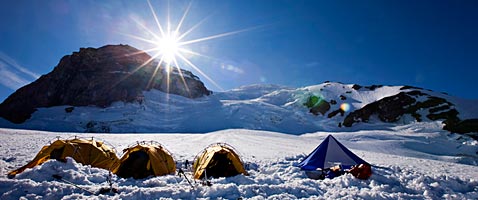 Mt. Rainier and Mt. Baker Seminar Itinerary
This itinerary is approximate and subject to change due to conditions.
Day 1 — The team will meet their guides at the Sedro Woolley Ranger Station at 8 AM on Day 1. Here, they will do a final gear check before entering the field. The team will depart for the Schreiber's Meadow trailhead where they will follow a trail through the forest, to a lush alpine meadow, and then cross onto a glacial moraine up to Sandy Camp. This stretch to high camp will take approximately 4 hours with heavy packs. Once in camp, the team will start on their lessons, eat an early dinner, and get off to bed.
Day 2 — The team will wake-up early on Day 2 to go for the summit of Mt. Baker. The Easton Glacier is a moderate climb that will include some crevasse navigation. It will be a full day to get back to camp after summiting. If there is time, the team will continue with their training lessons.
Day 3 — On Day 3 the team will hike out from Sandy Camp. This day serves as a bit of an active rest day. If time and weather permits, the group will do more skills training in the morning. After getting to the trailhead, the team will depart and plan to meet up in Ashford the following day. Please note that lodging is not provided on the night of Day 3.
Day 4 — After meeting back at IMG Headquarters in Ashford, WA at 2 pm, the team will go through a brief gear check for Mt. Rainier. After this the team will utilize the training spaces at IMG HQ to cover more topics such as crevasse self-rescue and anchor building. Please note that lodging is not provided the night of Day 4.
Day 5 — Day 5 will start at 8 am at IMG HQ in Ashford. Each team member will receive a small amount of group food to be carried to Camp Muir. After meeting the guides, the team will travel to Paradise in an IMG van. You'll begin your ascent around 9:30 am and will break approximately every hour until reaching Camp Muir (10,080') around 3 pm. Once at Camp Muir, you'll rest and enjoy a burrito dinner in IMG's semi-permanent dining tent. After dinner, it's off to bed for a full night of rest!
Day 6 — Pancake breakfast with bacon and French press coffee will be served at 8 am sharp on Day 6. After enjoying breakfast, you will put your learned skills into action, making the two hour climb up and over Cathedral Gap to Ingraham Flats (11,000') nestled in the Ingraham Glacier. At "The Flats", dinner and hot drinks are served early and we head to bed soon thereafter to rest and prepare for our summit push early in the night.
Day 7 — On Day 7, you will wake up early to make your summit push. After leaving the Flats, you will climb to the top of Disappointment Cleaver (12,300') before continuing onto the upper mountain and climbing the Ingraham Glacier to the summit. Snap some summit photos and enjoy the views before we descend. Upon reaching The Flats, the team will pack up camp and continue descending to Camp Muir and then to the waiting van at Paradise. From there we travel back to IMG HQ in Ashford together. Here you can return rentals, make retail purchases, and share in a closing ceremony with your guides. Please note that lodging is not provided the night of Day 7.