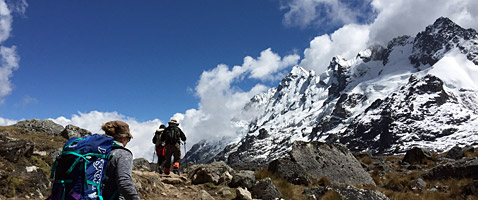 IMG 2015 Salkantay Trek and Machu Picchu
By Tye Chapman
All packed up. The Uber arrived on time, so far so good.
Passport, duffel, carry-on, boarding passes, checked in, and through security, so far so good.
Seattle-LAX-Lima-Cuzco-van-driver-hotel, so far so good.
Nap. So far so great!
Getting to the jumping off point for any climb or trek is truly half the battle. When everybody and their duffels arrive intact, and on time, I can assure you that whoever is leading the trip tends to breathe a little easier. I was no different. After my smooth travels to Cuzco, I was thrilled to see everybody else arrive without issue.
The Salkantay Trek itinerary is jammed packed and gets started right away. After some quick introductions we headed off to grab some lunch near the Plaza de Armas. After lunch we enjoyed a casual walking tour of Cuzco. Cuzco sits at over 11,000ft so our casual walking tour has a secondary (read primary) purpose, acclimatization. Our local guide, Juan, showed us around town. We checked out the Sun Temple and Sacsayhuaman, two of the local Incan highlights. All tired from the travels we went to bed shortly after dinner.
Day 2 was a full day of touring the Sacred Valley. We toured Ollayantaytambo, had a wonderful lunch, checked out the famous Pisac Markets, stopped to try some Chicha and Cuy. What are Chicha and Cuy you ask? Well Chicha is a local corn beer and cuy, well, it's guinea pig to you and me and is a local delicacy. Some liked it more than others. Bottom-line is Juan had the lion's share and enjoyed every bite. After a full day in the Sacred Valley we headed back to Cuzco for some final packing for the trek.
Day 3 started with the first of our early morning wake up calls. 4:30am to be exact. We groggily checked out of the hotel, grabbed our breakfast to go and then hopped into the van for a three hour ride to Mollepata where our morning officially started... coffee. Back into the van for another 30 minutes or so to the trailhead where we met the heart and soul of our trek — our cookstaff and horse wranglers. We were well taken care of by Josep, Whiskey, Wilbur, Louis, Jorge, Molesto, and Daniel. These guys, combined with local guides Marco and Juan, worked their tails off making sure everybody had what they needed. The first day on the trail is pretty mellow. Up a little ways then along an old Incan water channel to Soraypampa for a huge lunch then onto Salkantaypampa to camp for the night. It was a beautiful afternoon and evening, albeit cold! We were sleeping at 13,000ft after all. The Milky Way was as clear as I've ever seen it! Big day tomorrow.
Another early start today to a big day, this time 5am. Some Coco tea, coffee and some breakfast to get the engines running. The wind subsided and left us with a cool clear morning for our trek up to the pass. Packs on at around 7am and by 8am the morning shade gave way to the sun. By 9:00 we were within eyesight of the pass. Everybody was in great spirits. Step by step we made our way to the pass. At around 10am we arrived at Salkantay Pass (15,180ft.) as a team. High fives, hugs and a lot of photos were in order. It was a warm day on the pass, perfect for a nice long break. By 10:45 we were on our way down... down... down. Three hours up to the pass and six hours down to our camp in the small village of Chaullay/Collcapampa. We're near the jungle again so it was considerably warmer in this camp. Spaghetti for dinner tonight and maybe a beer.
The early starts keep coming... this time for completely selfish reasons, hot springs! Before the trip started we decided we wanted to hit the hot springs for a couple hours on Day 3. We knocked out the 5 hour hike down through the jungle without issue, hopped into our awaiting van and made our way to Lucmabamba. After lunch and maybe another beer we hopped in our hired van for the 40 minute journey to the Hot Springs. Three big pools of warm to almost hot water were a welcome relief after a few days on the trail. After a nice long soak we dried off, had a drink and... wait, where is our van? Well it turns out that our driver went back into town to get some gas and the power went out before he could get fueled up. Plan B. We called in two small vans, and after a short delay, we were back in Lucmabamba at our camp for dinner.
The itinerary for Day 4 on the trail called for a steep three hours up and three hours back down to the train station. While the group could have done it, I felt it was more important to be fresh for our final day in Machu Picchu, so we "slept in" (6am) and took a tour of the coffee plantation that surrounded our camp. We picked some coffee beans and watched them transform from their berry stage to the roasting and grinding stage and most importantly to the "in my cup" stage. It was great to see the whole process. After a breakfast of scrambled eggs and fresh avocados we hit the trail for a few hours trekking along the railroad tracks, taking in the views of the back side of Machu Picchu. We strolled into Agua Calientes around 3pm and checked into our hotel. Showers for everybody.
Machu Picchu Day! Our last early morning wakeup call... 4am again! Tough but worth the effort to get up, grab some breakfast and get into Machu Picchu before it's overran by fellow tourists mid-morning. A few of us climbed up Huayna Picchu while others toured on their own checking out the Sun Gate or the Inca Bridge. By 11am we were all ready to head back for lunch. Pizza! After lunch we hopped on the 1:37pm train and were in Cuzco by 5:30 and at our Celebration Dinner at 7:30. We said our goodbyes to Juan and wrapped things up in good form.
No agenda on the last day — some scoured the city for souvenirs while others kept it pretty close to the hotel. Afternoon flights to Lima and onwards.
My thanks to Ann, Bobby, Cindi, Eboli, Erika (my lovely wife), Jake, Jen, Jay, Juan, Julie, Mark, Marco, Michael, Nola, & Pat for an incredible trek!
—Tye Chapman, IMG Guide