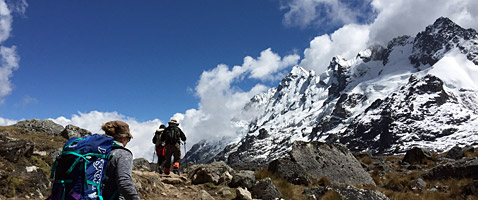 IMG 2016 Salkantay Trek and Machu Picchu: Five Unexpected Highlights From Our Trip To Peru
By Charlotte Austin
Earlier this month, I led a 10-day trip in Peru. It was fantastic: we toured the picturesque town of Cusco, trekked across the breathtaking Salkantay Pass, and explored the ancient ruins at Machu Picchu. The trip was jam-packed with fun, adventure, and laughs.
As our group sat drinking pisco sours over dinner on the last day of the trip, we talked about the best parts of our adventure. There were the expected highlights, of course: Incan history, beautiful scenery, getting to see one of the 7 wonders of the modern world. But each trekker in our group also had some unexpected highlights of the trip, and we thought it would be fun to compile a list. So:
The food was incredible. All IMG trips have great cuisine, but our meals on this trip were some of the best I've ever had — on or off a mountain. While we were trekking toward the Salkantay Pass, we had spinach-stuffed trout with a ginger-garlic reduction. Our cook hand-whipped a pisco meringue, which he served with cinnamon pears. We picked fresh avocados the size of small melons, then ate them while they were still warm from the sun. We even ate guinea pig! None of us came home lighter, but it was well worth the extra pounds. Experiencing the flavors of Peru is something we won't forget.
We played gaucho. The Salkantay trek is horse-supported, which means that the group supplies (cooking gear, food, duffel bags, etc) are carried from camp to camp by horseback while trekkers carry only daypacks. There were three horse-handlers, and on big days of trekking, one of the handlers walked alongside our group with two horses in case any trekkers were tired and wanted to ride. None of group was tired, but we took turns taking short rides on the horses for fun anyway. As one of our group said, "Now I've ridden a horse through the Andes. Life goal: check."
We learned about the history of the native Peruvians. Most people know that Machu Picchu was built by the Incans — but on this trip, we learned about the pre-Incan civilizations, too. They're fascinating! For background reading, I recommend Turn Right At Machu Picchu: Rediscovering the Lost City One Step at a Time (by Mark Adams) and 1491: New Revelations of the Americas Before Columbus (by Charles Mann.)
Hot springs! After three days of trekking, our group unanimously voted to visit the hot springs in Santa Theresa. We spent hours soaking our sore muscles in the warm, crystal-clear water.
Our trip was multi-generational. The Machu Picchu trip lends itself beautifully to trekkers of all ages and abilities, and it was incredibly rewarding to work with family members of two generations. There's no better place to bond than on the trail!
—Charlotte Austin is a lead guide with IMG and will be leading next year's IMG Salkantay Trek.