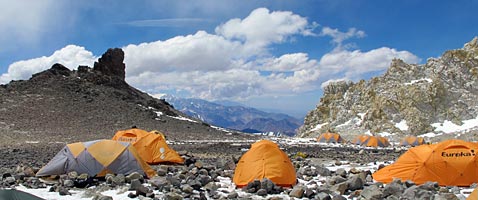 IMG Aconcagua Climb Gear List
This equipment list is meant to help you compile your personal gear for a mountaineering expedition. Most items are required. Please consider each item carefully and be sure you understand the function of each piece of equipment before you substitute or delete items. Keep in mind that this list has been carefully compiled by Phil Ershler, the expedition organizer. Don't cut corners on the quality of your gear.
Item
Examples/Notes
[ ]
Internal Frame Mountaineering Backpack
Minimum 80L
[ ]
2 duffel bags
Patagonia Black Hole, 120L
[ ]
Small carry-on/travel bag
Black Dimaond Blitz 28
[ ]
Ice Axe (60-70 cm)
Petzl Glacier or Black Diamond Raven
[ ]
Crampons
Petzl Vasak or Grivel G12's
[ ]
Adjustable ski poles
Black Diamond Expedition 3
[ ]
Climbing Harness
Petzl Altitude or Black Diamond Couloir
[ ]
Climbing Helmet
Black Diamond Half Dome
[ ]
1 locking and 1 non-locking carabiner
Petzl Attache and Spirit
[ ]
Sleeping bag rated between 0F and -20°F
Feathered Friends Widgeon EX -10°F
[ ]
Inflatable sleeping pad
Therm-a-rest Neoair X-Therm
[ ]
Closed cell foam pad
Therm-a-rest Z-Lite
[ ]
Double climbing boots
La Sportiva Spantik or Baruntse
[ ]
Gaiters
OR Crocodiles
[ ]
Light hiking shoes or boots
La Sportiva Lycan GTX
[ ]
Sandals for river wading
Chaco Classic
[ ]
3 sets of wool climbing socks
Smartwool PhD Outdoor Mountaineer
[ ]
3 sets of light hiking socks
Smartwool PhD Outdoor Light Mini
[ ]
Light hiking shirt
OR Echo Tee
[ ]
Light hiking shorts and pants
OR Equinox (men) or Ferrosi (women)
[ ]
4 Pairs of synthetic underwear
Dealer's choice
[ ]
2 sports bras (ladies)
Patagonia Switchback Sports Bra
[ ]
Synthetic base layer for legs (long underwear)
OR Alpine Onset
[ ]
Soft-shell climbing pants
OR Cirque
[ ]
Waterproof Gore-Tex pants with full-length leg zippers
OR Furio
[ ]
Insulated climbing pants
Black Diamond Stance Belay
[ ]
2 Synthetic upper body base layers
OR Echo Hoody
[ ]
1 or 2 medium weight insulating layers
OR Uberlayer
[ ]
Soft-shell jacket
OR Ferrosi Summit
[ ]
Insulated parka
Feathered Friends Khumbu or similar
[ ]
Waterproof Gore-Tex jacket
OR Optimizer
[ ]
Wool/fleece beanie hat that fits under your helmet
OR Booster Beanie
[ ]
Light weight gloves
OR Stormtracker
[ ]
Medium weight gloves
OR Extravert
[ ]
Heavy weight gloves
OR Alti Mitt or Black Diamond Guide Glove
[ ]
3 Buffs
Buff Original
[ ]
Sun hat
OR Advocate Trucker
[ ]
Glacier glasses
Julbo Explorer 2.0
[ ]
Goggles
Smith I/O
[ ]
Sunscreen and lip balm (at least 30 spf)
Neutrogena Ultra Sheer Dry-Touch
[ ]
2 wide-mouth Nalgene water bottles
1L bottles
[ ]
2 water bottle insulating covers
Forty Below Bottle Boot
[ ]
Thermos
Hydroflask
[ ]
Pee bottle
An old Gatorade bottle works well
[ ]
Female Urination Device
Go Girl
[ ]
Plastic cup, bowl and spoon
Lightweight and durable
[ ]
Headlamp with extra batteries
Petzl Actik
[ ]
Camera
Keep it light, and bring spare batteries
[ ]
Toiletries
Toothbrush, toothpaste, floss, hand sanitizer, toilet paper, Dr. Bronners soap
[ ]
Ear plugs
[ ]
Personal first aid kit:

High altitude and travel medications:

Acetazolamide (14 tablets @ 125mg)
Dexamethasone (4 tablets @ 4mg)
Nifedipine (2 tablets @ 30mg)

Two regimens of the antibiotic azithromycin ("Z-Pak") (required)
Aspirin
Antacids
Imodium
Moleskin or second skin for blisters
One roll of athletic tape
Band-aids

Consult with your doctor to acquire high altitude medications and to complete Form 5 in the application package.
[ ]
Iodine for water purification
Potable Aqua
[ ]
Pocket knife
Victorinox Swiss Army Wenger
[ ]
Small travel towel
REI Multi Towel Lite
[ ]
5 Large trash compactor bags
Hefty Steel Sacks
[ ]
Alarm wrist watch
Treat yourself to a watch with an altimeter, Suunto Vector
[ ]
Casual clothes
Make sure to bring some comfortable clothes for hanging out and going out to dinner. Leave the black tie/dress at home, but classier attire is appropriate at some of the meals we will be having in Mendoza. Don't forget a bathing suit and flip flops.