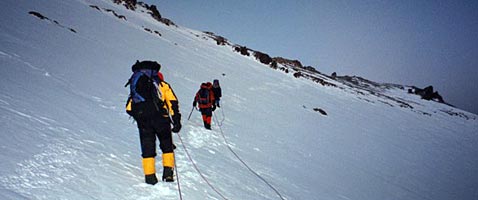 IMG Aconcagua Climb Itinerary
Most flights from the United States to Chile depart in the evening and fly through the night, this is considered Day 1 of the program. Day 2 consists of a short flight from Santiago over the Andes to the quaint town of Mendoza where the expedition will commence at the hotel. We will spend the afternoon in Mendoza doing gear checks and last-minute food shopping for the climb.
Once all preparations have been made and permits have been acquired in Mendoza, the group will travel to a small ski resort called Penitentes that is close to the starting point of our trek to basecamp. Mules will be hired to carry gear and food to base camp and members will carry only moderate loads to base camp. The approach takes three days. From here, we'll use standard Denali tactics of climbing high and sleeping low on our attempt on Aconcagua. Several rest days are included. Following the climb, we'll travel back to Mendoza where we'll enjoy a celebratory team dinner, get some rest and be ready to fly home the next day.
Day
Itinerary
Day 01
Depart the United States, this is the date listed as the start date of your program.
Day 02
Arrive in Santiago, fly to Mendoza. Hotel night included.
Day 03
Additional day in Mendoza to secure the permit, pack and enjoy Mendoza.
Day 04
Early departure for Los Penitentes. Day spent packing loads, resting and getting ready to start our approach.
Day 05
Drive to Punta del Vacas and begin approach march. Our first night on the trail will be at Pampa de Lenas.
Day 06
Continue approach march and spend the night at Casa de Piedras.
Day 07
Reach the Plaza Argentina basecamp (13,800').
Day 08
Rest day at Plaza Argentina.
Day 09
Carry to Camp I (16,372').
Day 10
Move to Camp I
Day 11
Carry to Camp II(17,953') via the Ameghino col.
Day 12
Move to Camp II
Day 13
Carry to Camp III/Cholera (19,587')
Day 14
Rest/acclimatization day at Camp II
Day 15
Move to High Camp/Cholera
Day 16
1st Potential summit day. Spend night at High Camp after summit.
Day 17
Contingency Summit Day
Day 18
Contingency Summit Day
Day 19
Descend to Plaza de Mulas base camp (Normal Route) from High Camp
Day 20
Hike out from Plaza de Mulas base camp to Penitentes
Day 21
Drive from Penitentes to Mendoza and go out for a farewell dinner
Day 22
Fly from Mendoza, Argentina
Day 23
Arrive home



Please Note: This is a probable but tentative itinerary. Our exact schedule may change depending on factors including weather and group ability.