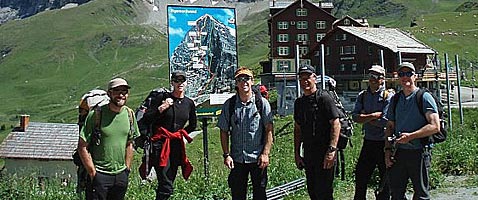 Alps Classic Climbs: Mont Blanc, the Jungfrau, and Zermatt Climbs with International Mountain Guides
This is the perennial favorite trip to the Alps. We enjoy pleasant lodgings and charming restaurants; take in the sights in three of the most beautiful centers of the Alps; yet still have time to climb three or more outstanding peaks. Good summer snow, glacier travel and granite ridges: we'll climb it all. Places visited during the course of this program include Zermatt, Switzerland, Grindelwald (Wengen) Switzerland and Chamonix, France.
For this trip you will need to use all of the glacier travel skills you have learned on a previous course on Mt. Adams, Mt. Rainier, or other glaciated peak in the States — cramponing, use of ice axe and rope travel. You'll learn some new techniques as well. I would rate most of the climbs as a step in difficulty above Mt. Rainier. The terrain is a bit steeper with more exposure in places and some rock scrambling. Persons who have summited Mt. Rainier usually do well on this series of climbs. No previous rock climbing experience is required other than a stout heart, legs and a desire for adventure.
The climbing in the Alps is more fun because we eliminate arduous approaches with heavy packs. By utilizing mountain huts we eliminate the need for sleeping bags and cooking. The huts provide dinners and breakfasts as well as bunks with blankets and mattresses. This is a great trip to bring along a non-climbing spouse.
Climbing
Knowledge of basic mountaineering skills, including ice axe arrest, cramponing and roped glacier travel is required. Previous participation in an IMG Mt. Rainier Glacier Skills Seminar and Summit Climb, a Mt. Whitney Climb (with training day) or a Mount Rainier Climb is recommended. The climbing will involve glacier travel and cramponing on moderately steep snow and ice slopes, as well as rock scrambling of moderate difficulty. No previous rock climbing experience is necessary but certainly would help with your confidence level. Prior participation in a rock-climbing program such as the IMG Joshua Tree or the Smith Rocks Seminars is suggested for this reason.