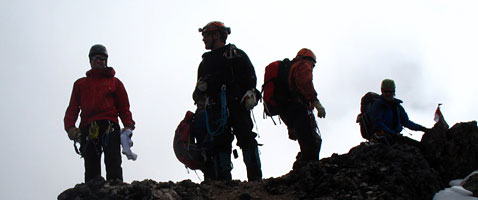 IMG Carstensz Pyramid 2014 Expedition
International Mountain Guides Archived Expedition Updates
Carstensz Fly By
Sunday, October 19, 2014
A quick update from Dan and Jonathan, heading towards Carstensz Pyramid. As you can see from the photos, the mountain is out and about! "This is the best air view I have had of Carstensz. Flew right past the summit this a.m.!" The glacial peaks are Sumantri, Ngga Pulu, and east Carstensz top.
The Carstensz Team is assembling now and will do some gear checking and find the weather window to fly in soon!
— Greg Vernovage
Carstensz Update From Jayapura
Monday, October 20, 2014
Dan checked in just now from Jayapura. Everything is coming together for the team. A few gear checks and following up on the Helicopter that is taking them in to Nasidome in a few days. The rest of the team should be arriving soon and then it is time to concentrate.
So far, this Carstensz Pyramid climb sounds like fun!
"We had a good fun day with everyone today. Hung out on the beach all day. Ended up being the kind of beach people spend their whole life looking for and we had it to ourselves. A few locals were cutting fire wood and net fishing."
Sounds like the biggest concern so far is going to be how much sunblock they need! Don't forget the back of your neck and legs, gang!
— Greg Vernovage
Ready To Fly In Jayapura
Tuesday, October 21, 2014
Dan called from Jayapura. The entire Team is together and the gear has been checked and sorted. This is no small task. They want to bring enough gear for the trip but only the essentials. The reason for this is with the plane flight and then Helicopter ride into Nasidome, we need to be a certain weight. Dan and Johnny have worked through it.
The Team is spending the rest of the day visiting the city and some made the decision to rest on the beach. Never a bad idea.
The plan tomorrow is to fly from Jayapura to Nabire and then onto Enoratoli. They are putting themselves in position for good weather and the helicopter flight now! As soon as the weather is good and pilots feel comfortable, they will head to Nasidome.
Carstenz Pyramid, Let's Go!
— Greg Vernovage
Carstensz Pyramid Team Arrives At Enarotali!
Thursday, October 23, 2014
Dan checked in during a busy day in Papua, New Guinea. The team is doing great and working together through the plane flights. As planned, the Carstensz Team took two flights and has made it to Enarotali with their gear. Doing the weighing of the gear and the infamous duffel shuffle is a Team building procedure. We always want to put our eyes on our own duffel bag and make sure it gets to the same place as our team.
Once in Enarotali, Dan and Johnny went over to the Heli Pad and found our Pilot for the next ride. Everyone is optimistic for the flight tomorrow morning into Nasidome! Best news so far for the Team.
It has been a great trip so far and we are excited to get the SAT phone call when they get on the ground and start up the trail to Carstensz Base Camp.
— Greg Vernovage
All Is Well In Nasidome!
Friday, October 24, 2014
Dan called on in from Nasidome! All three flights made it in with all the gear. The Carstensz Team is doing great and are relieved to have preceded the rain clouds. They arrived in Nasidome this morning where the tents were already up. This is huge! With the constant threat of rain coming in, it is a great feeling to have the heli flight in under their belt.
They can now focus on trekking to Base Camp and climbing. The rest of the day will be spent organizing loads and eating. They flew in to about 12,000 feet at Nasidome so they key is to take it easy and not over exert themselves. Stay ahead of the altitude curve.
Tomorrow, the Team will pack up and take the hike up to Base Camp. Time to put on the mud boots!
Way to go Carstensz Pyramid Team!
— Greg Vernovage
Nice Day At Nasidome
Saturday, October 25, 2014
Dan checked in from Nasidome. The team landed and had camp set up, and they are doing well with the altitude. They were dropped off at 11,900 feet according to the altimeter in the Helicopter. They had a good day familiarizing themselves with the area. A good acclimatization hike with the mud boots. They are eating well and are staying pretty dry in the tents.
Tomorrow, they are headed to Base Camp!
— Greg Vernovage
Carstensz Base Camp!
Sunday, October 26, 2014
All is well at Carstensz Pyramid! Dan checked in to let us know that all of the mud boots are working correctly and they are strong and ready to roll. "A little snow last night just below 14,000 feet, it looks like," Dan let me know immediately on the phone. When you go to Carstensz, you are bound to get a little precipitation from day to day. So far, the team has not been let down. A couple afternoon clouds and some precipitation at night but nothing that they don't expect.
Today, they are on the trail. Pack up and head over New Zealand Pass where their high point of the day will be 14,500 feet as they go through the pass. Dan is hoping the snow sticks around, it might make travel a little better. After crossing over the pass, the Team will drop down and head to Carstenz Base Camp. Base Camp elevation is 13,700 feet.
They are working hard to put themselves in position to summit!
— Greg Vernovage
Carstensz Pyramid Summits!
Monday, October 27, 2014
Dan called from the summit of Carstensz Pyramid! "100% on top! Great day with fantastic views."
The route was in great shape. The snow that fell the day before was still there and made the route challenging. The ropes were in great condition and the team worked together. "This Team is extremely strong and work well together," Dan said. Round trip summit day was 12 hours. No rain for the whole day.
They took plenty of time on top taking photos that we will share after they get back to Jayapura.
Way to go Carstensz Team!
— Greg Vernovage
Carstensz Team Returns To Jayapura
Tuesday, October 28, 2014
Dan and Jonathan called from Jayapura. All is well and the flights had a perfect day for coming into Carstensz Base Camp. The internet worked well enough for Jonathan to get some photos out.
The Team had a fantastic summit day on Carstensz. It is always nice to see everyone on top and the route in good shape. Dan said this Team worked great together and were a pleasure to guide. Well done by all!
Congratulations on the Carstensz Pyramid summits! After looking at these photos, you just have to be ready to jump on board for next year – I am!
— Greg Vernovage