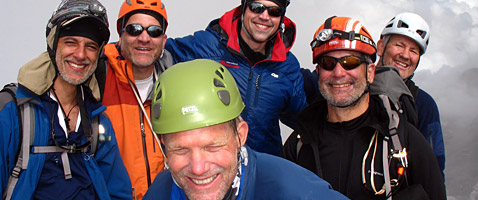 IMG Carstensz Pyramid 2011 Expedition
International Mountain Guides Archived Expedition Updates
Carstensz Pyramid Expedition Begins
July 5, 2011
IMG senior guide Jason Edwards reports from Jakarta, Indonesia that the entire team made it on schedule to the meeting point along with all their luggage, a good way to start a trip! After 17 hours of flying from Seattle, Jason said they were glad to see the hotel and get a good rest. Today, they did some final organizing, and this evening they are flying another 6 hours east, to the town of Timika in the Papua province of Indonesia on the island of New Guinea. One more flight after that, and they will be ready to start the jungle trek to Carstensz base camp.
Carstensz Pyramid is one of the most elusive of the "Seven Summits" (16,023 ft, 4,884 m) tucked away in a very remote part of the continent of Oceania. Just getting to the peak is one of the most challenging parts of the trip. We'll look forward to following Jason and his team as they undertake a week of trekking through the jungle to Base Camp!
— Eric Simonson
Carstensz Team Arrives In Timika
July 6, 2011
Jason Edwards reports by sat phone that the Carstensz team arrived to Timika, on the south coast of Papua, after a long flight across Indonesia from Jakarta. Today they have been working on checking in with the local authorities, getting their permits all squared away, and doing some further repacking of the gear before going to the airport for a weigh in. At the weigh in, each member with all their gear was individually weighed, and also all the group food and equipment, in preparation for the bush flight tomorrow to the small village of Ilaga. Most of the inhabitants of Ilaga are of the Dani tribe, and it is from here that the team will hire its porter crew.
— Eric Simonson
Carstensz Team Reaches Ilaga
July 7, 2011
IMG senior guide Jason Edwards reports by sat phone that the team flew this morning from Timika in a Twin Otter for about 45 minutes to a small bush airstrip adjacent the Dani village of Ilaga. Then they hiked about an hour and a half to the guesthouse, where they are staying at for the night. Tomorrow the trek begins in earnest. Jason says everything is going well and the team is excited to finally be on the trail after all the travel. We'll keep you posted!
— Eric Simonson
Rugged Trekking to Carstensz Base Camp
July 9, 2011
IMG senior guide Jason Edwards called on the sat phone to report that the team was doing well, and had reached 10,000 feet. The weather has been excellent, with clear skies, but they were still glad that they brought rubber boots for the trek, since there has been plenty of sloppy footing.
When I asked him about the terrain they were dealing with, he said Machame X 3, meaning three times tougher than the trip to 10,000 feet on Kilimanjaro! So far they have waded across a river, scrambled across slabby rock, climbed over logs, and bushwhacked through the forest. He said that the Dani porters were tough as nails and totally at home in this environment.
So far so good!
— Eric Simonson
Carstensz Climbers Reach Plateau
July 10, 2011
Jason Edwards reports by sat phone that the team is doing well after surviving several very difficult and rugged days of traversing, river crossings, rock slabs, logs, and mud as they trekked through the forest.
Now, they have climbed to over 12,000 feet up onto the plateau, a welcome change! The plateau is like going to "Jurassic Park", complete with grassy moorlands, giant fern trees, highland marsh, and strange rock formations.
Last night the team camped near Larson Lake and tomorrow they climb up and over New Zealand Pass (nearly 15,000 ft), where they will hopefully get their first good views of Carstensz.
— Eric Simonson
Carstensz Team Getting A Little Wet
July 11, 2011
Jason Edwards reports that the team has been making good progress across the Plateau, which averages around 12,000 feet. The temps have dropped to below freezing at night, and the porters prefer to sleep in caves and build big fires when they can, rather than sleep in tents!
There is a lot of water on the limestone Karst plateau, with many stream crossings and marshy areas. The clear skies of the first few days have been replaced by "normal" weather (some rain).
So far everyone is hanging in there, and looking forward to reaching Base Camp!
— Eric Simonson
Carstensz Team Reaches Base Camp
July 14, 2011
Jason Edwards reports that the team has successfully reached base camp, after seven days of trekking. This is one more than the planned six days, and was due to an adjustment made at the request of the porters, who wanted to pull up short on the next-to-last day, so they could make it to BC early the following day and be able to turn around and make it back to their camp (where they have wood and water).
The weather has been excellent for the team, with only occasional rain, and clear skies for much of the time. The sun was nice, because they got wet many times a day with all the stream crossings on the plateau. Jason says they wore their rubber boots for the entire trek, except for the last day of hiking to BC!
Now, they are preparing for the climb of Carstensz. The plan is to try tomorrow, with a departure about 3am, and about 12 hours projected for the round trip ascent/descent.
— Eric Simonson
Carstensz 100% Summit!
July 15, 2011
IMG guide Jason Edwards reports that the team had an excellent summit day, and they were 100% to the top with six IMG climbers, and three guides. Congrats to climbers Mark, Jeff, Chris, Ted, Colin, and Andrew and to Jason and our two Indonesian guides Steven and Joshua.
The weather was excellent and they enjoyed a full moon for their alpine start (about 3:30am). Roundtrip from BC to the summit ended up being about 12 hours. Conditions on the route were good, and the new Tyrolean Traverse over the big notch on the ridge simplifies getting past this obstacle (before you had to rappel into the notch and climb out the other side).
After going hard for the last week, and then climbing today, the team enjoyed relaxing after getting back down, knowing they had been successful. After a good night sleep tonight, the porters return tomorrow and they start the trek back to Ilaga, which they are estimating will take five days.
— Eric Simonson
Carstensz Climbers Back Over New Zealand Pass
July 16, 2011
Jason Edwards reports that the Carstensz team have successfully made it back over New Zealand Pass, and are back on the plateau. The pass required 1700 feet of climbing, and they had to install ropes in several places of where the terrain was especially steep and slippery. Now, on the plateau, they have two days of stream crossings and mud, followed by two days in the forest, before they are back to Ilaga. Jason says everyone is getting a bit tired, but is hanging in there: "this mountain just keeps giving us something new every day".
— Eric Simonson
Carstensz Climbers Back To The Forest
July 19, 2011
IMG guide Jason Edwards reports that yesterday the team put in over 12 miles of ups and downs crossing the plateau, which included 3 river crossings, 2700 feet of climbing, and 3000 feet of descent to their camp on the edge of the forest. Today they have two more river crossings, a climb back up to over 12,500 feet to cross a ridge, then a big drop down to the first forest camp at 10,000 feet. Tomorrow will be a long forest day, and with a bit of luck they hope to reach the Dani village of Pinapa which is the first/last outpost of civilization.
The weather has been pretty good overall on the trip, but Jason says that the rain has finally caught up with them the last couple days and they have seen quite a bit of precipitation, which has made the river crossings more sporty.
— Eric Simonson
I Come From The Stone Age!
July 20, 2011
Jason was pretty excited last night when he called to say that the team had all reached Pinapa, safe and sound. The title of Heinrich Harrer's famous story of the first ascent of Carstensz seems appropriate for this final dispatch for the Carstensz team.
Mark, Jeff, Chris, Ted, Colin, Andrew, IMG guide Jason, and our Indonesian guides Steven and Joshua have had a heck of an adventure. This afternoon they will have a final farewell meeting with their porters and then share a big dinner with them in the village. Then, early tomorrow they do the short hike to Ilaga, and hopefully catch the first of a string of flights that will take them back to friends and family, jobs, the internet, and all the things they have missed for the last couple weeks.
It has been a challenging trip for everyone, but they all pulled together and were a strong and competent team (everyone lost quite a bit of weight with 15 consecutive days of hard work, with little rest). Now they can all sit back, relax, and do some power eating.
Well done, team!!
— Eric Simonson