IMG's 2018 Mt. Everest Expedition Coverage
Led by Eric Simonson, Ang Jangbu Sherpa, Greg Vernovage, Emily Johnston, Harry Hamlin, Phunuru Sherpa, Kevin Kayl, and Craig John

It's a Wrap!
May 24, 2018
Greg and Jangbu report that the final loads were carried off the mountain this afternoon. All IMG members and sherpas are finished climbing.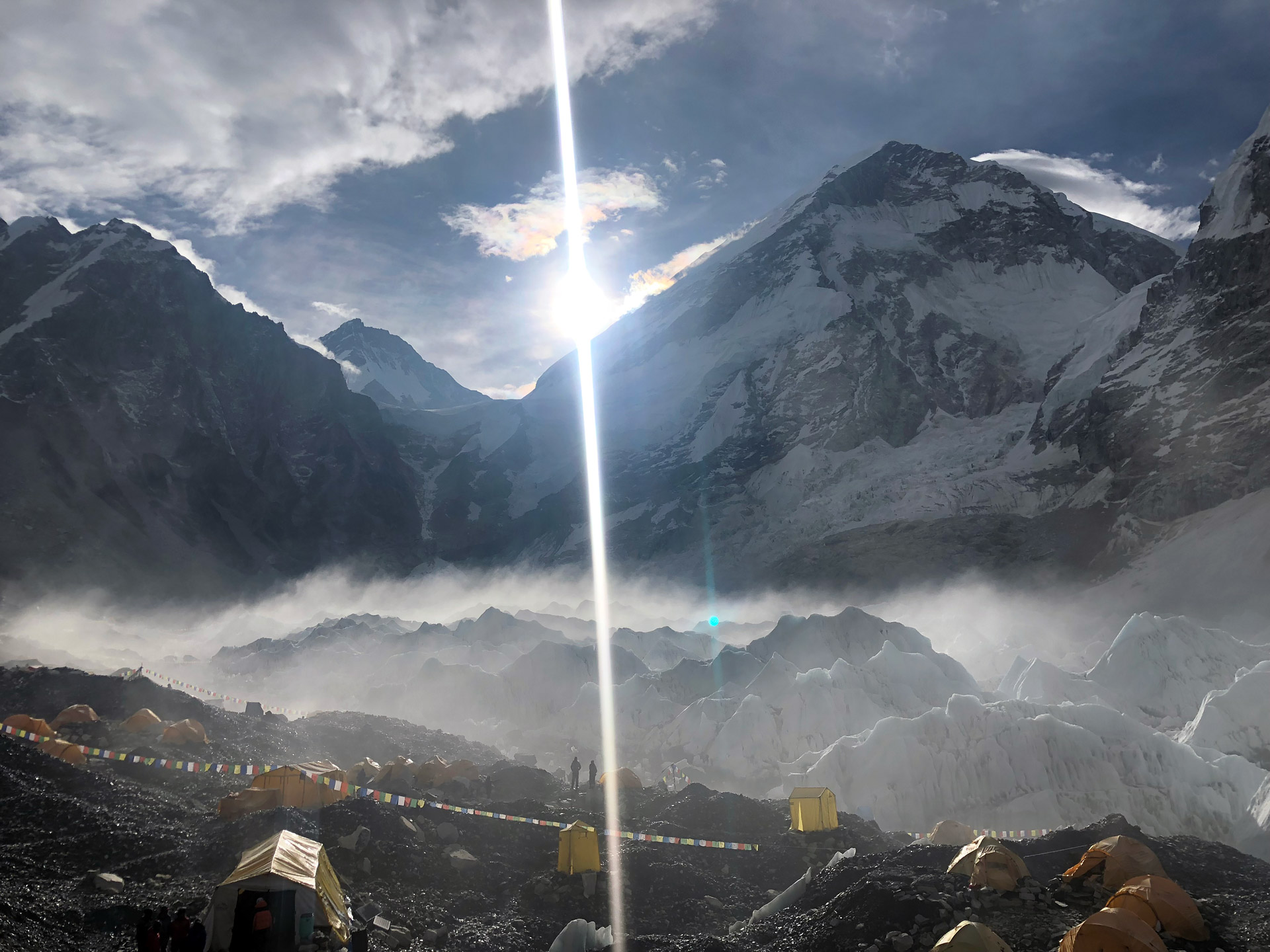 Late this afternoon the clouds cleared allowing helicopters to reach Everest Base Camp, so the remaining members and duffels were flown to Pheriche and then on down to Phakding which was under the clouds. Lukla, being higher up the side of the valley, is still in the clouds, but hopefully tomorrow it will clear out and everyone will be able to get back to Kathmandu. Now the B3 helicopter is in Phakding, but they are waiting for fuel, and Lukla is out of fuel! If the weather improves tomorrow and fuel arrives from Kathmandu, the plan is to fly members to Kathmandu and duffels to Phaplu (from where they will go by truck to Kathmandu).
Ang Pasang and Phunuru are still up at Base Camp, along with a number of the sherpa team. For the next couple days they will be breaking down Base Camp, drying tents, inventorying gear and packing everything up. A lot of equipment will be taken down to our store room in Gorak Shep, while the gear needing repair, along with stuff for our Autumn Cho Oyu expedition, is heading back to Kathmandu. All the human waste is getting packed down to the designated burial site north of Lobuche village, garbage is going to the incinerator in Namche, and the bottles, cans, and oxygen cylinders will go back to Kathmandu.

It's been another roller coaster year on Everest. Our Team's strategy of waiting for the traffic jams to die down and the weather to stabilize proved a good one, and our climbers enjoyed two perfect summit days. Most importantly, everyone is going home in one piece!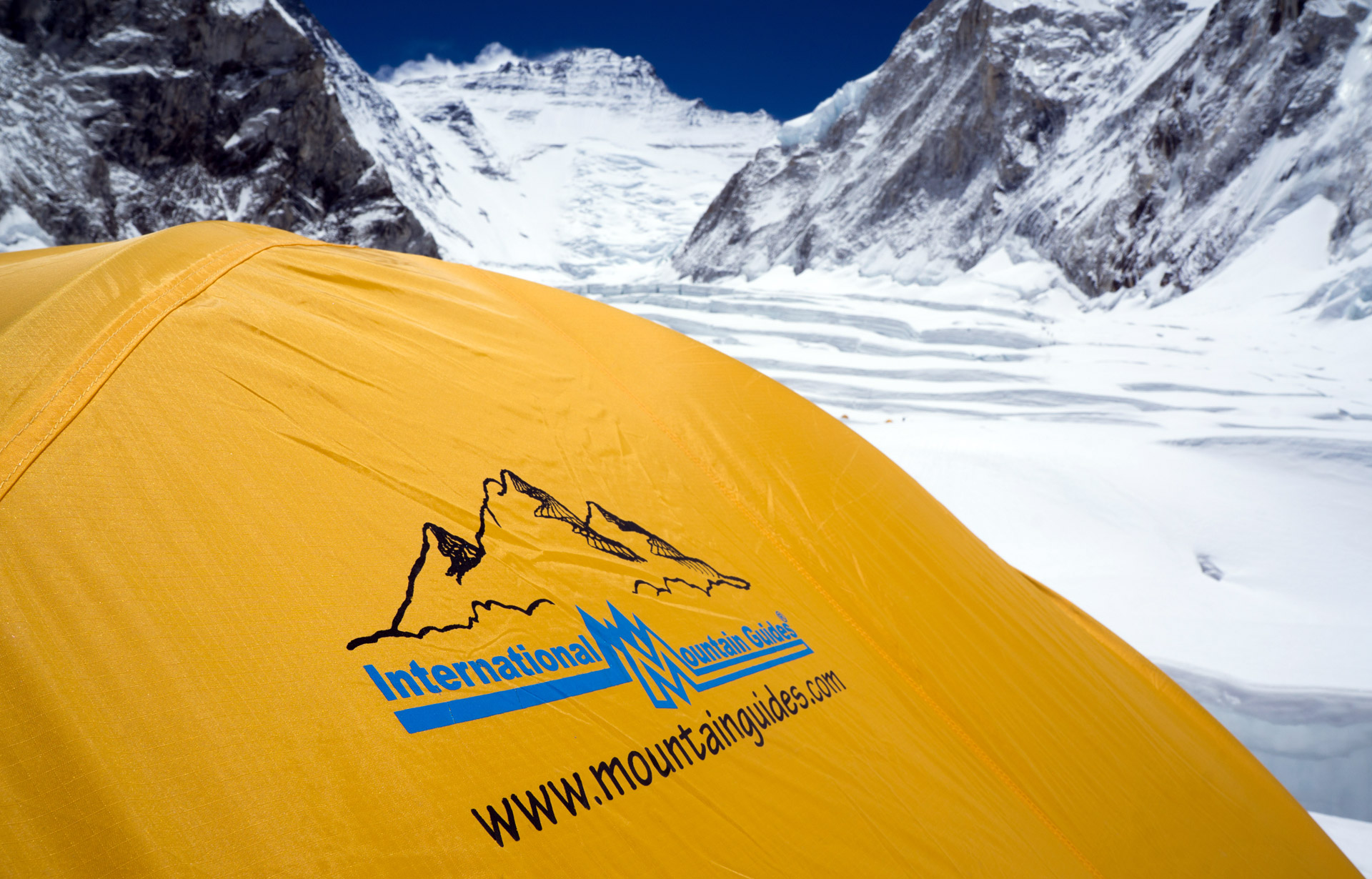 On behalf of the whole Team, as well as all of us at IMG back here in the USA, thanks for following the big adventure.
—Eric Simonson, IMG Partner
"Even the Crows Are Walking"
May 23, 2018
All of our climbers and Sherpa have now descended to EBC. The Team was up early at Camp 2 for one more day of climbing downhill. It was a challenge for them to get out of the warm sleeping bags at Camp 2, but well worth it to get down through the Icefall before the sun hits and makes things hot and unstable. Among the items brought down by the climbers were a number of fantastic photos from the last several days.
After celebrating at EBC and a number of high fives and hugs, it was then time to turn focus to getting to Kathmandu. All the members were planning on taking a helicopter ride down to Lukla, but the weather in Lukla has been less than perfect the last couple of days and today was the same. Right now it is fogged in and raining in Lukla where the helicopters are on standby until the weather clears. As the Sherpas say, "Even the crows are walking!"
Our Sherpa Team still has some work to do with bringing gear down from Camp 2 and we are looking forward to having our last load down and through the Icefall soon.
All is well on Mount Everest but Lukla is a bit wet!
—Greg Vernovage, Expedition Leader
All Summit Climbers are Down to Base Camp
May 23, 2018 (12:15am PDT; 1pm Nepal)
Good news: Greg Vernovage reports all members down to EBC.
Sherpas are buttoning up C2 and bringing gear down from C3. They'll have all the gear down to EBC in two days.
Way to go Team!
—Eric Simonson, IMG Partner